ESG investing considers environmental, social and corporate governance criteria to generate risk adjusted long-term returns and positive societal impact. ESG themed mutual funds provide exposure to businesses that are responsible. Sustainability drives their long term performance. ESG aims to achieve the triple bottom line that is good for people, planet and profits.
ESG investing or Sustainable investing has been the trending investment theme that has gained momentum for over a decade and especially in 2020.
1/3 of all assets under management in the U.S. are already sustainably invested.1
ESG investing is set to boom again this year under Biden Presidency.2
Globally, the trend has seen a rapid rise.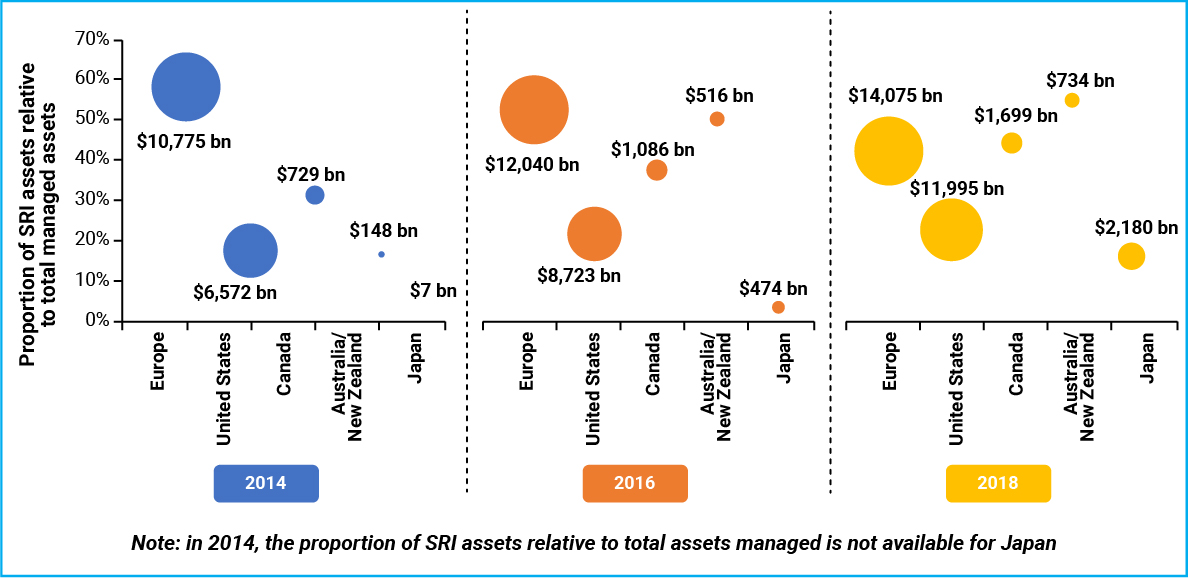 Source: Catalysing Private Capital for Green Investments in India www.indiaenvironmentportal.org.in
The Global value of assets applying ESG data has tripled in just eight years, to reach $40.5 trillion in 2020, according to data from UN PRI.
We believe the scope for ESG investing and consequent potential to earn risk adjusted returns is even bigger in emerging markets like India.
In India, total AUM as per AMFI, under ESG investing has evolved to Rs. 9,516 crores as on Dec 2020.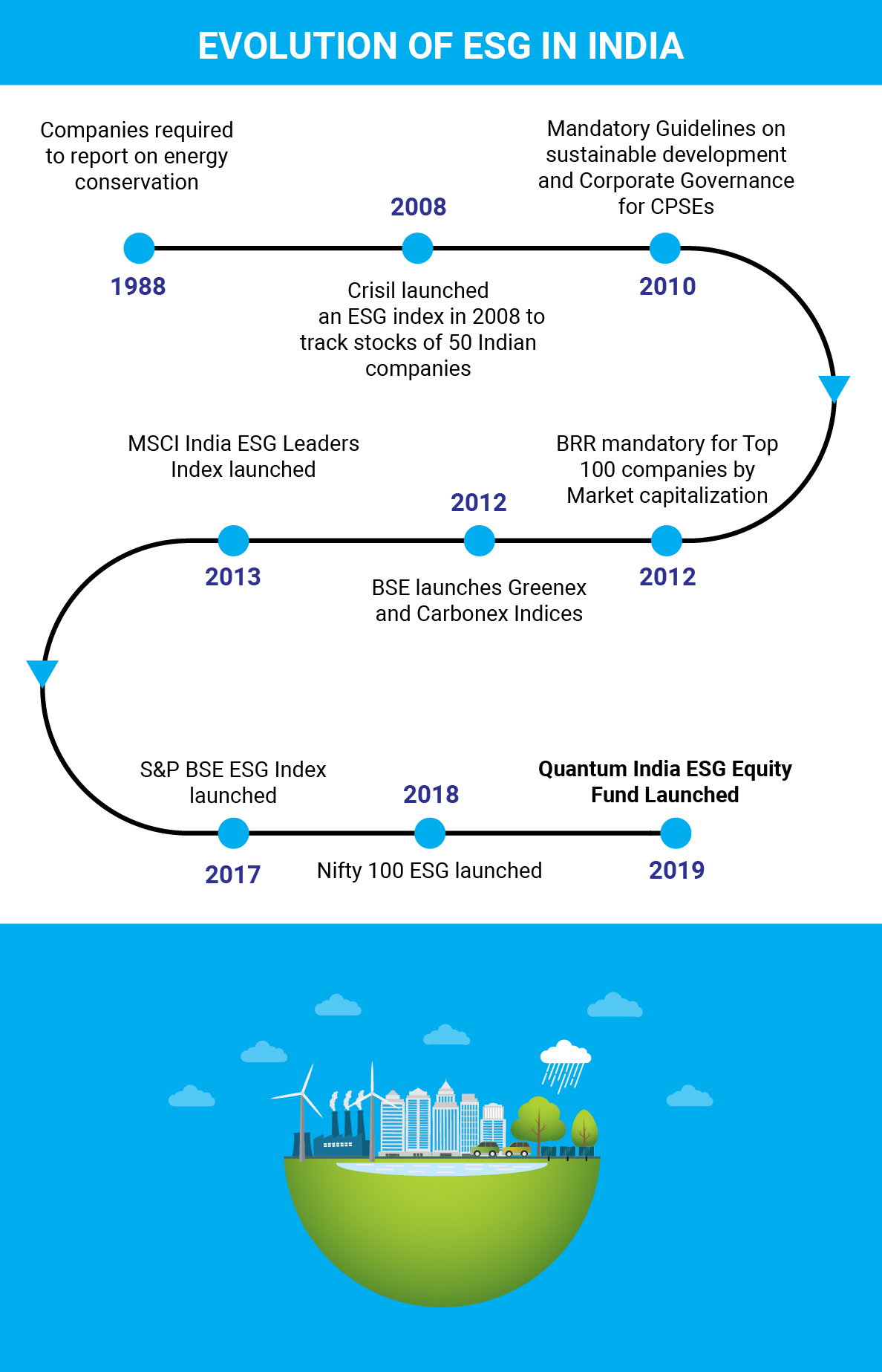 Source: Catalysing Private Capital for Green Investments in India www.indiaenvironmentportal.org.in
Unlock India's Equity Opportunity with Quantum India ESG Equity Fund
Quantum India ESG Equity Fund seeks to achieve long-term capital appreciation by investing in share of companies that meet our ESG criteria.
The launch of sustainable investing in India – Quantum India ESG Equity Fund.
With a bucket of 9 funds, Quantum decided to launch an ESG fund as its 10th fund. In July 2019, we launched Quantum India ESG Equity Fund.
We are proud to be one of the first AMCs to introduce ESG as a fund in India.
Quantum banks on its own proprietary research which has evolved over the last 5 years going through our own learning curve in the ESG space.
This means you can benefit from our years of experience and research behind the process of selecting stocks based on ESG principles.
Our ESG evaluation process is not just a check-the-box approach of screening companies but consists of a blend of quantitative and qualitative factors. The stocks in the portfolio are selected based on two criteria: Liquidity and ESG score. The stocks which have average daily traded volume of $ 1 mn and above over last 1 year becomes the active universe. Among those stocks, the stock under ESG coverage are around 125+ stocks. Among these stocks, the stocks which score above the internal positive threshold will become a part of the portfolio. Within the sector, the stock will be assigned weight based on its relative ESG score.
Our investing journey has emphasized Governance and Social factors over last two decades.
The 'G' of ESG was always there at the core of Quantum's investment philosophy.
Quantum adopted what we called an "Integrity Screen" in 1996. While we always had some of the 'Social' aspects in-built in our research process (we avoided companies with questionable business practices), we started adopting a formal approach to ESG from 2015, in terms of an actual score.
Our Performance: Covid-19 – A Turning Point for ESG Investing
As historical trend shows, ESG index has not only outperformed the traditional Equity index over the long term, but it has also protected downside risk better. This was well observed during the pandemic as represented in the chart below. Over the past one year, Quantum India ESG Equity Fund has outperformed the ESG index by 2.06% as well as other conventional market indices while also mitigating downside risks better. The fund can help you deliver risk adjusted returns over the long term. QESG especially gained traction during the Covid-19-triggered market selloff.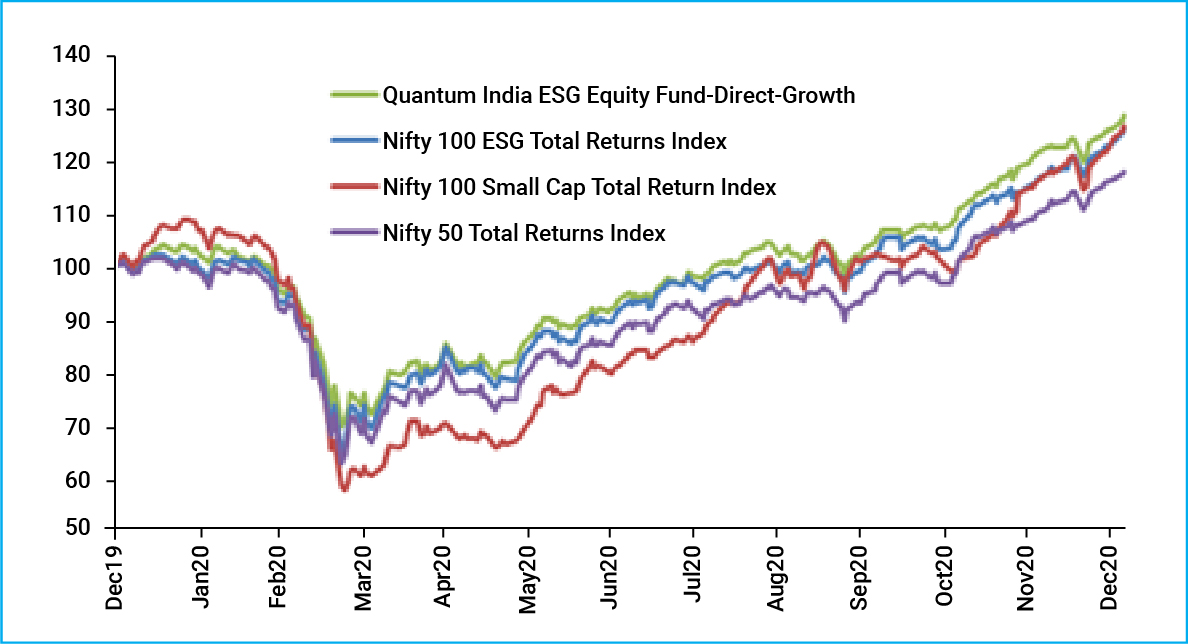 Past performance may or may not be sustained in the future. Data as on December 31, 2020. This Graph is to read in conjunction with the complete performance of the scheme provided below.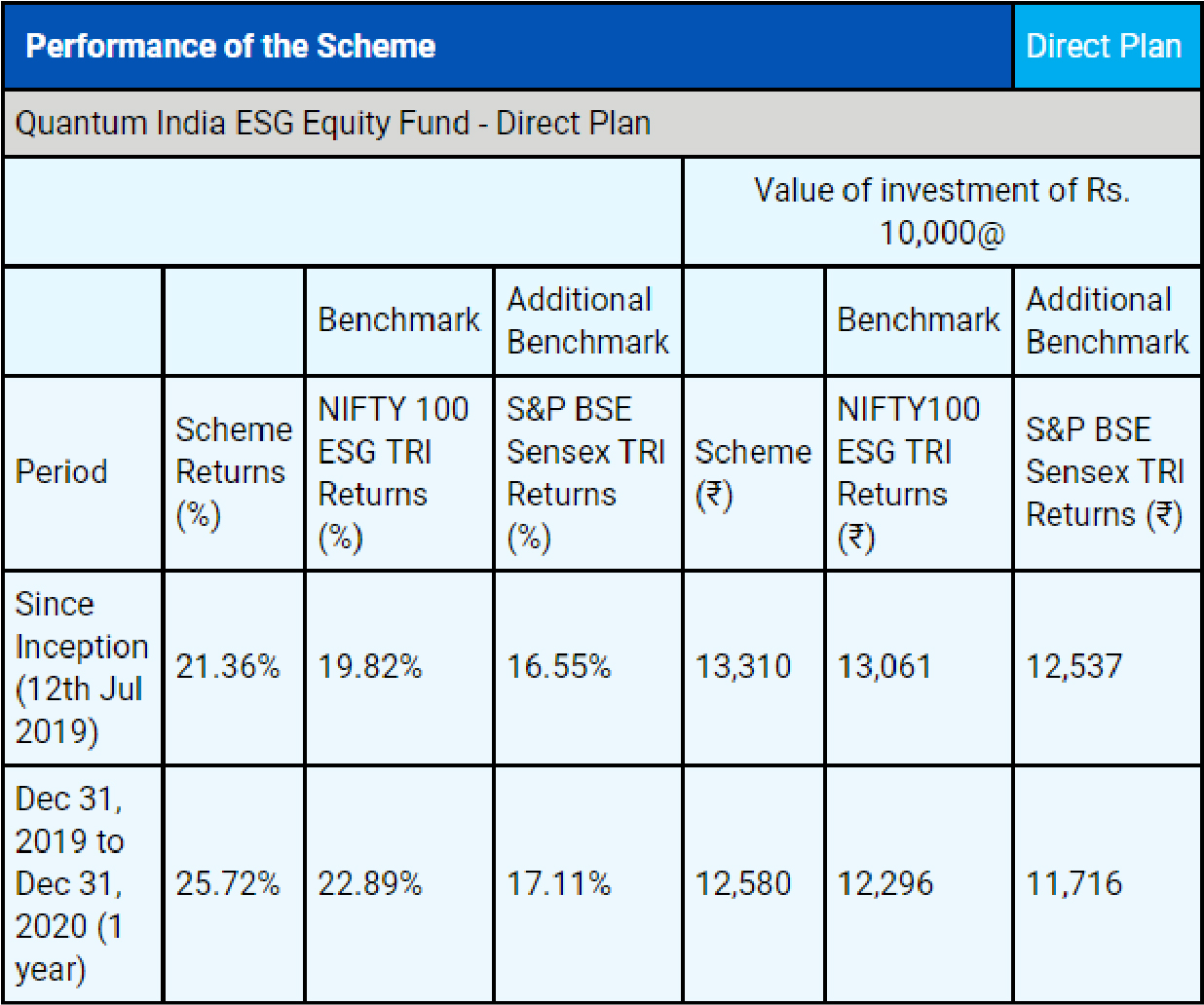 Past performance may or may not be sustained in the future.
Data as of Dec 31, 2020. Load is not taken into consideration in Scheme returns calculation. Different Plans shall have different expense structure. The Scheme has been in existence for more than 1 year but has not yet completed 3 and 5 years period. Returns are net of total expense and are calculated on the basis of Compounded Annualized Growth Rate (CAGR).
Note: The Scheme is managed by Mr. Chirag Mehta and Ms. Sneha Joshi. Mr. Chirag Mehta is the Fund Manager and Ms. Sneha Joshi is the Associate Fund Manager managing the scheme since July 12, 2019. Mr. Chirag Mehta manages 5 schemes of Quantum Mutual Fund. For performance of other Schemes Managed by Mr. Chirag Mehta please click here.
Make the best of India's Equity opportunity with ESG and start allocating 20% of your equity portfolio to Quantum India ESG Equity Fund.
---
1'Sustainable Investing' Is Surging, Accounting For 33% Of Total US. Assets Under Management Deborah Nason - https://cnb.cx/3c6moo8
2Biden's Boom: The $30 Trillion Esg Sector Is Set To Explode In 2021 - https://bit.ly/39daGpY
---
Product Labeling
Name of the Scheme
This product is suitable for investors who are seeking*
Riskometer
Quantum India ESG Equity Fund

An Open ended equity scheme investing in companies following Environment, Social and Governance (ESG) theme
• Long term capital appreciation

• Invests in shares of companies that meet Quantum's Environment, Social, Governance (ESG) criteria.

* Investors should consult their financial advisers if in doubt about whether the product is suitable for them.
---
Disclaimer, Statutory Details & Risk Factors:
The views expressed here in this article / video are for general information and reading purpose only and do not constitute any guidelines and recommendations on any course of action to be followed by the reader. Quantum AMC / Quantum Mutual Fund is not guaranteeing / offering / communicating any indicative yield on investments made in the scheme(s). The views are not meant to serve as a professional guide / investment advice / intended to be an offer or solicitation for the purchase or sale of any financial product or instrument or mutual fund units for the reader. The article has been prepared on the basis of publicly available information, internally developed data and other sources believed to be reliable. Whilst no action has been solicited based upon the information provided herein, due care has been taken to ensure that the facts are accurate and views given are fair and reasonable as on date. Readers of this article should rely on information/data arising out of their own investigations and advised to seek independent professional advice and arrive at an informed decision before making any investments.
Mutual fund investments are subject to market risks read all scheme related documents carefully.
Please visit – www.QuantumAMC.com to read scheme specific risk factors. Investors in the Scheme(s) are not being offered a guaranteed or assured rate of return and there can be no assurance that the schemes objective will be achieved and the NAV of the scheme(s) may go up and down depending upon the factors and forces affecting securities market. Investment in mutual fund units involves investment risk such as trading volumes, settlement risk, liquidity risk, default risk including possible loss of capital. Past performance of the sponsor / AMC / Mutual Fund does not indicate the future performance of the Scheme(s). Statutory Details: Quantum Mutual Fund (the Fund) has been constituted as a Trust under the Indian Trusts Act, 1882. Sponsor: Quantum Advisors Private Limited. (liability of Sponsor limited to Rs. 1,00,000/-) Trustee: Quantum Trustee Company Private Limited. Investment Manager: Quantum Asset Management Company Private Limited. The Sponsor, Trustee and Investment Manager are incorporated under the Companies Act, 1956.