Gudipadwa is a spring festival that marks the New Year or a new beginning. Raised on the right side of the entrance, the 'gudhi' or flag signifies prosperity making it an auspicious time for investments. Use this opportunity to make long-term investments. Planning for a home? Chalk out a practical roadmap to recover your home loan using 12|20:80 and give you financial freedom.




Bridge the gap between your dream home and financial freedom




Gudipadwa is a good time when many plan their crucial milestone of buying their dream home. A homebuyer typically takes a home loan to fulfil this dream. This also means paying EMIs every month. There's a way to bridge the gap between achieving your dream home and financial freedom.




12|20:80 - Roadmap for financial freedom to safeguard your future




Achieve your dream home using a long-term diversified investment strategy.
A diversified investment strategy helps safeguard your investments during uncertain times. When one asset faces stress, the other steps in to reduce the fall.
An easy way to diversify is with Quantum's tried and tested 12|20:80 Asset Allocation (Barah Bees Assi) Strategy. Get stability, growth and protection with this one-stop investment solution.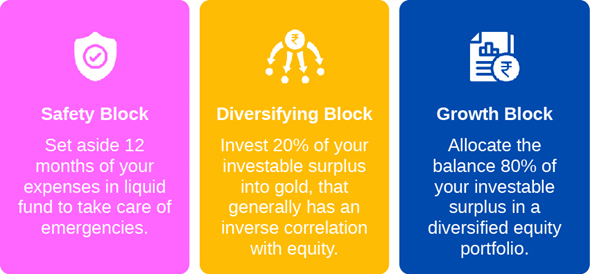 Please note the above is a suggested fund allocation only and not as an investment advice / recommendation.




Let's take an example of a prospective homebuyer Aarya, aged 33. She wants to fulfill her financial goal of a dream home costing Rs.60,00,000. After planning for the down payment for 1/6th of the amount (Rs. 10,00,000), she takes a home loan for Rs.50 lakhs for a period of 20 years at an interest rate of 8.75%.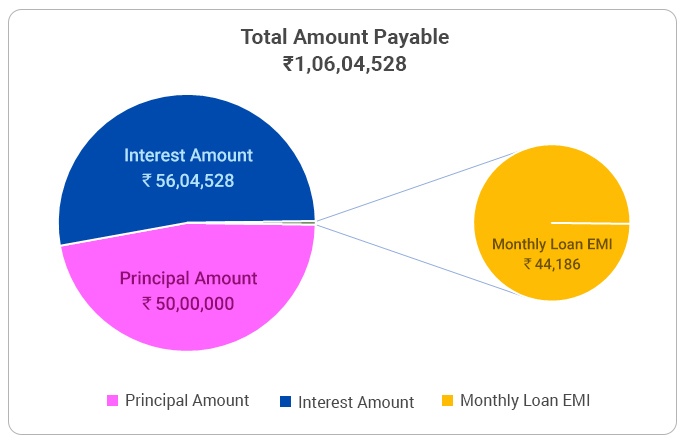 After setting aside Rs. 6 Lakhs emergency money (6Xmonthly expenses), she has a target investment amount of Rs. 1,00,04,528




Let's see how much monthly SIP she needs to achieve her financial freedom assuming an annual return of 10%:






Investments through SIP is subject to market risk and do not assure a profit or returns or protection against a loss in a downturn market. The above calculation is for explanation purposes only




Thus, with an SIP of Rs.13,175, she can achieve financial freedom from her home loan in 20 years.


Instead of limiting her investments in one mutual fund, Aarya can invest as per Quantum's 12:20:80 Asset Allocation Strategy (Barah, Bees Assi).




Now let's see how 12| 20:80 Asset Allocation Calculator can be used to plan total targeted amount to pay off her home loan (principal/interest).




How does Quantum's 12:20:80 Asset Allocation Strategy help Aarya?




As a first step, Aarya sets aside safe money in a safe place such as a Liquid Fund Scheme. This is equal to 6 months of expenses# (including EMI and other household expenses).
She then goes on to allocating her balance amount into the equity-gold part of her 12:20:80 portfolio.
She has two options, an active and passive mode of investment. Explore the Asset Allocation Calculator to enter your details and calculate returns.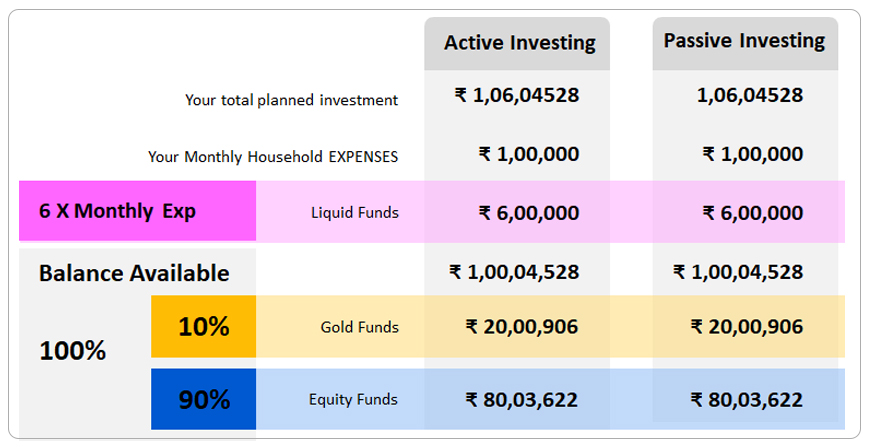 The above calculation is for explanation purposes only.




Know your portfolio performance in just a few clicks using the Asset Allocation Calculator. This Gudipadwa, take the thoughtful approach as per the 12:20:80 Asset Allocation Strategy to be financially independent.




Use our handy Asset Allocation Calculator to build a roadmap to achieve your dreams.








Related Articles
Retirement Planning - Navigate your Portfolio Today for a Better Tomorrow
Emergency Funds as an Indicator of your Risk Appetite
Risk or Returns? Learn How Thoughtful Investors Balance Both


---
Disclaimer, Statutory Details & Risk Factors:
The views expressed here in this article / video are for general information and reading purpose only and do not constitute any guidelines and recommendations on any course of action to be followed by the reader. Quantum AMC / Quantum Mutual Fund is not guaranteeing / offering / communicating any indicative yield on investments made in the scheme(s). The views are not meant to serve as a professional guide / investment advice / intended to be an offer or solicitation for the purchase or sale of any financial product or instrument or mutual fund units for the reader. The article has been prepared on the basis of publicly available information, internally developed data and other sources believed to be reliable. Whilst no action has been solicited based upon the information provided herein, due care has been taken to ensure that the facts are accurate and views given are fair and reasonable as on date. Readers of this article should rely on information/data arising out of their own investigations and advised to seek independent professional advice and arrive at an informed decision before making any investments.
Mutual fund investments are subject to market risks read all scheme related documents carefully.