This election is another step in defining what India is - or what India means to the 710 million people who were eligible to caste their vote.

The 415 million who did cast their vote in the 1.2 million ballot boxes have sent us a message in a bottle which is half full of water - and half empty.


| | | | |
| --- | --- | --- | --- |
| | 1999 | 2004 | 2009 est |
| Total voters | 620 million | 672 million | 710 million |
| Who voted | 60 % | 58 % | 58 % |
| Electronic machines | NA | 1,140,000 | 1,183,543 |
| Poll stations | NA | 690,670 | 834,944 |
| Seats | 543 | 543 | 543 |
| Candidates | 4,648 | 5,435 | 8,070 |
| Congress Party won | 114 | 145 | 204 |
| | 21% | 27% | 38% |
| BJP won | 182 | 138 | 121 |
| | 34% | 25% | 22% |
| Regional/Others | 247 | 260 | 218 |
| | 45% | 48% | 40% |
| Coalition govt led by | BJP | Congress | Congress |
Source: Election Commission of India.

But as we open the bottle to examine the contents, we should note that the greatest victory was for Democracy.
The international and local press was largely mocking the chaotic democratic process and the colourful theatrics - the voters stood above all of that.
That is the strongest message.


Nyeti, nyeti
And then there are the other messages.

India is not enthralled by the communist ideology.
India is not keen to wear a saffron robe and slaughter Muslims, even though there is anguish over militants who are followers of Islam.
India is not a place where the downtrodden are so devoid of hope that they will elect a party who did not even have a manifesto, but blatantly played the caste card.

We know what India is not: nyeti, said god, I am not this.
The win of the Congress - which did better than what all the polls predicted (just as in the 2004 elections) is not a vote of confidence in many of the grinning and corrupt politicians who have been re-elected.
It is not an acceptance for corruption.
It is not a decisive victory for the Congress.
It is not a tolerance for sleeping at the wheel, while the crooks are stealing the engine and the tyres.
We know what India is not: nyeti, said god, I am not that.

The good-hearted independents have been wiped out - yet again.
And they will continue to be wiped out till they organise their good intentions into a national party.
The voters have not confused the issue of potholes in Bombay, or sewage in village water pipes, with the need to have a national voice to deal with the national and global problems that India faces.

Nor have the voters punished those for allowing the potholes in Bombay, or sewage in village water pipes - as yet.

Potholes and sewage plants are what municipal corporations and state legislatures need to fix, not Members of Parliament.


The Congress gets another chance

The victory of the Congress may have been a result of the apologetic face of Prime Minister Manmohan Singh, juxtaposed against the chariot-driven L. K. Advani.

Or it could have been due to the glowing youthfulness of Rahul Gandhi, juxtaposed against the dark calling of Mayawati.

Yet, there seems to be a clear decision.

The Congress is being given another chance: to fix the country; to rid the country of corruption; to lift the millions of poor from poverty; to give stability and depth to the middle class; to strengthen the security of the country from external threats like the Taliban or internal threats like the Naxalites.
And to save us from extremists of all religions.
Little connection between politics and GDP
Just as local problems are divorced from national votes,
India's economy has proven to be sheltered from its politics.
This Congress-coalition will be the 9th government in power since 1980.
And the 6th coalition.

If the BJP-led NDA had won, the economic implications would be the same. The optimism would be equally strong.
As long as India is led by coalitions centred around the BJP or the Congress, we are in safe hands.

Look at the historical data.
Despite the 6 coalition governments since 1980, GDP has grown by an average of 6.2% every year for 28 years. That is a fantastic achievement.


Chart 1: GDP Growth rate across 8 governments has been 6.2% p.a. over the past 28 years.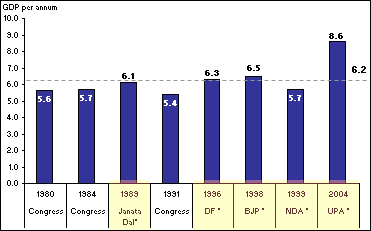 Source: Quantum Mutual Fund

But more can be done - an 8% GDP growth is very possible if we get the basics of building infrastructure right. And so far we have not: the Dabhol power plant; a distorted SEZ policy; corrupt real estate deals; and bridges that take 20 years to build are not part of a transparent, build-out of infrastructure.

Suggested allocation in Quantum Mutual Funds


Creaming the national wealth

The Congress gave us the Dream Team.
For the last 5 years - they did very little.
Though they probably dreamed a lot.
Manmohan Singh, Montek Singh Ahluwalia, and P. Chidambaram are all well-meaning, highly intelligent, and good people.

The Dream Team had all the advantages of a great global tailwind to help them - and they did nothing to take advantage of it.
On a scale of 1 to 10, they deserve a grade of 2.
India could have accessed long term money to fund development - instead we chose to take short-term gamblers into our stock markets.
We could have built more roads, power plants, and highways - instead we built a high-speed channel for speculative foreign capital to enter Indian stock markets.
The banks could have taken over the failed projects and land of troubled real estate companies and sold homes at realistic prices to those who need it and can afford it - instead we used the Indian bank's to rescue them.
We could have built our PSU's into stronger entities with more independence - instead we continue to systematically destroy them and hand them over their national resources at cheap prices to a favoured few well-connected companies.
In hindsight, the Congress placed in front of us a Dream Team: but what they really gave us was a host of characters who were part of an unknown Cream Team. The cream went to business houses with close connections with the politicians.

Yet, individually, the Congress has some of the brightest minds - but they were strait-jacketed by corruption, their own party members, or by the Left.

Now, there are no excuses.
The Left is out in the cold.


Table 2: India's economy will grow more than what most expect...
| | |
| --- | --- |
| Agency | Est. of March 2010 GDP |
| Asian Development Bank | 5.0 % |
| IMF | 5.3 % |
| OECD | 5.8 % |
| World Bank | 4.0 % |
| CMIE, India | 6.5% - this is the estimate I believe in |

Dr. Manmohan Singh, when he was the Finance Minister under Prime Minister Narasimha Rao, presented a revolutionary budget in July, 1991. A lot of the old-thinking was thrown out of the door. The economic policies introduced in the past by individuals like Manmohan Singh and Montek Ahluwalia was accepted as failures and a new economic framework was put in place.

But, like most good beginnings, the initial policies were hijacked and the end objectives tailor-made to please a few.

Now, the next Finance Minister needs to allow capitalism to be shed of its crony image and recognise that much has to be done for India's poor.

On our way to a 21,000 Index?
Indians are reported to have hundreds of billions of dollars stashed away in illegal bank accounts in Channel Islands (a part of the UK), Dubai, Hong Kong, Switzerland, Singapore, UK, and USA.

If the Congress gets it right - and puts in place programmes to sustain a long term rate of growth of GDP at 8% every year for the next 28 years - Indians could have hundreds of billions of dollars stashed away legally in bank accounts in all these countries.

May this government work towards ridding the system of the corrupt and the inept.
That is my only wish - everything else will fall into place.

And, yes, if you fix the real economy and the real problems we have in society, the stock markets will take care of themselves and find their own level of comfort.

Now the market is rearing to go.
With a more focused coalition, the Index could cross the 14,000 level by the end of this week - and is on course for a 21,000 level by June 2010.

But we need to track the milestones along the way to make sure we are on the right path. A big milestone will be July 2009, when the budget is likely to be presented to the Lok Sabha.

Meanwhile, keep some money set aside (hopefully, not for bribes) to pay for your living expenses for 6, 12, 18, or 24 months and invest the rest in equity (80%) and gold (20%).


Suggested allocation in Quantum Mutual Funds
| | | | |
| --- | --- | --- | --- |
| | Quantum Long Term Equity Fund | Quantum Gold Fund (NSE symbol: QGOLDHALF) | Quantum Liquid Fund |
| Why you should own it: | An investment for the future and an opportunity to profit from the long term economic growth in India | A hedge against a global financial crisis and an "insurance" for your portfolioA hedge against a global financial crisis and an "insurance" for your portfolio | Cash in hand for any emergency uses but should get better returns than a savings account in a bank |
| Suggested allocation | 80 % | 20% | Keep aside money to meet your expenses for 6 months to 2 years |

Disclaimer : Past performance may or may not be sustained in the future. Mutual Fund investments are subject to market risks, fluctuation in NAV's and uncertainty of dividend distributions. Please read offer documents of the relevant schemes carefully before making any investments. Click here for the detailed risk factors and statutory information"

Ajit Dayal, the author is a Director in Quantum Information Services Private Limited and Quantum Asset Management Company Private Limited. Views expressed in this article are entirely those of the author and may not be regarded as views of the Quantum Mutual Fund or Quantum Asset Management Company Private Limited or Quantum Information Services Private Limited. Please visit – www.quantumamc.com/disclaimer to read scheme specific risk factors.