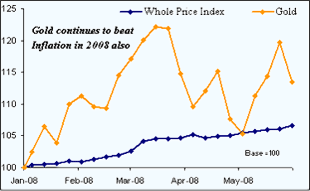 Inflation in India soars to 8.75%, a 3 year high … and expectations are that inflation could cross 10% in a few weeks time…oh, no!

Not only does inflation make the goods and services you consume more expensive (causing a strain on your household budget/expenses), the greedy beast of inflation eats into your "real" returns.

For instance, if you are earning 8.75% on your fixed deposits, and if inflation stays at 8.75%, then what you are earning in "real" terms is ZERO.

But, if inflation zooms to 10%, you are losing -1.25% (the interest on your deposit minus the rate of inflation) by keeping your money in the fixed deposit. Your "real" rate of return is actually a "real loss"!
You would not like to see a "real loss" or negative real return on your investments.
The solution is to try and match the rapidly increasing cost of living, by investing a part of your savings/investments in gold.

Traditionally Gold has proven itself to be an effective inflation hedge.
It has been able to provide positive real returns i.e. returns higher than inflation in the long term.
Call your broker and buy Quantum Gold Fund (ETF) on the NSE (Code QGOLDHALF) or log on to your online broking website and place the order. Now!
Allocate part of your savings/investments to Quantum Gold Fund. And, watch how gold keeps the value of your hard-earned money.
ADVANTAGES OF BUYING THE QUANTUM GOLD ETF
Low Unit Size - Buy as low as half a gram of gold.
As good as buying Gold… in demat form... convenient.
No Premiums / Making charges.
No Purity concerns - You buy gold of 0.995 Purity.
No hassles of storage.
No Storage risk – Gold held by the fund is fully insured.
Easy liquidity: buy and sell on the NSE.