Dusshera across India holds prime importance as we celebrate the victory of good over evil, new over the old, thereby making new beginnings. This festival is celebrated with an important ritual of purchasing Gold. Some prefer to buy gold jewellery, while some buy it as an investment. In fact, we Indians have an insatiable appetite for gold as a symbol of auspiciousness to usher in prosperity for the future.




Today more and more investors are opting for a thoughtful way to invest in Gold. This Dusshera, recognise why gold is an inevitable investment option and why it should be held in your portfolio as an investment diversifier.






Gold Remains a Strategic Portfolio Diversifying Asset Class


One of the key ways to invest thoughtfully and balance your portfolio is to invest in Gold as an asset class. Generally, when there is stress & swings in equity markets, the Gold in your portfolio due to its inverse relationship with equity, helps reduce downside risks.




For instance, during the Pandemic-induced market crash, when equity markets fell by 28% early in 2020, a balanced investment in Equity & Gold had seen a lesser downward pressure than an investment in equity mutual funds alone.




Fig 1: How a balanced allocation using Gold could have protected investors during the Covid-induced market crash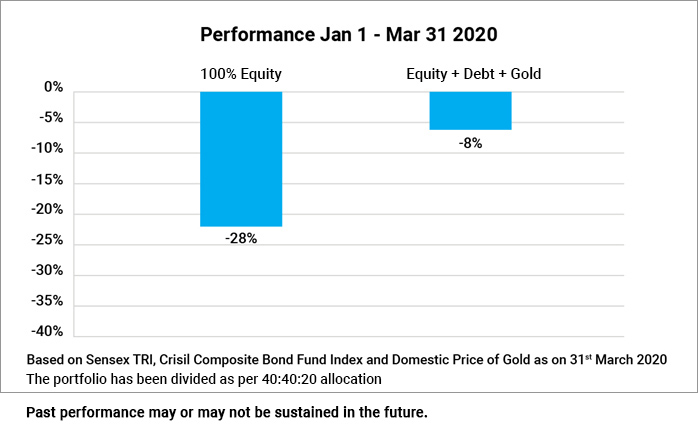 Here are the Properties of Gold - the Strategic Risk-reducing Portfolio Diversifier:




Fig 2: Properties of Gold







The festive season is the perfect opportunity to add or start allocating to gold holdings such that it occupies 20% of your investable corpus. Learn how to balance your portfolio with Gold using our tried and tested 12:20:80 (Baarah, Bees Aur Assi) Asset Allocation Calculator.






Why Move Beyond the Traditional Way of Investing in Gold




Today's investors can invest in gold mutual funds and ETFs that are convenient rather than opting for buying physical Gold due to the following reasons:




Fig 3: Traditional Gold vs Mutual Funds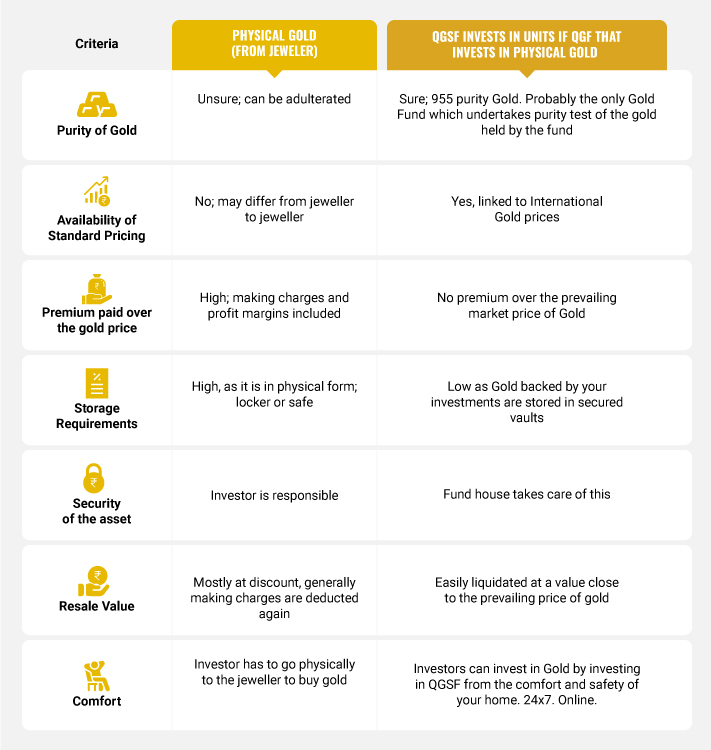 How does Gold ETF/Mutual Fund Compare with Other Financial Forms?




Though there are various new ways to invest in gold such as Digital Gold and Sovereign Gold Bonds, investing in Gold ETFs and mutual funds are efficient and liquid modes of investment.


Fig 4: Comparison with Other Financial Forms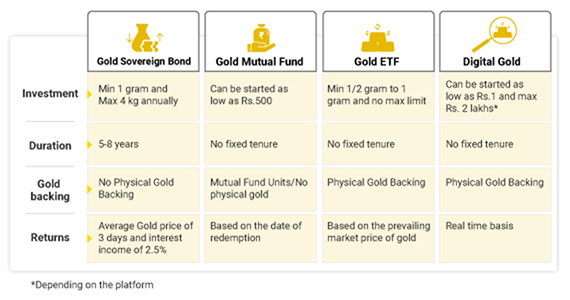 As you see in the figure above, Gold ETF and Gold Mutual Fund have several benefits in terms of convenience and liquidity that warrant an allocation in these innovative modes of Gold.




Reasons to Invest in Quantum Gold Savings Fund







Buying gold during the festive season has been a tradition in India & most people prefer to invest in physical gold which involves purity concerns and making charges. However, it's time for you this festive season to make a smarter choice and move to options that are convenient and hassle-free. This Dusshera calls you to overcome the age-old approach of buying Gold and adopt a smart and thoughtful way to invest in one of the most important asset classes within your portfolio.






---
Product Labeling
Name of the Scheme
This product is suitable for investors who are seeking*
Riskometer of scheme

Quantum Gold Fund

An Open Ended Scheme Replicating / Tracking Gold


• Long term returns

• Investments in physical gold




Investors understand that their principal will be at High Risk

Quantum Gold Savings Fund

An Open Ended Fund of Fund Scheme Investing in Quantum Gold Fund


• Long term returns

• Investments in units of Quantum Gold Fund – Exchange Traded Fund whose underlying investments are in physical gold




Investors understand that their principal will be at High Risk
*Investors should consult their financial advisors if in doubt about whether the product is suitable for them.
The Risk Level of the Scheme in the Risk O Meter is based on the portfolio of the scheme as on September 30, 2022




Disclaimer, Statutory Details & Risk Factors:
The views expressed here in this article / video are for general information and reading purpose only and do not constitute any guidelines and recommendations on any course of action to be followed by the reader. Quantum AMC / Quantum Mutual Fund is not guaranteeing / offering / communicating any indicative yield on investments made in the scheme(s). The views are not meant to serve as a professional guide / investment advice / intended to be an offer or solicitation for the purchase or sale of any financial product or instrument or mutual fund units for the reader. The article has been prepared on the basis of publicly available information, internally developed data and other sources believed to be reliable. Whilst no action has been solicited based upon the information provided herein, due care has been taken to ensure that the facts are accurate and views given are fair and reasonable as on date. Readers of this article should rely on information/data arising out of their own investigations and advised to seek independent professional advice and arrive at an informed decision before making any investments.
Mutual fund investments are subject to market risks read all scheme related documents carefully.
Please visit – www.QuantumAMC.com to read scheme specific risk factors. Investors in the Scheme(s) are not being offered a guaranteed or assured rate of return and there can be no assurance that the schemes objective will be achieved and the NAV of the scheme(s) may go up and down depending upon the factors and forces affecting securities market. Investment in mutual fund units involves investment risk such as trading volumes, settlement risk, liquidity risk, default risk including possible loss of capital. Past performance of the sponsor / AMC / Mutual Fund does not indicate the future performance of the Scheme(s). Statutory Details: Quantum Mutual Fund (the Fund) has been constituted as a Trust under the Indian Trusts Act, 1882. Sponsor: Quantum Advisors Private Limited. (liability of Sponsor limited to Rs. 1,00,000/-) Trustee: Quantum Trustee Company Private Limited. Investment Manager: Quantum Asset Management Company Private Limited. The Sponsor, Trustee and Investment Manager are incorporated under the Companies Act, 1956.