FPI Outflows have been the highest since 2008. It has shot past the Rs.1 lakh crore mark in 2022 and March 2022 has been the 7th straight month that has seen foreign institutional investors withdrawing their holdings from Indian Equity Markets. In the light of FPI Outflows, you may ask yourself:


• Is it a cause for worry?


• Is it the right time to continue investing in equity mutual funds or should you be booking profits?


• How do the prospects for equity markets look in India?


Before we understand the impact, let's understand the reasons for FPIs pulling out money?

The selling could be due to several reasons below:


• Inflationary pressures


• Rising crude oil prices: India is a net importer of crude oil and it has led to higher input costs impacting corporate earnings and widening the current account deficit


• Deepening global macroeconomic conditions due to the Russia-Ukraine War.


• US Fed Interest Rate Hike and rise in bond yields


• Concerns regarding withdrawal of the US economic stimulus


Arvind Chari, CIO, Quantum Advisors says, "Foreigners were large investors in 2020-21 and given the run up in the market, they are booking profits. Also, India on a relative basis has outperformed and is overvalued as compared to other Emerging Markets, hence they may be re-allocating to other EM. Since the tapering of the bond-buying program in November 2021, we have seen Foreign Portfolio Investors (FPIs) becoming net sellers, whereas domestic mutual funds have been net buyers and continued to invest in Indian stocks.


However, India's long term growth story is still intact and once the geopolitical crisis eases and crude oil prices start lowering, India will continue to be an attractive market among emerging peers for investing in equity markets."


As pointed out by Arvind Chari, India's domestic markets have stayed resilient and the long-term growth story stays intact due to several offsets that are prevalent from a domestic standpoint:


• Strong forex reserves close to Rs.45 lakh crores1,


• Rising FDI flows: The equity market correction has been relatively shallow correction as compared to the sensex crash of nearly 70% in 2008 from the highs of 20,800 in January 2008 to 8,500 in October 2008. This can be widely attributed to sharp inflows from domestic institutional investors (DIIs), who have pumped in over Rs.2 lakh crores and will likely smoothen declines of FPI outflows.2


• Improvement in export growth both in products and services


• Retail investor inflows: Inflows into domestic MFs has been steadily rising and last stood at Rs.28,000 crores YTD as of Feb 22.



Selling Pressure offset by Domestic inflows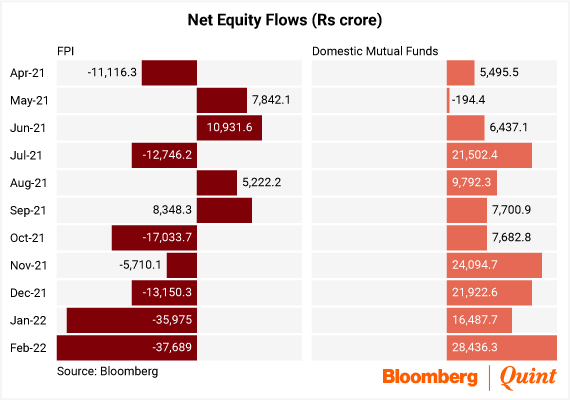 Source: 1RBI Data Feb 25, 2022, 2Source: AMFI, Jefferies
Way forward for equity investing:
1. Stay invested for the long term: India's long-term story is still resilient. India's Nifty has returned 16.89% CAGR over the past one year as of Feb 28, 2022, despite foreign selling.


2. Stagger your investments: An SIP (Systematic Investment Plan) as low as Rs. 500 can be a convenient way to bring in the benefit of rupee cost averaging - means buying more when equity markets are down and less when the markets are rising.


3. Invest in opportunities beyond the benchmark Index rally which has been very concentrated and overvalued.


4. Avoid going heavy on sectoral investments: Earnings outlook for most sectors which rely heavily on commodities such as industrials, auto, consumption, etc. might get impacted.


5. Build a diversified equity basket with the 70-15-15 allocation


| | | Spread your equity investments across market caps and sectors with a single fund called the Quantum Equity Fund of Funds. With a single fund, you get exposure across 5-10 well-researched diversified equity funds of other mutual funds. |
| --- | --- | --- |
| | | Build resilience with ESG investing: ESG stands for the environmental, social, and governance factors that can have a material impact on the firm's valuation over the long term, making them important considerations for your long-term portfolio. |
| | | Strengthen your portfolio with value: On valuation parameters, the market still looks expensive, at such a point, a reasonably valued portfolio of quality stocks is expected to stay resilient to offset risk of downsides and benefit from the market recovery. |

As we have witnessed how foreign capital has come back after the Rs.1.1 lakh crores outflow in the month of March, current FPI levels will not impact the long-term growth prospects of India. Reassess your portfolio and its relevance to your financial goals. Stay invested and take the opportunity to strengthen your portfolio.
---
Product Labeling
Name of the Scheme
This product is suitable for investors who are seeking*
Riskometer
Quantum Equity Fund of Funds

An Open Ended Fund of Funds scheme Investing in Open Ended Diversified Equity Schemes of Mutual Funds
• Long term capital appreciation

• Investments in portfolio of open-ended diversified equity schemes of mutual funds registered with SEBI whose underlying investments are in equity and equity related securities of diversified companies.


Investors understand that their principal will be at Very High Risk
* Investors should consult their financial advisers if in doubt about whether the product is suitable for them.
The Risk Level of the Scheme in the Risk O Meter is based on the portfolio of the scheme as on February 28, 2022.
---
Disclaimer, Statutory Details & Risk Factors:
The views expressed here in this article / video are for general information and reading purpose only and do not constitute any guidelines and recommendations on any course of action to be followed by the reader. Quantum AMC / Quantum Mutual Fund is not guaranteeing / offering / communicating any indicative yield on investments made in the scheme(s). The views are not meant to serve as a professional guide / investment advice / intended to be an offer or solicitation for the purchase or sale of any financial product or instrument or mutual fund units for the reader. The article has been prepared on the basis of publicly available information, internally developed data and other sources believed to be reliable. Whilst no action has been solicited based upon the information provided herein, due care has been taken to ensure that the facts are accurate and views given are fair and reasonable as on date. Readers of this article should rely on information/data arising out of their own investigations and advised to seek independent professional advice and arrive at an informed decision before making any investments. Please visit – www.quantumamc.com/disclaimer to read scheme specific risk factors.