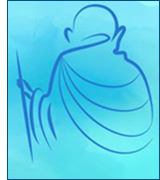 Focused on goal:
On 12th March 1930, Mahatma Gandhi set forth for Dandi to protest the introduction of tax on salt production by the British. It was an act of non-violent civil disobedience which gave an impetus to the Indian independence movement and sparked worldwide interest. The Salt Satyagraha campaign was based upon Gandhi's principles of non-violent protest called satyagraha, which he loosely translated as "truth-force". The Salt March did not topple British rule—independence came 17 years later—but it cracked the foundations.
Steadfast and how!
The twin cardinal principles of Mahatma Gandhi's philosophy are truth and non-violence. Throughout his life and in particular after his return to Indian from South Africa, he remained tethered to these principles which acted as a guiding light for him. Gandhi believed that the individual's task is to make a sincere attempt to live according to the principles of truth and nonviolence. Its fundamental tenets include resisting injustice, developing a spirit of service, selflessness and sacrifice, emphasising one's responsibilities rather than rights, self-discipline, simplicity of life-style, and attempting to maintain truthful and nonviolent relations with others. Gandhi's ideology and its implementation were crucial in India's fight for independence in 1947. A critical success for Gandhi was the support he got across the nation and in the international community. A significant part of this was due to his extraordinary commitment to his guiding philosophy and his ability to invoke the same in every aspect of his life, whether personal or political. His commitment to his philosophy of non-violence is best epitomized by his march to Dandi to protest against the tax on salt.
Gandhi – The new age Financial Planner
Gandhi's principles are fairly instructive when it comes to planning our financial journey. The twin cardinal principles for a comfortable and successful investment journey are discipline and commitment to the investment plan.
Investment discipline is easy to read about. It's the same as a doctor telling you to exercise regularly, eat right and get plenty of rest. However, we all know how utterly impossible it is to follow the doctor's orders. Similarly, investment discipline is not easy either. Despite best intentions and claims to the contrary, many investors chase performance, react emotionally to market moods, and are prone to incur far more trading costs than good discipline would suggest. Even the best laid plans can go awry if the investor does not adopt a disciplined approach to investing and financial planning. Wealth creation does not happen by accident. Enduring wealth is built over the long-term when investors commit to a disciplined and systematic investment strategy. Discipline is about being systematic about your investments, over and over again. It is important to be disciplined in the way you spend and invest and ensure that you remain steadfast, like the Mahatma, even when fear, greed or adverse market movements overwhelm you.
Commitment should always be for the long-term
The world is changing at an alarming pace. Innovation on the manufacturing and distribution of investment products has ensured that every few weeks we have seemingly new investment options to consider. The boon of choice is slowly becoming a bane as investors feel like they have to make investment decisions on a daily basis. However, one must understand that wealth is created over the long-term and that a commitment to your mutual fund long-term investment strategy is essential in building this wealth. One must avoid changing the asset allocation due to recent market activity. Since long-term goals form the foundation of a good investment strategy, investors should avoid reacting to short-term disruptions. That is not to say that one must not be agile. However, any changes that are made to asset allocation should be in line with the long-term strategy. By staying committed to your investment strategy for the long haul you are giving your portfolio the greatest chance to fulfil its intended purpose.
Unwavering focus and commitment to the ultimate goal will lead to success. The road to attaining that goal might be long and arduous. However, stay focused.
---
Disclaimer, Statutory Details & Risk Factors:
The views expressed here in this article / video are for general information and reading purpose only and do not constitute any guidelines and recommendations on any course of action to be followed by the reader. Quantum AMC / Quantum Mutual Fund is not guaranteeing / offering / communicating any indicative yield on investments made in the scheme(s). The views are not meant to serve as a professional guide / investment advice / intended to be an offer or solicitation for the purchase or sale of any financial product or instrument or mutual fund units for the reader. The article has been prepared on the basis of publicly available information, internally developed data and other sources believed to be reliable. Whilst no action has been solicited based upon the information provided herein, due care has been taken to ensure that the facts are accurate and views given are fair and reasonable as on date. Readers of this article should rely on information/data arising out of their own investigations and advised to seek independent professional advice and arrive at an informed decision before making any investments. Please visit – https://www.quantumamc.com/disclaimer to read scheme specific risk factors.