With such a wide variety of investment avenues and styles, you may be confused as to which is the best for you. Should you go for a passive mode of investment with the increasingly popular ETFs or choose actively managed mutual fund investments to achieve your goals? Let's understand the basic differences and benefits to make sure you are buying a type of investment that is right for you.
Active vs passive: A comparative view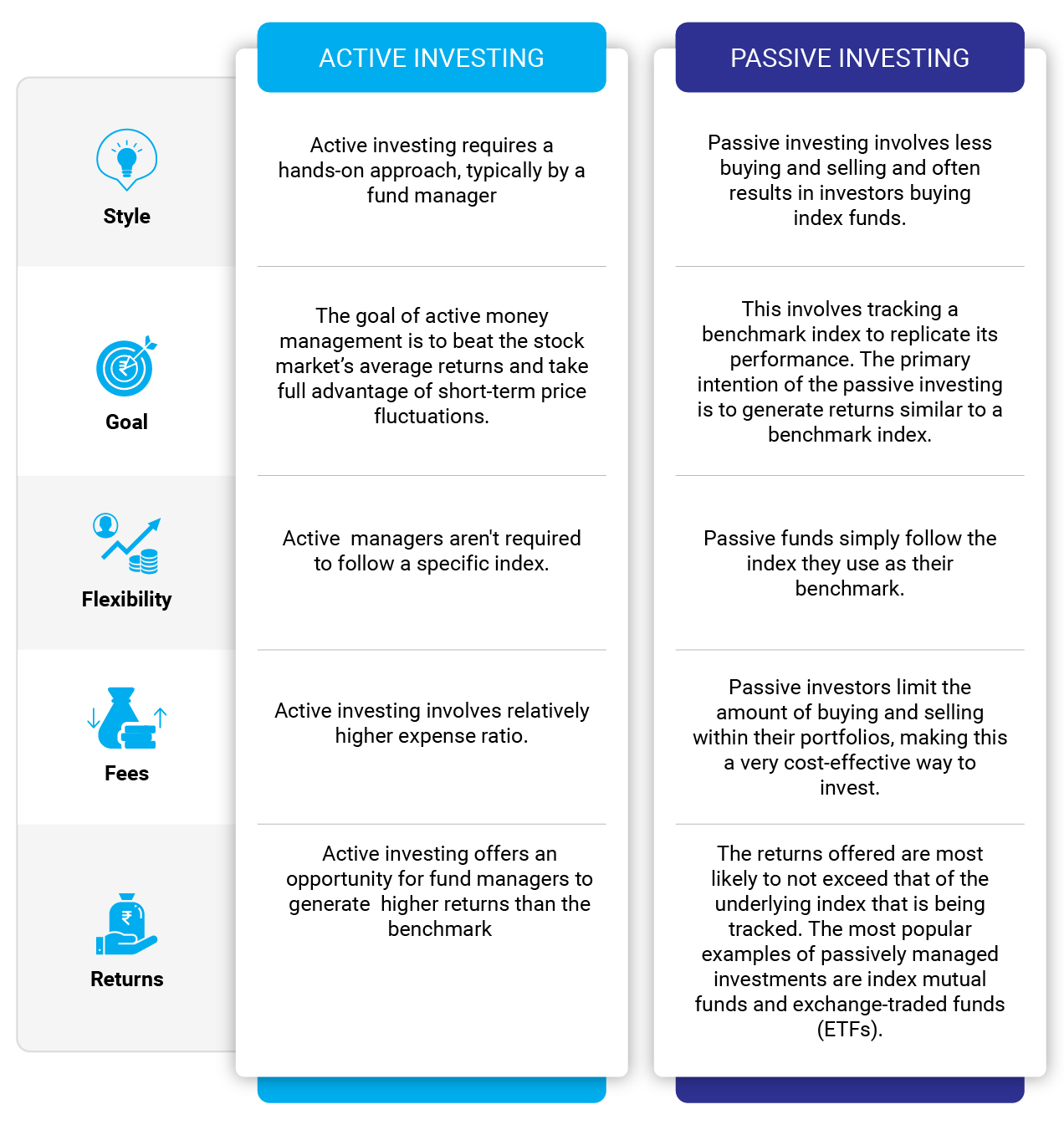 Benefits of Passive Funds
| | | |
| --- | --- | --- |
| | | |
| Replicates the benchmark index | Allows you to diversify and reduce your risks | Low cost due to minimal fund manager involvement |

Benefits of Actively Managed Mutual Funds
| | | | |
| --- | --- | --- | --- |
| | | | |
| Avoid timing markets | Start with as low as Rs.500 | Offers potential to beat the index | Risk-adjusted returns over the long term |

So what's the verdict?
Choosing between active and passive mutual funds/ ETFs depends on several factors as underlined below:
• Your knowledge of the markets: Passive funds like ETFs takes an informed eye to decide when to enter and exit the market
• Your confidence in the fund house and investment processes: Active funds requires your trust in the fund house investment philosophy and processes.
• Your risk appetite: If you are someone who lacks the risk appetite to take higher risk with reward, you can take the conservative approach with an index fund or ETF which replicates the benchmark index
• Your goal: If you want to focus on building wealth with a potential to beat the index, you may opt for diversified mutual funds. The fund manager of an actively managed fund put their expertise to control downside risk in the portfolio by increasing cash levels when the market is at its peak, or the valuation of stocks is expensive. Similarly, they invest in good quality companies when the market is at a low level, or the valuation of stocks becomes attractive.
Both mutual funds and ETFs are good for long-term investing. However, you need to remember that not every ETF/ mutual fund may be suited to your goals. When investing in sector-specific funds, you need to take into consideration that these funds address a limited universe and therefore need to exercise caution.
As an investor, whether passive investing with ETFs or active investing with mutual funds – it's important to invest – even a small amount as low as Rs. 500 and stay invested to build wealth over the long term.
---
---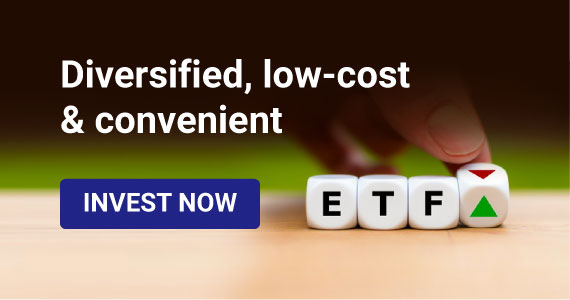 ---

Disclaimer, Statutory Details & Risk Factors:
The views expressed here in this article / video are for general information and reading purpose only and do not constitute any guidelines and recommendations on any course of action to be followed by the reader. Quantum AMC / Quantum Mutual Fund is not guaranteeing / offering / communicating any indicative yield on investments made in the scheme(s). The views are not meant to serve as a professional guide / investment advice / intended to be an offer or solicitation for the purchase or sale of any financial product or instrument or mutual fund units for the reader. The article has been prepared on the basis of publicly available information, internally developed data and other sources believed to be reliable. Whilst no action has been solicited based upon the information provided herein, due care has been taken to ensure that the facts are accurate and views given are fair and reasonable as on date. Readers of this article should rely on information/data arising out of their own investigations and advised to seek independent professional advice and arrive at an informed decision before making any investments.
Mutual fund investments are subject to market risks read all scheme related documents carefully.
Please visit – www.quantumamc.com/disclaimer to read scheme specific risk factors. Investors in the Scheme(s) are not being offered a guaranteed or assured rate of return and there can be no assurance that the schemes objective will be achieved and the NAV of the scheme(s) may go up and down depending upon the factors and forces affecting securities market. Investment in mutual fund units involves investment risk such as trading volumes, settlement risk, liquidity risk, default risk including possible loss of capital. Past performance of the sponsor / AMC / Mutual Fund does not indicate the future performance of the Scheme(s). Statutory Details: Quantum Mutual Fund (the Fund) has been constituted as a Trust under the Indian Trusts Act, 1882. Sponsor: Quantum Advisors Private Limited. (liability of Sponsor limited to Rs. 1,00,000/-) Trustee: Quantum Trustee Company Private Limited. Investment Manager: Quantum Asset Management Company Private Limited. The Sponsor, Trustee and Investment Manager are incorporated under the Companies Act, 1956.