On 17th September 2008, Gold prices rose sharply to nearly $864 up by almost 11% in a single day, following news of more financial troubles in the U.S economy. Lehman Brothers went bankrupt, Merill Lynch was taken over by Bank of America, AIG facing a liquidity crisis was virtually taken over by the US Government. Tumbling stocks of financial companies are driving stock markets lower each day and the question remains - Who`s Next?

Gold prices rose sharply as investors rushed in to buy the safe haven asset during the existent financial turmoil.

In such a situation, more and more prudent investors would look for diversification across asset classes. Globally, we have some countries which have accumulated huge foreign exchange reserves, due to the large trade surplus they generate every year. Most of these reserves are predominantly invested in US Dollar denominated assets. BRIC countries i.e Brazil, Russia, India and China have accumulated huge foreign exchange reserves over the years and the same is increasing each year. Many Experts feel that sooner than later these countries would want to diversify their foreign exchange reserves and reduce holdings in US Dollar denominated assets, because of continued depreciation of the U.S Dollar. The future of the US dollar is uncertain, given the current turmoil in the US Economy and its Financial Sector. Many experts also feel, that money supply as well as debt levels are increasing at a rapid pace in the US and this will lead the US Dollar to depreciate over the longer term.


What would happen if these countries diversify their reserves?
There is increasing conviction that due to the prevailing uncertainties in the US, Gold will be the biggest beneficiary of this potential diversification of foreign exchange reserves, by BRIC Countries. Recent trends indicate that the US Credit Crisis has had far reaching adverse implications across the globe. No place seems safe. Governments across the globe can print currencies at will, in an attempt to tide over current problems they face. These can give temporary relief. But is it a long term solution? Definitely not. However, Gold is the only asset which cannot be produced in the desired quantities at will. Gold has an intrinsic value and is widely accepted as a monetary asset. Hence under these circumstances, Gold would certainly be a preferred asset for diversification by the BRIC Countries or for that matter by all kinds of investors across the globe.


What impact would this diversification have on Gold prices?
As per the data available for the first quarter of 2008, only 1.6% of the total foreign exchange reserves of BRIC countries was invested in Gold. Foreign exchange reserves of the BRIC Countries stood at US Dollar 2.7 trillion at the end of the first quarter of 2008.. An additional 1% allocation of these foreign exchange reserves by the BRIC Countries to Gold would result in an additional demand of nearly 1,000 tonnes of Gold at current prices. Many other countries, besides the BRIC Countries, can also be expected to follow a similar trend and increase allocations of their foreign exchange reserves to Gold.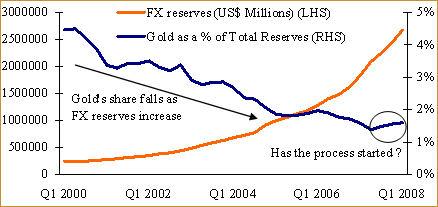 Source: World Gold Council The annual fresh supply of Gold from mines across the world is less than 2,500 tonnes per annum. Besides, no significant Gold discoveries have been made during this decade. The demand for Gold in 2007 was around 3,500 tonnes. Central banks who have been making up for the shortfall have been seen selling lesser and lesser each year, over the past few years.

In this delicate demand-supply scenario, imagine what impact an additional 1,000 tonnes of demand would have on Gold prices. A Big Impact?

What would a 5% additional diversification by BRIC countries do to Gold demand? - an additional demand for 5,000 tonnes of Gold. Imagine the impact on Gold Prices.