Over the last few years, we have seen large public listings of companies from several sectors such as banking, financial services and intermediaries, retail, consumer sectors, REITs, infrastructure sector, etc.
This calendar year, the amount of money raised in IPOs has reached $9.7 billion (Rs 72,755 crore), the second-highest fundraising ever as per Credit Suisse report.1 As a result, IPOs have added $50 billion (Rs 3.71 lakh crore) to India's market capitalization.
The recent success of Zomato, a start-up of 2008, that became a Unicorn in 2018 and got a listing valuation of ~USD 8 billion, is a testament of this surging popularity.
As the economy matures and expands, many more diverse businesses will be listed in the equity markets, expanding the investable universe.
But is investing in an IPO value for money and should you be investing in listed stocks or mutual funds instead?
How Do IPOs Work: IPO Process
An initial public offering (IPO) refers to the process of offering shares of a private corporation to the public in a new stock issuance. It is an avenue to help companies raise money through shares issued to the general public.
The company that offers shares is referred to as the issuer. Once the IPO is done, and the shares of the company get listed, they are further traded in the secondary market. Depending on the market sentiment and valuation, IPOs of companies may open at a lower or higher prices than the issue price.
Investing in IPOs or Mutual Funds: Things to Consider

Illustration: IPO vs Equity Mutual Fund
| | |
| --- | --- |
| IPOs | Equity Mutual Fund |
| You are a shareholder of the company that is listed on the stock exchanges for the first time. | Your money is pooled together with several investors and invested in several securities. |
| IPO is priced based on the issuing company's business fundamentals and attractiveness of the valuation. | NAV (Net Asset Value) is determined based on the traded prices of securities held under the scheme. |
| Investments in particular classes / sector companies and thereby less diversification. | Reduces the risk by diversifying a portfolio by investing in a large number of stocks. |
| You need to open a DEMAT account. | You can invest directly on the AMC website or through a distributor or investment advisors with or without a DEMAT account. |
You may be better off investing in a diversified equity mutual fund that offers you the option to invest in listed shares across different sectors and market cap, thereby minimizing downside risks.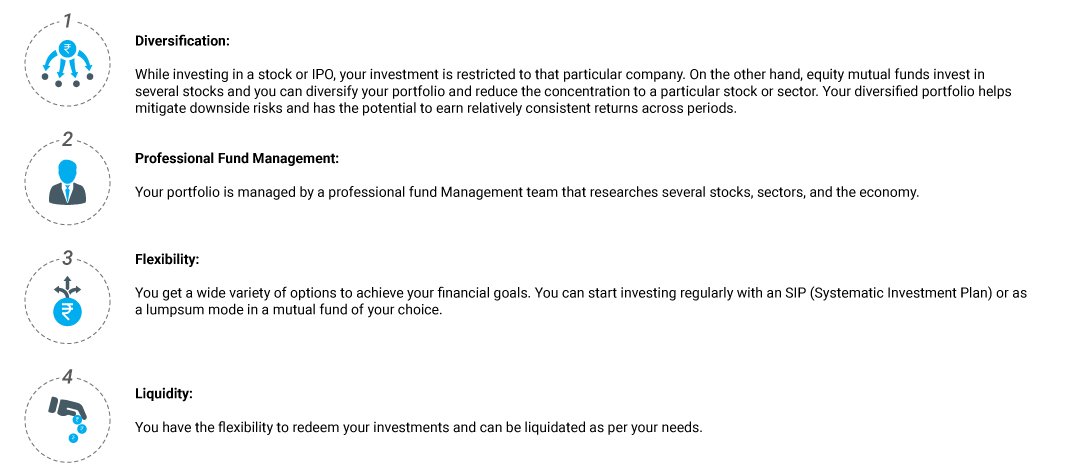 If you have the time and expertise to look at companies' financial statements and have a flair for research, then you can consider creating your portfolio of stocks and IPOs. However, if you would rather have your portfolio managed by a team of fund managers, research analysts who endeavour to give you consistent risk adjusted returns over the long term, then equity mutual funds may be the right option for you.
Start investing with equity mutual funds to start your wealth creation journey today.
---
Disclaimer, Statutory Details & Risk Factors:
The views expressed here in this article / video are for general information and reading purpose only and do not constitute any guidelines and recommendations on any course of action to be followed by the reader. Quantum AMC / Quantum Mutual Fund is not guaranteeing / offering / communicating any indicative yield on investments made in the scheme(s). The views are not meant to serve as a professional guide / investment advice / intended to be an offer or solicitation for the purchase or sale of any financial product or instrument or mutual fund units for the reader. The article has been prepared on the basis of publicly available information, internally developed data and other sources believed to be reliable. Whilst no action has been solicited based upon the information provided herein, due care has been taken to ensure that the facts are accurate and views given are fair and reasonable as on date. Readers of this article should rely on information/data arising out of their own investigations and advised to seek independent professional advice and arrive at an informed decision before making any investments.
Mutual fund investments are subject to market risks read all scheme related documents carefully.
Please visit – www.QuantumAMC.com to read scheme specific risk factors. Investors in the Scheme(s) are not being offered a guaranteed or assured rate of return and there can be no assurance that the schemes objective will be achieved and the NAV of the scheme(s) may go up and down depending upon the factors and forces affecting securities market. Investment in mutual fund units involves investment risk such as trading volumes, settlement risk, liquidity risk, default risk including possible loss of capital. Past performance of the sponsor / AMC / Mutual Fund does not indicate the future performance of the Scheme(s). Statutory Details: Quantum Mutual Fund (the Fund) has been constituted as a Trust under the Indian Trusts Act, 1882. Sponsor: Quantum Advisors Private Limited. (liability of Sponsor limited to Rs. 1,00,000/-) Trustee: Quantum Trustee Company Private Limited. Investment Manager: Quantum Asset Management Company Private Limited. The Sponsor, Trustee and Investment Manager are incorporated under the Companies Act, 1956.