Equity market goes through cycles. If you were to see the relative valuation of small caps vs Sensex, it is trading close to long term averages. However, we believe some fundamentally sound stocks in the segment may still have room for further growth and potential to scale fresh peaks. There are pockets of value and several bottom-up stories that can translate into upside for the portfolio. It is with this conviction that after 11 funds each in 3 asset classes of equity, debt and gold, we are pleased to launch another cap to the feather to help augment your equity portfolio.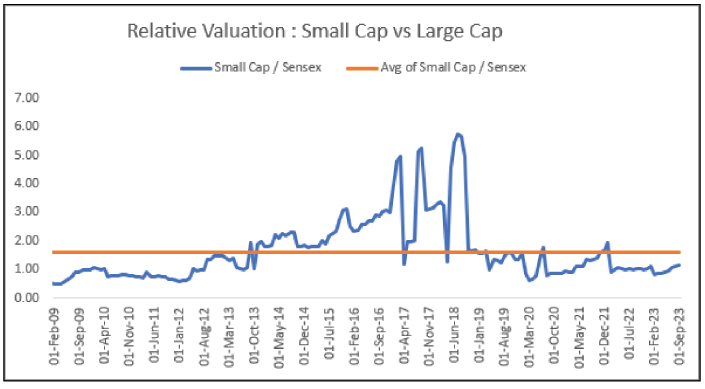 Data as of Sep 30, 2023. Past performance may or may not be sustained in the future
Adding another Feather to the cap - NFO Period Opens
With our track record of diligently building investment portfolios, we are pleased to announce the launch of our new fund offering (NFO) – Quantum Small Cap Fund on Oct 16th– a new feather to our cap.
Quantum Small Cap Fund is an Open-Ended Equity Scheme predominantly investing in Small Cap Stocks. The Scheme will invest minimum 65% and maximum 100% in Small Cap Stocks.
Ever since its inception, Quantum has stood true to its investor centric philosophy and meticulously launched funds over the years across the asset classes of Equity, Debt and Gold to serve as building blocks in the tried and tested 12:20:80 Asset Allocation Strategy.
Within the 80% equity bucket, allocating 10-15% to the Small Cap Fund can help diversify your equity investments beyond large-cap or mid-cap stocks offering potential for long term wealth creation due to the following reasons:
Niche Industries - Operate in disruptive or emerging sectors where large companies have negligible presence.
Agility – Adapt to changing market dynamics and seize opportunities that larger companies might overlook.
Competitive Advantage – Own innovative product offerings that give them a competitive edge over larger companies.
The fund finds a place on the higher end of the risk-return spectrum offering potential for good risk adjusted returns for the higher risk it takes.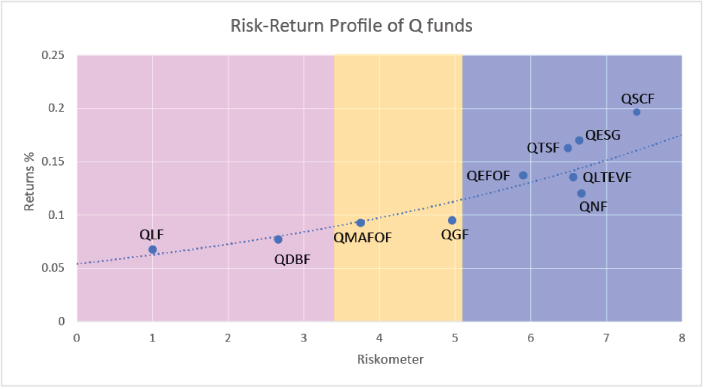 The above chart is for illustration purpose only
How does Small Cap augment your equity portfolio
Backed with a proven track record since 2006, Quantum Mutual Fund is set to make a big difference to your portfolio through carefully selected & accurately diversified portfolio offering exposure to quality companies. Quantum recognizes the challenges that some of the Small Cap Funds with large AUM may face today – in order to accommodate rising inflows, some funds have become over-diversified leading to sub-optimal positions and thereby effect returns potential. Some of funds may be faced with issues of illiquidity due to the risk of outsized positions. Quantum Mutual Fund aims to address these challenges with its new NFO – Quantum Small Cap Fund. Read more>
Here are some key advantages of our fund:
Our Investment Process
From the vast universe of small caps, there are around 945 Small Cap Stocks which meet the liquidity filter of minimum daily trading volume of 2 crores and a minimum market capitalization of Rs.400 crores as on September 30,2023. Quantum Small Cap Fund's holding Minimum 2% at cost with a maximum weight of 4% at cost in each stock, ensuring meaningful exposure without excessive concentration.
From this addressable universe, Quantum screens a robust high-conviction portfolio of 25-60 stocks that show potential for growth, adhere to corporate governance standards, and are reasonably valued.
Quantum Small Cap Stock Selection Process covers around 945 stocks from addressable universe of market cap of Rs.400 Crores to Rs. 21791 Crores with average volume of Rs. 2 Crores as on September 30,2023.
Robust Investment Process
Data as on September 30, 2023. Please refer Scheme Information Document of the Scheme for complete Investment Strategy
Small Caps - more fuel left to the rally?
Small caps are in high growth phase and has potential to continue to grow.
We have witnessed that Small Cap Indices have recorded a remarkable growth outperforming their larger counterparts. The 251st stock onwards which is the start of the universe has grown from Rs. 2,959 crores to Rs. 21,791 crores over the last 15 years which shows the potential that small caps present.
Market Cap of 251st Stock onwards (Rs. Crores)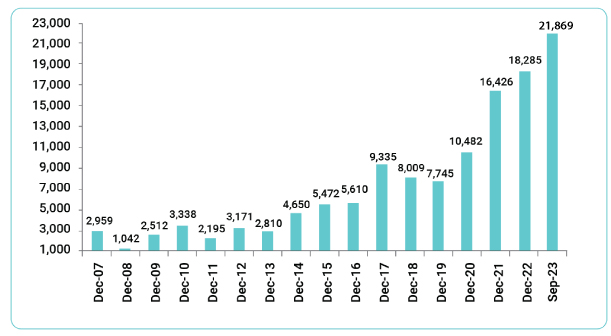 Data as on September 30, 2023.
Small-caps outperformed large-cap n in the long run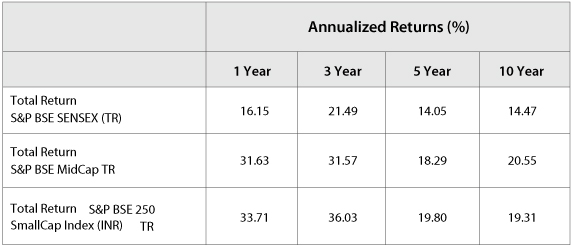 Data as of Sept 29, 2023. Past performance may or may not be sustained in the future.
Grab opportunity to grow returns before too late
Small-sized companies have proven their mettle even in the face of adversities and have the potential to enhance your equity portfolio.
We believe there is still room for upside potential in the Small Cap space, you should not miss out on the opportunity to benefit from the liquidity, governance filter with valuation discipline Quantum Small Cap Fund has to offer. Make the most of the opportunity to grow wealth by adding Quantum Small Cap Fund as part of your diversified equity portfolio. Gain potential of high growth and reasonable valuations combined.
The NFO Period begins on Oct 16 and closes on Oct 27, 2023.
For more details, visit our fund page: Click here.
---
Product Labeling
Name of the Scheme
This product is suitable for investors who are seeking*
Riskometer of scheme

Quantum Small Cap Fund

An Open-Ended Equity Scheme Predominantly Investing in Small Cap Stocks

• Long term capital appreciation

• Investment in Small Cap Stockx




Investors understand that their principal will be at Very High Risk
*Investors should consult their financial advisers if in doubt about whether the product is suitable for them.
#The product labeling assigned during the NFO is based on internal assessment of the scheme characteristics or model portfolio and the same may vary post NFO when the actual investments are made.
For latest riskometer, investors may refer to the Monthly Portfolios disclosed on the website of the Fund www.QuantumAMC.com


Disclaimer, Statutory Details & Risk Factors:
The views expressed here in this article / video are for general information and reading purpose only and do not constitute any guidelines and recommendations on any course of action to be followed by the reader. Quantum AMC / Quantum Mutual Fund is not guaranteeing / offering / communicating any indicative yield on investments made in the scheme(s). The views are not meant to serve as a professional guide / investment advice / intended to be an offer or solicitation for the purchase or sale of any financial product or instrument or mutual fund units for the reader. The article has been prepared on the basis of publicly available information, internally developed data and other sources believed to be reliable. Whilst no action has been solicited based upon the information provided herein, due care has been taken to ensure that the facts are accurate and views given are fair and reasonable as on date. Readers of this article should rely on information/data arising out of their own investigations and advised to seek independent professional advice and arrive at an informed decision before making any investments.
Mutual fund investments are subject to market risks read all scheme related documents carefully.