Ten minutes away from Bandra station, adjacent to the conspicuous Wildcraft showroom, one spies a new addition in the shops that line the sidewalk on S.V. Road. Nestled between two furniture stores lies a bright board, displaying a logo that reminds you of an activity you're all too familiar with – train travelling. Only, instead of announcing the name of a station, the blue rectangle spells 'QTube Café.' A peek inside this glass-walled café reveals a comfortable setup and even in this one glance, you can tell that this is no conventional coffee shop.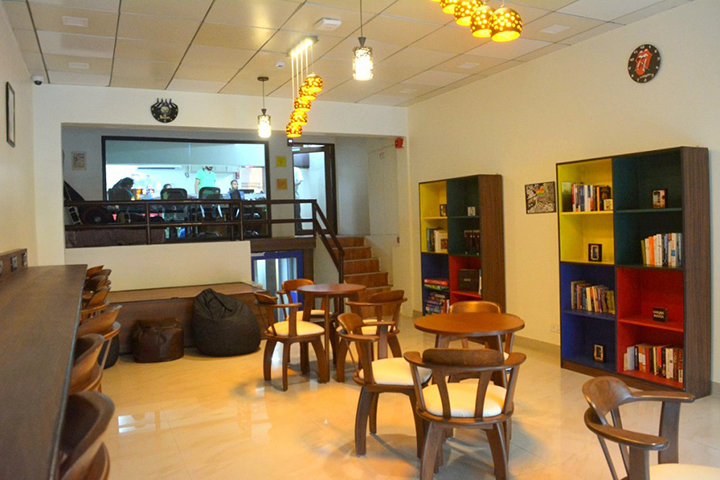 Inside the café, three colourful bookcases line one of the walls. The shelves are stacked with options that would delight any bibliophile. From fictional masterpieces to massive volumes on architecture to informative essays on business trends to intriguing biographical works, a host of options greet the glance of the avid reader. (Lookout for some delightful offerings like 'Jest in Time' – a book that compiles the best illustrations of India's top cartoonists, 'DJing for Dummies,' and an interesting publication that strives to familiarize the reader with the habits and habitat of the mighty Gir Lion!)
If reading isn't your idea of having fun (it's understandable) there is a pile of board games to explore. From scrabble, to Business to Jenga to the always enjoyable UNO, you can pull out any game and battle it out with your friends.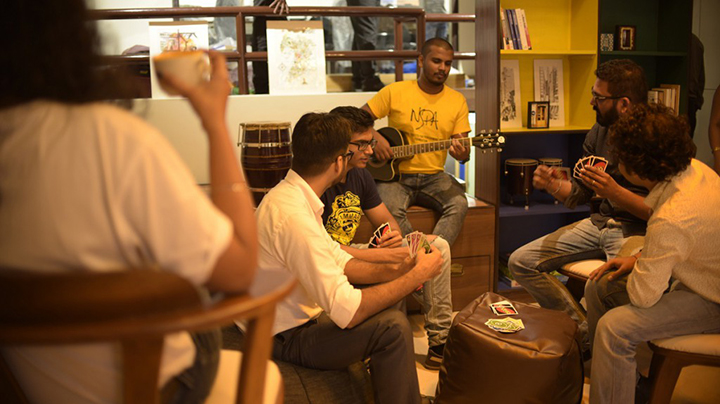 As you manoeuvre through the seating, you immediately find your eyes scanning the walls, for almost every wall in the café is decorated with an interesting objet d'art. Whether it's the music album-themed clocks, a trippy Pink Floyd doodle or a set of humorous Mario Miranda prints, there's a lot that delights the eye of the art-lover.
The seating in the café is comfortable and functional. There's the table and chair set up to facilitate intimate conversation while the high table, lined with tall chairs is perfect for those who wish to read or dive into some work. It's also the perfect place to recharge a dying battery for the table is lined with multiple charging ports. There's no such thing as too many charging ports, right? Apart from these, you can also choose to slump into one of the comfy beanbags strewn around.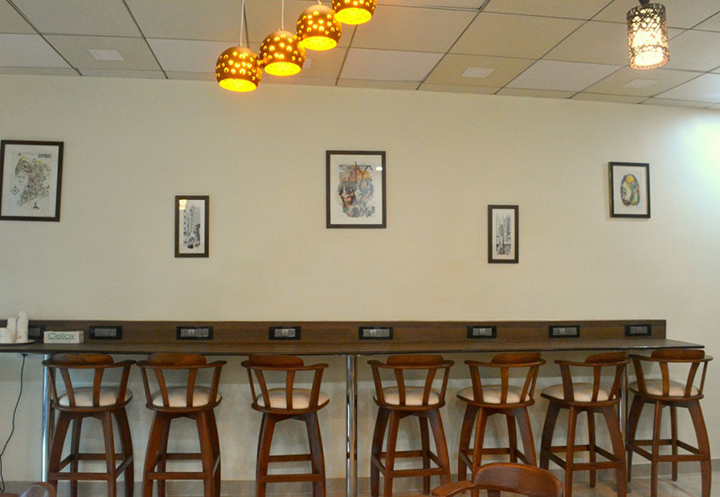 If the physical description of this café hasn't intrigued you, we don't blame you. For there are cafés that offer a similar ambience. But, what sets QTube Café apart is the fact that it doesn't offer food. We're kidding (it still doesn't offer food, but that's not what sets it apart) Firstly, at QTube, there's a lot that's offered out of love, that is, without any charge. This applies to the coffee served, W-Fi access, the books, the games as well as a set of musical instruments. Although you can't take any of these home, you're free to tinker around with whatever delights you while inside the café. You might just end up spending hours here without shelling out a penny!
Another reason why QTube Café is unique in the world of coffee shops is because it also functions as an arts incubation centre, a performance café if you may. Every day, an interesting line-up of events is planned for patrons. From live music/theatre/dance performances to exhibitions to workshops to open mics and meetups, a host of interesting performing art-related events are hosted here. Anyone with an interest in such activities can come participate, without having to pay an entry fee of any kind. Quite a cool initiative, isn't it?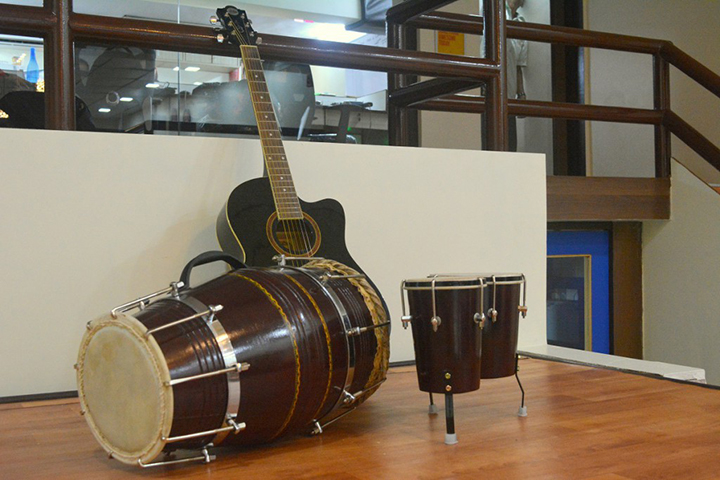 Feel free to play any of the instruments lying around.
The best news, though, is reserved for artists in the city; those creative souls who are always on the lookout for venues that'll host them and their work. We all know how difficult such venues are to come by, especially if you aren't interested in shelling out too much cash. Here's where QTube Café comes to the rescue. The Café is designed to function as an artist-friendly space, a welcoming space that can be used by artists to showcase their talents. To achieve this motive, QTube Café invites artists in the city to use this space to promote their work, and not a penny is charged from them. So, all an artist needs to do is give the team a call and mention how he or she wishes to use the space. The artist is given a feasible slot and just like that a performance/exhibition/poetry reading or anything else can be hosted here!
Isn't this a really unique initiative? If this creative café has made you curious, come visit the café so that you can enjoy the wonderful ambiance, while also treating yourself to some interesting performances. Come to sip some coffee, have a chat, relax and recharge!
If you are an artist and would like to grab this opportunity, give us a call on 022 – 26401645. Or, you could also write to us at [email protected] and tell us how you wish to use the space. We'll get in touch with you as soon as we can and help you host an event here.
QTube Café is an initiative by Quantum AMC and is powered by NSPA (Natural Streets for Performing Arts) Foundation.
Sorce: NSPA