This pandemic has been a wake-up call for all of us and has stressed the importance of having a sound financial backup plan. A plan that can help you meet unforeseen expenses whether that be a health emergency or unemployment etc. If you are in urgent need of funds, you will likely redeem or liquidate your investments in the spur of the moment and without thinking twice.
However by fully redeeming your holdings, you stand to disrupt your wealth creation goals. Instead, we have an alternative for you, a safe option that will not only provide liquidity when you need it but also will continue to earn you returns until you actually "use" the funds.
Instead of completely withdrawing your investment and leaving it idle in a bank account, you can "SWITCH" or move units from your current fund temporarily to a Liquid Fund.
Let's first understand how Switch differs from Redemption:
Switch vs. Redemption:


Redemption is when you sell your mutual fund units either partially or completely and the specified amount is credited to your bank account.


Whereas Switching means transferring from one Quantum Mutual Fund to another within the Quantum Family.

A Liquid fund is similar to a saving Bank account in several ways while offering additional benefits as outlined below:



Quantum Liquid Fund – Salient Features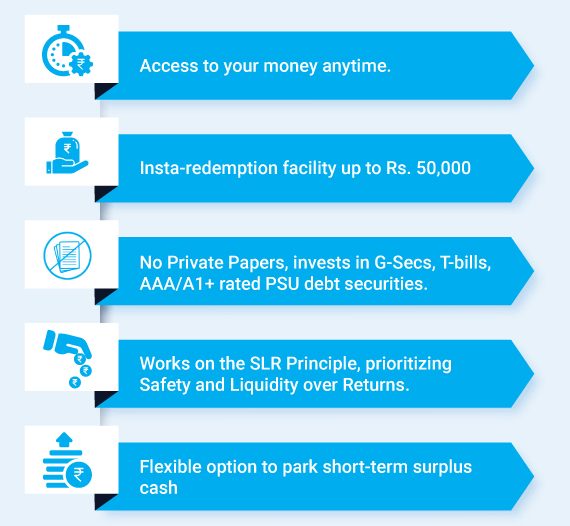 To facilitate the ease of Switching in an emergency or otherwise, it is a good idea to start your Quantum Liquid Fund today to avoid any unnecessary administrative delays. You can start investing in Quantum Liquid Fund with lumpsum of Rs.5000 and thereafter make additional purchase with an SIP (Systematic Investment Plan) of just Rs. 500, and build it from there.



Safe Money As Part of Your Asset Allocation


Nobody knows how long the Coronavirus pandemic will continue and how much time will it take for the economy to recover. So, it's a good idea to anyway have safe money as part of your portfolio to take care of unforeseen expenses.
Ideally, you need to deploy enough money to keep up your consumption pattern for 12 months or longer, depending on your risk appetite.
After you have the sufficient safe money, you can then think of further adding to your Equity or Gold portfolio using the 12-20-80 Quantum Asset Allocation Strategy.

Please note that the above suggested fund allocation only and is not to be considered as investment advice / recommendation, please seek independent professional advice and arrive at an informed investment decision before making any investments.

So, there are three reasons why consider a Liquid Fund as part of your investment portfolio.
✔ Balancing your portfolio from an asset allocation standpoint
✔ Safe money during times of emergencies.
✔ Ability to "Switch" investments easily in times of need without sacrificing opportunities
Add Quantum Liquid Fund to your portfolio today to reap the benefits of diversification, safety, liquidity and returns!
---
Product Labeling
Name of the Scheme & Primary Benchmark
This product is suitable for investors who are seeking*
Risk-o-meter of Scheme
Quantum Gold Fund

An Open Ended Scheme Replicating / Tracking Gold
• Long term returns

• Investments in physical gold.

Investors understand that their principal will be at Moderately High Risk
Quantum Gold Savings Fund

An Open Ended Fund of Fund Scheme Investing in Quantum Gold Fund
• Long term returns

•Investments in units of Quantum Gold Fund - Exchange Traded Fund whose underlying investments are in physical gold.

Investors understand that their principal will be at Moderately High Risk

*Investors should consult their financial advisers if in doubt about whether the product is suitable for them.
The Risk Level of the Scheme in the Risk O Meter is based on the portfolio of the scheme as on Sep 30, 2021.

---
Disclaimer, Statutory Details & Risk Factors:
The views expressed here in this article / video are for general information and reading purpose only and do not constitute any guidelines and recommendations on any course of action to be followed by the reader. Quantum AMC / Quantum Mutual Fund is not guaranteeing / offering / communicating any indicative yield on investments made in the scheme(s). The views are not meant to serve as a professional guide / investment advice / intended to be an offer or solicitation for the purchase or sale of any financial product or instrument or mutual fund units for the reader. The article has been prepared on the basis of publicly available information, internally developed data and other sources believed to be reliable. Whilst no action has been solicited based upon the information provided herein, due care has been taken to ensure that the facts are accurate and views given are fair and reasonable as on date. Readers of this article should rely on information/data arising out of their own investigations and advised to seek independent professional advice and arrive at an informed decision before making any investments. Please visit – www.quantumamc.com/disclaimer to read scheme specific risk factors.