Crude Oil Prices have corrected from the highs near the $150 per barrel levels to near the $120 levels. Is the correction over or is there more good news to come in terms of lower crude oil prices? No one will have a definitive answer.

The Gold / Oil ratio remains near its all time lows which suggests that gold is seriously undervalued. Gold / Oil ratio refers to how much crude oil can be bought with one ounce of Gold. With gold at $930 per ounce and oil at $125 per barrel, the Gold/Oil ratio is at 7.4. The average for the last 40 years has been around 15. But does this mean gold prices are too low, or perhaps that crude oil prices are unsustainable at current levels and have to come down sharply and quickly. Your viewpoint depends on which side of the fence you are sitting on.
Gold Oil Ratio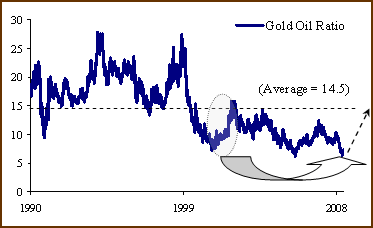 Source: Bloomberg
If one were to take a pragmatic view, it seems likely that the future scenario could be something in between the two viewpoints. Given the no. of factors influencing crude prices one can't be really sure of the trend of crude oil prices in the future. However one can be reasonably sure that the long term relationship of Gold to Crude oil will revert back to its historical average of around 1: 14.5 versus 1: 7.4 currently. This can happen either by a big fall in crude oil prices or gold prices moving up much higher.

There is a lot of uncertainty over which way gold prices will move in the short term. . However a no. of international and domestic gold traders and analysts are bullish on Gold and have been predicting that gold would soon start moving northwards and some have predicted that it will reach $2000 per ounce in the medium term.. Many Commodity Experts and Analysts also believe that Crude Oil prices are unlikely to slide below $ 100 per barrel mark.

If Crude Oil Prices fall further what will happen to gold prices? Recently Crude Oil Prices came down from higher levels and Gold Prices also came down. Therefore a correction in Crude Oil prices led to a correction in Gold prices.

International crude oil prices increased by more than 47% this year when it reached its all time high of around $145 whereas international gold prices went up by only 14% during the same time frame. This shows that record crude oil prices were not followed by record gold prices.

We believe that the gold / oil ratio will align with the long term average i.e 14.5. Even if crude oil prices correct to $100 levels which experts say could be the new floor price, then gold has to rise to $1450 to get back to its historical average. There are various forecasts of crude boiling to $150 levels and above. In such ascenario, to adjust to the historical average, gold prices will have to rise above $2100.
Gold / Oil Ratio
Long Term Average
14.51
Current Crude Price ($/barrel)
125
Corresponding Gold Price adjusted to the long term ratio
1814
Scenario Analysis
Crude Prices($ / barrel)
Gold Prices Adjusted to
Long term Gold / Oil Ratio
($ / troy ounce)
65
943
80
1161
90
1306
100
1451
120
1741
140
2031
150
2177
180
2612
200
2902
* The Table above is purely illustrative and indicates potential gold prices assuming gold / oil ratio at 14.5. Actual Gold / Oil ratio may be higher or lower than 14.5.Past performance may or may not be sustained in future.
This recent correction has indeed provided long term investors an opportunity to buy / add more gold to their portfolio. Do not miss the bus this time, buy gold now.
Buy Gold... Buy Quantum Gold ETF. Now!