Investing in stock markets in a growing economy like India will generally give you better long term returns than investing in bank accounts. The logic is that, when an economy is growing, it means that the various businesses that make up the entire economy are – in total – growing. Growth generally means better returns. And growing returns. Bank deposits generally give you more steady and stable returns.
Investing in stocks directly
But what if you know nothing about the stock markets and are unsure which stock will actually do well? Just because a company is a "blue chip" today, does not mean it cannot fall into bad times in the future. Century Textiles and Bombay Dyeing were blue chips and "must own" stocks twenty years ago but today they have lost that stature. Infosys was not even a listed stock fifteen years ago and today it is one of the Top 5 stocks in the market. Investing in shares for long time periods is the only way to make really good returns. But, then, one needs to know which stock to invest in and always be on top of things in a ever-changing business world. And that requires a lot of time and effort on your part.
Investing through a "professional investor"
A more common way of investing in the stock markets is by investing in mutual funds. Mutual funds take money from many individuals and then buy a basket of shares. This allows the investor to own a "diversified" basket which covers stocks in many sectors. The theory here is that the fund manager – the professional investor – is smart enough to have selected the correct stocks for the portfolio; will always monitor how the portfolio of stocks he owns on your behalf is doing; and will always look out for better stocks to buy. For all this effort, you pay the mutual fund a management fee for the services of the professional investor.

Great in theory. And a wonderful concept. But,what if you chose a professional investor who was not that good at picking the right stocks?
There are over 309 mutual fund schemes that invest in the stock markets. How sure are you that you will be able to identify the best fund to match your needs?
The Nifty 50: 5 in 5!
May be there is a better way to invest your money without having to waste your time worrying about picking your own stocks or even selecting a mutual fund? Well, there is: invest in a fund that tracks the Index. If you had bought a fund that tracked the NSE-50 Index you would have made 5 times your money in 5 years. Without any time wasted worrying about which stocks to buy or sell; or which mutual fund to subscribe to.

In stock market terminology buying an "index fund" is known as "passive" investing.
5 times in 5 years sounds like a pretty exciting passive investment to me.
NIFTY-50 INDEX: Up by more than 5 times in 5 years…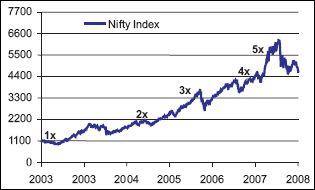 Sources: Bloomberg
* Past performance may or may not be sustained in future.

Now before you rush out to invest with a hope of making 5 times your money in 5 years, recognize the risks that stock markets can fall sharply and suddenly. Sometimes the markets recover quickly and sometimes they seem to bounce around going nowhere. And you may not make 5x your money in 5 years. You could make less. Or more. Or you could even lose a chunk of your investment. Past performance, as they correctly say, is no prediction of what the future will bring.

But stock markets are unpredictable and complicated – that is why you don't wish to buy shares directly, remember?
And mutual funds have so many complications too: your choice of the kind of mutual fund you want to invest in; the best portfolio manager to look after your investments; the higher costs of most mutual funds.
Take the easy way out: invest in the Quantum Index Fund (NFO closes on June 20th) which is an exchange traded fund (ETF). The Quantum Index Fund will trade on the NSE itself like any other stock, such as Infosys, Reliance, or Tata Steel.
The Quantum Index ETF
The Quantum Index Fund would be traded on NSE and will buy all the 50 stocks comprising the NSE Index and stick to it during good and bad times, like a good Indian wife. Stocks which are not in the Index cannot be bought.
Why you should consider the Quantum Index ETF
* No pains of doing research in selecting a single stock or sector and taking the risk of the specific stock or sector, which may or may not do well.

* Well diversified exposure to stock markets and economy of India-NSE 50 Index comprises of 50 blue chip stocks in 21 sectors, so lowers your risk and dependence on any one stock or sector to make you money.

* No need to track the NSE Index portfolio, a committee of eminent market professionals monitors the NSE Index and makes changes based on well laid-out criteria.

* Low cost and easy way of making an initial investment: subscribe at the NFO.

* Low cost way to add to your initial investment by buying the Quantum Index ETF on the NSE(on listing) - just call your broker or use your online broking account.