Investors were initially optimistic on Bonds based on the assumption that the Union Budget 2022-23 would unveil a path toward inclusion of Indian debt in global indices, which would encourage foreign inflows.


However, the recent Union Budget 2022-23 highlighted India's rising fiscal deficit and called for a higher-than-anticipated borrowing plan. In response, long term Bond yields surged more than they have in almost two years.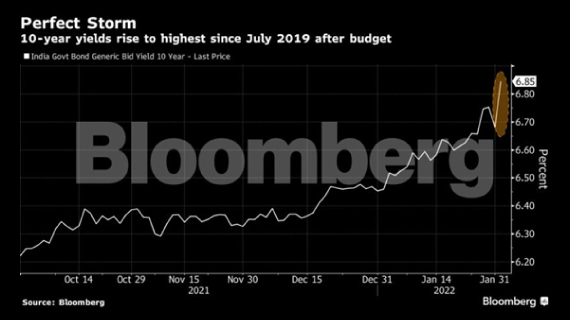 Past performance may or may not be sustained in the future.
This increase in yields may further lead to an imbalance with the supply of Indian bonds rising while demand wanes.


While global inflationary pressures are forcing central banks worldwide to begin liquidity normalization, closer to home, RBI has maintained status quo for the tenth consecutive time on the interest rate at 4% and reverse repo rate at 3.5%. This status quo is based on the recent MPC projection of Headline CPI at 4.5% average for FY23 which is within RBI's threshold limit. This has given RBI flexibility to delay monetary policy tightening unlike most other central banks worldwide. However, as core inflation remains elevated due to the rising Crude oil prices, RBI may need to hasten monetary tightening sooner than later.



How Can You Benefit from the Imminent Interest Rate Hikes?


1. Invest in a Liquid Fund:


The best way to ride a "rate hiking" cycle is to focus on the short maturity segments of the market. Investors in liquid funds and money markets funds should see their returns potentially improve as compared to a bank savings account.


For instance, if you look at the previous cycle, as the rates in the market increased, the yield on our liquid fund portfolio also went up because generally, liquid funds have very short maturities, and they have very low mark-to-market risks. As the rates increase, the underlying investment keeps reinvesting in higher-yielding assets.


So, when interest rates are likely to go up, instead of keeping your money in a savings account where the interest rate is stagnant, in a rate hiking cycle, move that money into a liquid fund, which has the potential to increase.


2. Liquid Funds form your Safety Block:


Moreover, some time ago, we had written about how Liquid Funds are A Wise Option to Park Your Emergency Money. It acts as a safe option that will not only provide liquidity when you need it to meet unforeseen expenses and but also will continue to earn you returns until you see a right opportunity in the market. When building your emergency corpus, rate hikes could be a good opportunity as the money that you park in a liquid fund scheme for emergency purposes will start earning more as rates go up.


Advantages of investing in Quantum Liquid Fund

Portfolio comprising of AAA/A1+ rated PFI/ PSU securities and government securities with a duration not exceeding 91 days,
Works on the 'SLR' principle, prioritizing safety and liquidity over returns.
Insta-redemption facility up to Rs.50,000 that allows you to redeem your investment immediately.
Does NOT invest in Private Papers / Corporate Instruments
Relatively low-interest rate & Credit risk (classified as A-1 as per the PRC matrix).
To know more about Quantum Liquid Fund, please click here


3. Ride the India growth story:


A rate hike also indicates that the central bank is more confident economic recovery. India is at the cusp of a multi-year upcycle, and there are strong tailwinds that are emerging for India. Real estate revival and increased hiring in information technology will create very strong multipliers for the economy and will act as a strong catalyst to pull up GDP growth back to its long-term average.


The surge in Capex and Government spending are the biggest takeaways in the Union budget 2022-23. You should expect a pickup in the corporate capex cycle in the next 18 months and can look at investing in diversified equity mutual funds to generate risk-adjusted returns over the long term.


4. Rebalance to take opportunity of the equity markets:


Investors can minimize any downside risks to their portfolio using a diversified equity allocation strategy in the 70-15-15 ratio specified above.


Please note that the above is a suggested fund allocation and not to be considered as an investment advice/recommendation.



Irrespective of macro-economic uncertainties such as inflation, rising crude oil prices and imminent liquidity tapering and rate hikes, you can use our tried and tested 12-20-80 asset allocation strategy with three underlying assets in Equity, Debt and Gold, and be on your way ride the opportunities while reducing the downside risks.


---
Click on the thumbnail to watch our latest webinar where the CIO of Quantum Advisors Arvind Chari and Quantum fund managers Nilesh Shetty and Chirag Mehta helped decode the budget and shared invaluable insights.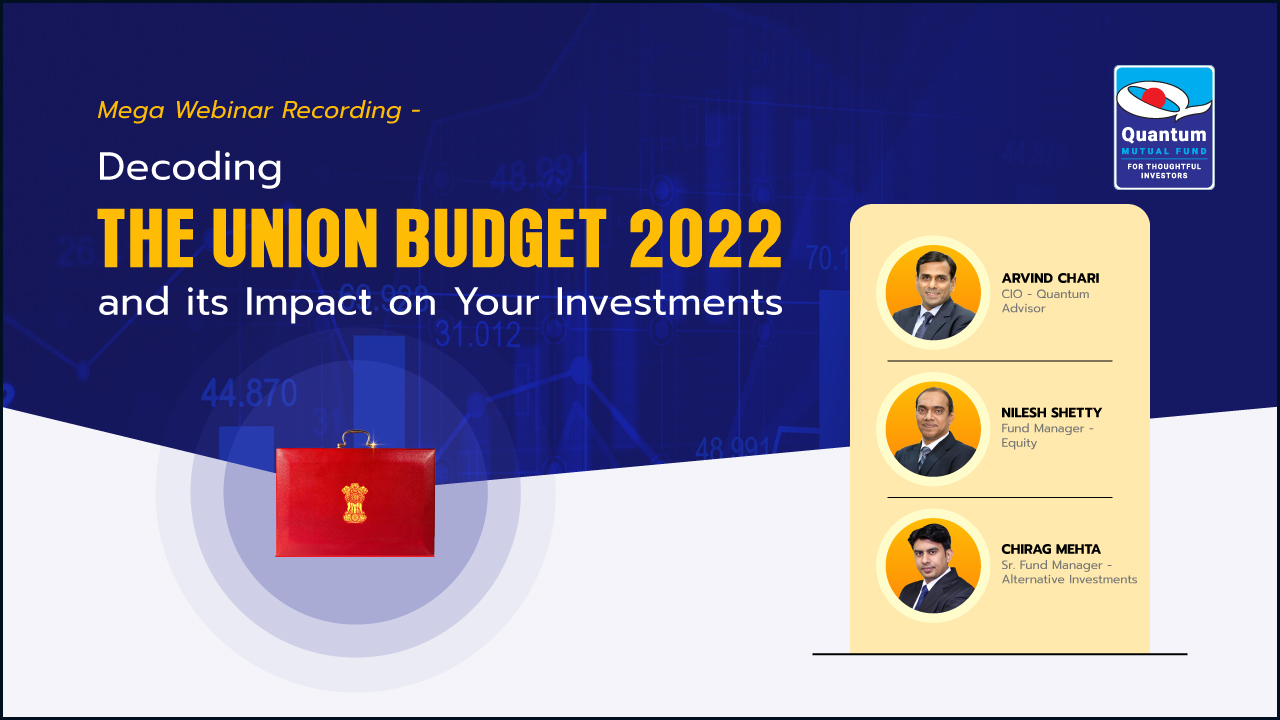 ---
---
Product Labeling
Name of the Scheme
This product is suitable for investors who are seeking*
Riskometer
Quantum Equity Fund of Funds

An Open Ended Fund of Funds scheme Investing in Open Ended Diversified Equity Schemes of Mutual Funds
• Long term capital appreciation

• Investments in portfolio of open-ended diversified equity schemes of mutual funds registered with SEBI whose underlying investments are in equity and equity related securities of diversified companies

Investors understand that their principal will be at Very High Risk
Quantum India ESG Equity Fund

An Open ended equity scheme investing in companies following Environment, Social and Governance (ESG) theme
• Long term capital appreciation

• Invests in shares of companies that meet Quantum's Environment, Social, Governance (ESG) criteria.

Investors understand that their principal will be at Very High Risk
Quantum Long Term Equity Value Fund

An Open Ended Equity Scheme following a Value Investment Strategy
• Long term capital appreciation

• Invests primarily in equity and equity related securities of companies in S&P BSE 200 index.

Investors understand that their principal will be at Very High Risk
Quantum Tax Saving Fund

An Open Ended Equity Linked Saving Scheme with a Statutory Lock in of 3 years and Tax Benefit
• Long term capital appreciation

• Invests primarily in equity and equity related securities of companies in S&P BSE 200 index and to save tax u/s 80 C of the Income Tax Act. Investments in this product are subject to lock in period of 3 years


Investors understand that their principal will be at Very High Risk
Quantum Liquid Fund

An Open-ended Liquid Scheme. A relatively low interest rate risk and relatively low credit risk.
• Income over the short term

• Investments in debt / money market instruments.


Investors understand that their principal will be at Low Risk
* Investors should consult their financial advisers if in doubt about whether the product is suitable for them.
The Risk Level of the Scheme in the Risk O Meter is based on the portfolio of the scheme as on January 31, 2022.
---
Potential Risk Class Matrix - Quantum Liquid Fund
Credit Risk →
Relatively Low
Moderate (Class B)
Relatively High (Class C)
Interest Rate Risk↓
Relatively Low (Class I)
A-I
Moderate (Class II)
Relatively High (Class III)
---

Disclaimer, Statutory Details & Risk Factors:
The views expressed here in this article / video are for general information and reading purpose only and do not constitute any guidelines and recommendations on any course of action to be followed by the reader. Quantum AMC / Quantum Mutual Fund is not guaranteeing / offering / communicating any indicative yield on investments made in the scheme(s). The views are not meant to serve as a professional guide / investment advice / intended to be an offer or solicitation for the purchase or sale of any financial product or instrument or mutual fund units for the reader. The article has been prepared on the basis of publicly available information, internally developed data and other sources believed to be reliable. Whilst no action has been solicited based upon the information provided herein, due care has been taken to ensure that the facts are accurate and views given are fair and reasonable as on date. Readers of this article should rely on information/data arising out of their own investigations and advised to seek independent professional advice and arrive at an informed decision before making any investments.
Mutual fund investments are subject to market risks read all scheme related documents carefully.
Please visit – www.QuantumAMC.com to read scheme specific risk factors. Investors in the Scheme(s) are not being offered a guaranteed or assured rate of return and there can be no assurance that the schemes objective will be achieved and the NAV of the scheme(s) may go up and down depending upon the factors and forces affecting securities market. Investment in mutual fund units involves investment risk such as trading volumes, settlement risk, liquidity risk, default risk including possible loss of capital. Past performance of the sponsor / AMC / Mutual Fund does not indicate the future performance of the Scheme(s). Statutory Details: Quantum Mutual Fund (the Fund) has been constituted as a Trust under the Indian Trusts Act, 1882. Sponsor: Quantum Advisors Private Limited. (liability of Sponsor limited to Rs. 1,00,000/-) Trustee: Quantum Trustee Company Private Limited. Investment Manager: Quantum Asset Management Company Private Limited. The Sponsor, Trustee and Investment Manager are incorporated under the Companies Act, 1956.