Secure your investments through diversification
With pandemic-induced economic deceleration, banks may face more defaults from retail loan borrowers.
According to renowned economist Vivek Kaul, when bad loans go up, the stability of banks is questionable which eventually derails the entire economy.
HOW BANK DEPOSITS WORK

WHEN BANK DEPOSITS

FAIL

How does diversification help
A diversified Mutual Fund Portfolio aligned with your investment objectives can take care of all your financial goals.
Try this simple and hassle-free solution as your asset allocation strategy.
We suggest a 24-80-20** portfolio.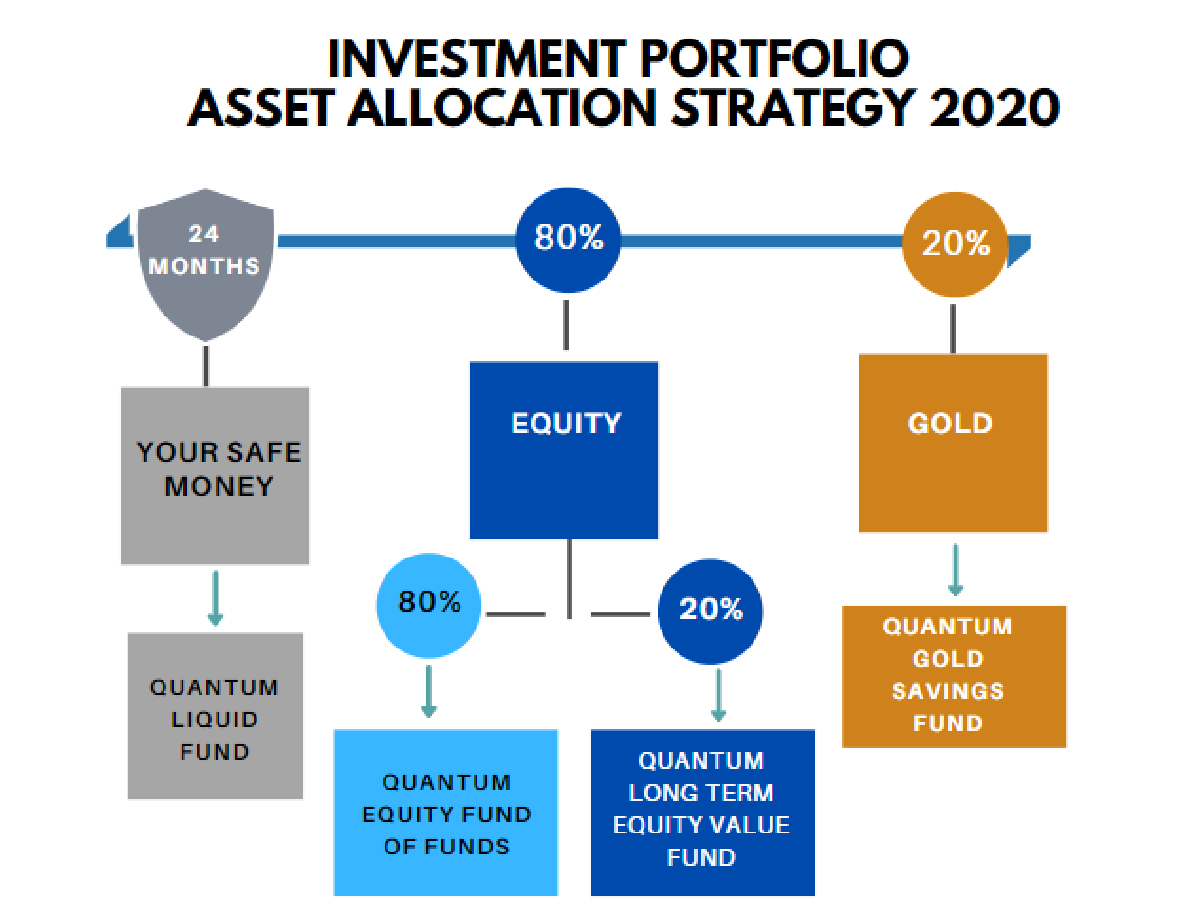 1. Your safe money for 24 months:
Have enough money at your disposal that can keep up with your consumption pattern, ideally around 24 -36 months is recommended.
One such option is the Quantum Liquid fund, a fund that prioritizes safety and liquidity of your money over returns. Read more
2. Future planning with "80-20":
All you have to do is invest 80% in equity mutual funds and the rest 20% of your portfolio could be in Gold.
At Quantum, we suggest an equity portfolio that consists of only two funds:
| | |
| --- | --- |
| Equity Portfolio | Allocation |
| Quantum Equity Fund of Funds | 80% |
| Quantum Long Term Equity Value Fund | 20% |
80% in Quantum Equity Fund of Funds (QEFOF):

Backed by 20 years research, we offer you a ready-made Equity portfolio shortlisted from a pool of more than 400 equity funds. Read more

20% in Quantum Long Term Equity Value Fund (QLTEVF):

This scheme follows the value investment strategy offering the potential to build wealth over the long term. Read more
3. Final 20% in gold allocation – Quantum Gold Saving Fund:
Needless to say, in the recent past gold has stood the test of the Pandemic and proven to be an efficient portfolio diversifier.
Thus, investment of 15-20% in gold via Quantum Gold Savings Fund is imperative. Read more
Start building your wealth today.
**The above suggested strategy / asset allocation is to explain the concept of diversification. This shall not be considered as Investment Advice / Recommendation. Please seek independent professional advice and arrive at informed investment decision before making any investments.
Investments in mutual funds should not be construed as a promise, guarantee or a forecast of any minimum returns. Unlike Fixed Deposit with banks / money in the bank accounts, there is no capital protection guarantee or assurance of any return in mutual funds investment. Investments in Mutual Funds as compared to Fixed Deposits with banks / money in the bank accounts carry moderately high risk, follow different tax treatment and are subject to market risk. Please consult your Tax Consultant or Financial Advisor before taking any investment related decision.
---
Product Labeling
Name of the Scheme
This product is suitable for investors who are seeking*
Riskometer
Quantum Equity Fund of Funds

An Open Ended Fund of Funds scheme Investing in Open Ended Diversified Equity Schemes of Mutual Funds
• Long term capital appreciation

• Investments in portfolio of open-ended diversified equity schemes of mutual funds registered with SEBI whose underlying investments are in equity and equity related securities of diversified companies


Quantum Liquid Fund

(An Open Ended Liquid Scheme)
• Income over the short term

• Investments in debt / money market instruments


Quantum Long Term Equity Value Fund

An Open Ended Equity Scheme following a Value Investment Strategy
• Long term capital appreciation

• Invests primarily in equity and equity related securities of companies in S&P BSE 200 index

Quantum Gold Savings Fund

An Open Ended Fund of Fund Scheme Investing in Quantum Gold Fund
• Long term returns

• Investments in units of Quantum Gold Fund – Exchange Traded Fund whose underlying investments are in physical gold

Quantum Gold Fund

An Open Ended Scheme Replicating / Tracking Gold
• Long term returns

• Investments in physical gold

* Investors should consult their financial advisers if in doubt about whether the product is suitable for them.
---
Disclaimer, Statutory Details & Risk Factors:
The views expressed here in this article / video are for general information and reading purpose only and do not constitute any guidelines and recommendations on any course of action to be followed by the reader. Quantum AMC / Quantum Mutual Fund is not guaranteeing / offering / communicating any indicative yield on investments made in the scheme(s). The views are not meant to serve as a professional guide / investment advice / intended to be an offer or solicitation for the purchase or sale of any financial product or instrument or mutual fund units for the reader. The article has been prepared on the basis of publicly available information, internally developed data and other sources believed to be reliable. Whilst no action has been solicited based upon the information provided herein, due care has been taken to ensure that the facts are accurate and views given are fair and reasonable as on date. Readers of this article should rely on information/data arising out of their own investigations and advised to seek independent professional advice and arrive at an informed decision before making any investments.
Mutual fund investments are subject to market risks read all scheme related documents carefully.
Please visit – www.QuantumAMC.com to read scheme specific risk factors. Investors in the Scheme(s) are not being offered a guaranteed or assured rate of return and there can be no assurance that the schemes objective will be achieved and the NAV of the scheme(s) may go up and down depending upon the factors and forces affecting securities market. Investment in mutual fund units involves investment risk such as trading volumes, settlement risk, liquidity risk, default risk including possible loss of capital. Past performance of the sponsor / AMC / Mutual Fund does not indicate the future performance of the Scheme(s). Statutory Details: Quantum Mutual Fund (the Fund) has been constituted as a Trust under the Indian Trusts Act, 1882. Sponsor: Quantum Advisors Private Limited. (liability of Sponsor limited to Rs. 1,00,000/-) Trustee: Quantum Trustee Company Private Limited. Investment Manager: Quantum Asset Management Company Private Limited. The Sponsor, Trustee and Investment Manager are incorporated under the Companies Act, 1956.