Small Additions, Big Gains – Increase Your SIP today
It's a known fact, SIPs are hands down one of the most preferred investment options. The biggest reason why mutual fund investors choose Systematic Investment Plans to achieve their financial goals is that it allows them to create wealth by investing small amounts regularly. This way SIPs help investors to invest for multiple financial goals simultaneously.
However, is there a way to increase the potential of SIPs to gain more wealth in the same duration?
A Small Additional Investment Can Lead to Large Gains
When you modify your SIP amount and increase it yearly, it makes a noteworthy impact on the future value of your corpus, and fuel your SIP's growth.
This will not only help you invest more but be a game-changer for your wealth creation journey.
Let us see an example of how a small increase in your SIP each year at an assumed rate of return of 10% could potentially perform vs a static SIP.
| | | |
| --- | --- | --- |
| | Static SIP | Annual Incremental SIP |
| Monthly Investment Amount | 10,000 | 10,000 |
| Incremental SIP growth p.a. | 0% | 10% |
| Corpus Earned after 10 years | 20.65 Lacs | 30.45 Lacs |
The table above is for illustration purposes only. Investments through SIP is subject to market risk and do not assure a profit or returns or protection against a loss in downturn market.
Thus, by incrementally increasing your SIP by 10% every year, your corpus could increase by 47% during the same period.
The Power of Compounding
As seen in the table above, a regular incremental rise in your SIP amount might not burn a hole in your pockets but could very well help you reach your goals faster or build more wealth.
If you choose to modify your SIP every year by adding 10% & your first year's contribution is Rs. 10000/- then moving forward your second year's SIP amount would be Rs. 11000 and Rs. 12100 for the third year and so on. And then let the power of compounding do its magic.
It's the Power to Compound. Simply put, the power of compounding means earning returns on the returns you have earned on your SIP amount, which grows over time. Albert Einstein referred to the power of compounding as the 8th wonder of the world. The thumb rule being, start early and stay invested for the long-term.
Cope better with Inflation
With the wide swings in the equity market, it is easy to lose perspective on your long-term goals and be tempted to lock in short-term returns. But most tend to ignore the inevitable risk of the future which is Inflation. Inflation eats away at our purchasing power in small ways. An incremental increase in your SIPs, helps you cope better with Inflation and retain the future value of your corpus. Let's understand the impact of the future cost of Rs. 100,000, 25 years down the line.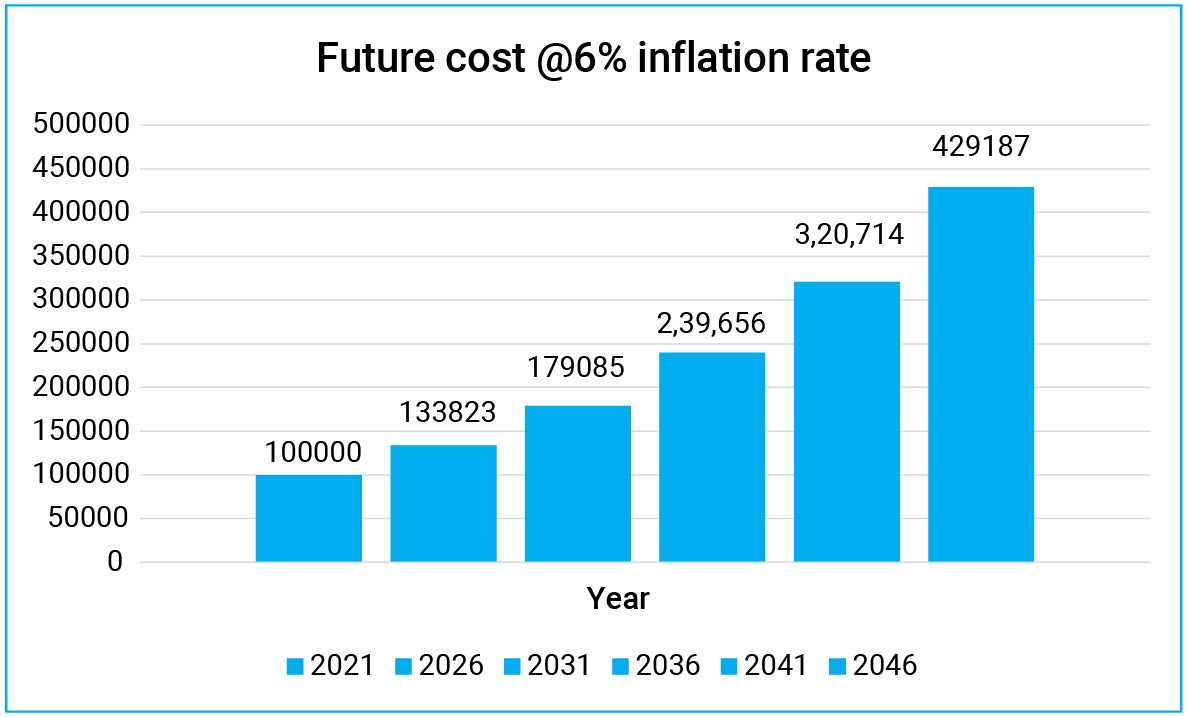 The above Graph is for illustrative purpose only
Make it a Practice to Increase your Investment Annually
An SIP lets you act decisively and inculcate discipline when it comes to doing the right thing with your hard-earned money – investing it via a mutual fund. Once you start an SIP, a fixed amount of your money gets invested every month in the fund that you chose. To level up your discipline and make SIP investments work for you, all you have to do is initiate an increase in your online SIP amount at the end of every year.
It's time to make your money matter the most, make it work for you. Remember, the secret sauce of smart investing is in the smaller details we usually miss out on.
A small increase every year could work wonders.
Add to your SIP today!
---
Disclaimer, Statutory Details & Risk Factors:
The views expressed here in this article / video are for general information and reading purpose only and do not constitute any guidelines and recommendations on any course of action to be followed by the reader. Quantum AMC / Quantum Mutual Fund is not guaranteeing / offering / communicating any indicative yield on investments made in the scheme(s). The views are not meant to serve as a professional guide / investment advice / intended to be an offer or solicitation for the purchase or sale of any financial product or instrument or mutual fund units for the reader. The article has been prepared on the basis of publicly available information, internally developed data and other sources believed to be reliable. Whilst no action has been solicited based upon the information provided herein, due care has been taken to ensure that the facts are accurate and views given are fair and reasonable as on date. Readers of this article should rely on information/data arising out of their own investigations and advised to seek independent professional advice and arrive at an informed decision before making any investments.
Mutual fund investments are subject to market risks read all scheme related documents carefully.
Please visit – www.QuantumAMC.com to read scheme specific risk factors. Investors in the Scheme(s) are not being offered a guaranteed or assured rate of return and there can be no assurance that the schemes objective will be achieved and the NAV of the scheme(s) may go up and down depending upon the factors and forces affecting securities market. Investment in mutual fund units involves investment risk such as trading volumes, settlement risk, liquidity risk, default risk including possible loss of capital. Past performance of the sponsor / AMC / Mutual Fund does not indicate the future performance of the Scheme(s). Statutory Details: Quantum Mutual Fund (the Fund) has been constituted as a Trust under the Indian Trusts Act, 1882. Sponsor: Quantum Advisors Private Limited. (liability of Sponsor limited to Rs. 1,00,000/-) Trustee: Quantum Trustee Company Private Limited. Investment Manager: Quantum Asset Management Company Private Limited. The Sponsor, Trustee and Investment Manager are incorporated under the Companies Act, 1956.