In Sanskrit, the word Akshaya (अक्षय) means "never decreasing" prosperity or joy, while Tritiya means "third phase of the moon". It is considered one of the most auspicious days to make investments in Gold to usher prosperity into the household. Before deciding to make investments in Gold, you may have certain concerns:


Is the Gold pure?
Is it price efficient?
Does it offer liquidity when in need of money?
How will it fit as part of my investment basket?




The answer to all the above is by investing in Gold in the form of Mutual Funds & ETFs.


Mutual Funds and ETFs are a convenient way to invest in gold rather than opting for yellow metal the physical way. It scores better on concerns regarding purity, price efficiency, liquidity and relevancy. The Quantum Gold Fund – Exchange Traded Fund (ETF) and Quantum Gold Savings Fund offer an edge over physical gold. Gold ETFs track the domestic price of Gold and are backed by physical gold. They are listed and traded on the stock exchange similar to a stock of any company. They can be bought and sold on real-time basis using a demat account. They allow you the flexibility to invest using smaller denominations. For instance, each unit of Quantum Gold Fund ETF represents 1/100th of 1 gram of gold. On the other hand, a Gold Mutual fund or Gold Savings Fund is a fund of fund scheme that invests in underlying Gold ETFs. If you do not possess a demat account or want the flexibility of investing through SIPs, Gold Savings Fund is an option for you. Let's learn the benefits in detail.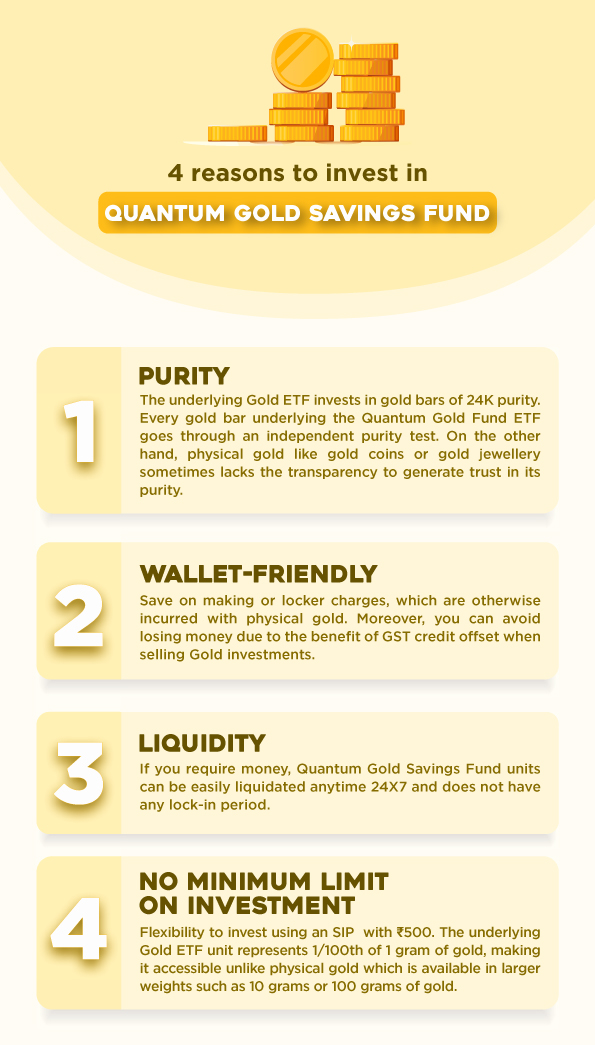 To sum up, the underlying Gold ETF of Quantum Gold Savings Fund offers exposure to Gold without having to purchase, store and resell the physical metal. The scheme takes care of the storage in professional vaults and covers your insurance needs.


Remember Gold is not a tactical asset. Gold acts as a strategic portfolio diversifying tool and safeguards your investments when other asset classes lag. If you believe in the potential of the yellow metal, you should start investing or add to your existing allocation to complete your 20% allocation to gold as part of our tried and tested 12| 20: 80 Asset Allocation Strategy.


Want to know how much gold allocation may work best for you? Use our 12|20:80 Asset Allocation Calculator to find out.


Having gold in your portfolio helps balance out the risks posed by other asset classes like equity. As a matter of fact, the current macroeconomic backdrop warrants an allocation to Gold in your portfolio.






Gold – One of the Best Asset Classes of 2023


Gold has been hands down the best-performing asset class of 2023. Quantum Gold Saving Fund has given returns of 15.07%. Whether it was the bank collapse, rising inflation or prolonged Russia-Ukraine geopolitical crisis, Gold shone further, strengthening the investment portfolio during periods of uncertainty.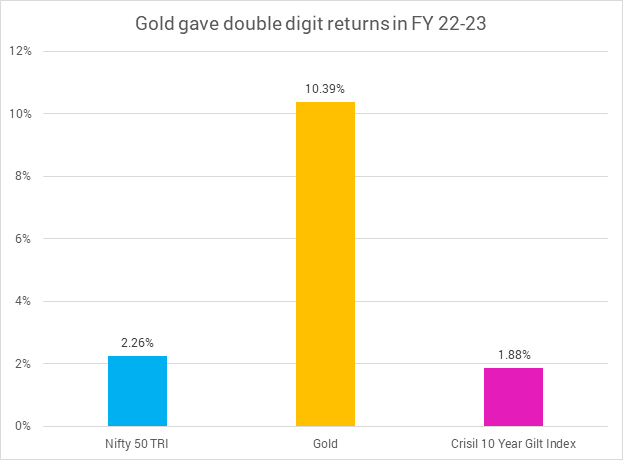 Source: Nifty 50 TRI, Domestic Gold and Crisil 10 Year Gilt Index.
Annual Performance for the period ended Mar 31, 2023.
Past performance may or may not be sustained in the future.1The performance to be read in conjunction with the complete fund performance given below.






3 Key Reasons to add Gold to your Portfolio
Gold has potential to cope with inflation- As per World Gold Council, in the long run, gold prices has run in tandem with the rate of inflation thereby helping you to cope better with rising commodity prices.
Long-term store of value – Gold has held its value amid the backdrop of any crisis, be it a financial shock or a geopolitical shock.
Gold as a portfolio diversifier – As witnessed historically, Gold is one asset class that generally shares an inverse relationship with Equity and can be strategically used to safeguard your portfolio during times of market stress.




If you have not completed your 20% allocation, you can start investing systematically with SIPs.


This Akshaya Tritiya, invest in Gold by stepping into a new world of convenience & efficiency with Quantum Gold Savings Fund.




Related Articles
Gold Monthly View for March 2023
Investing in Gold Now Got Easier on the Wallet!
---
Performance of the Scheme
Direct Plan
Quantum Gold Savings Fund - Growth Option
Current Value ₹10,000 Invested at the beginning of a given period
Period
Scheme Returns (%)
Tier 1 - Benchmark# Returns (%)
Additional Benchmark Returns (%)##
Scheme (₹)
Tier 1 - Benchmark# Returns (₹)
Additional Benchmark Returns (₹)##
Since Inception (19th May 2011)
7.46%
8.78%
6.48%
23,493
27,174
21,080
March 28, 2013 to March 31, 2023 (10 years)
5.93%
7.12%
6.11%
17,806
19,918
18,112
March 31, 2016 to March 31, 2023 (7 years)
10.14%
10.68%
5.74%
19,663
20,348
14,783
March 28, 2018 to March 31, 2023 (5 years)
12.98%
14.10%
5.81%
18,429
19,367
13,270
March 31, 2020 to March 31, 2023 (3 years)
9.34%
10.91%
2.70%
13,071
13,643
10,831
March 31, 2022 to March 31, 2023 (1 year)
15.07%
15.15%
3.43%
11,507
11,515
10,343
#Domestic Price of Physical Gold. ##CRISIL 10 Year Gilt Index.
Past performance may or may not be sustained in the future.
Different Plans shall have a different expense structure.
Different Plans shall have a different expense structure. Returns are net of total expenses and are calculated on the basis of Compounded Annualized Growth Rate (CAGR).
The Scheme is managed by Chirag Mehta. Mr. Chirag Mehta is the Fund Manager managing the scheme since May 19, 2011.
For other Schemes Managed by Mr. Chirag Mehta please Click here.
---
Product Labeling
Name of the Scheme
This product is suitable for investors who are seeking*
Riskometer of scheme
Riskometer of Benchmark

Quantum Gold Fund

An Open Ended Scheme Replicating / Tracking Gold

• Long term returns

• Investments in physical gold


Investors understand that their principal will be at High Risk



Quantum Gold Savings Fund

An Open Ended Fund of Fund Scheme Investing in Quantum Gold Fund

• Long term returns

• Investments in units of Quantum Gold Fund – Exchange Traded Fund whose underlying investments are in physical gold




Investors understand that their principal will be at High Risk



*Investors should consult their financial advisors if in doubt about whether the product is suitable for them.
The investors of Quantum Gold Savings Fund will bear the Scheme expenses in addition to the expenses of other schemes in which Fund of Funds scheme makes investment (subject to regulatory limits).




Disclaimer, Statutory Details & Risk Factors:
The views expressed here in this article / video are for general information and reading purpose only and do not constitute any guidelines and recommendations on any course of action to be followed by the reader. Quantum AMC / Quantum Mutual Fund is not guaranteeing / offering / communicating any indicative yield on investments made in the scheme(s). The views are not meant to serve as a professional guide / investment advice / intended to be an offer or solicitation for the purchase or sale of any financial product or instrument or mutual fund units for the reader. The article has been prepared on the basis of publicly available information, internally developed data and other sources believed to be reliable. Whilst no action has been solicited based upon the information provided herein, due care has been taken to ensure that the facts are accurate and views given are fair and reasonable as on date. Readers of this article should rely on information/data arising out of their own investigations and advised to seek independent professional advice and arrive at an informed decision before making any investments.
Mutual fund investments are subject to market risks read all scheme related documents carefully.