The year 2020 has stood as an outlier in terms of market movements.
Despite many economists declaring COVID-19 as the 'Black Swan' of 2020, the Sensex and Nifty have rallied ahead of expectations. From a low of 25,638.9 on March 24 at the start of the pandemic, the Sensex gained record highs of over 70% as on Nov 2020.
As an investor, you may be faced with several questions:

Is this rally likely to continue?
Is it the right time to book profits?
Is it the right time to continue investing in equity mutual funds?
What's interesting to note that even as the domestic markets are redeeming or profit booking from the rally, foreign investors have restored their faith in India's growth story potential and have been investing heavily in equity markets.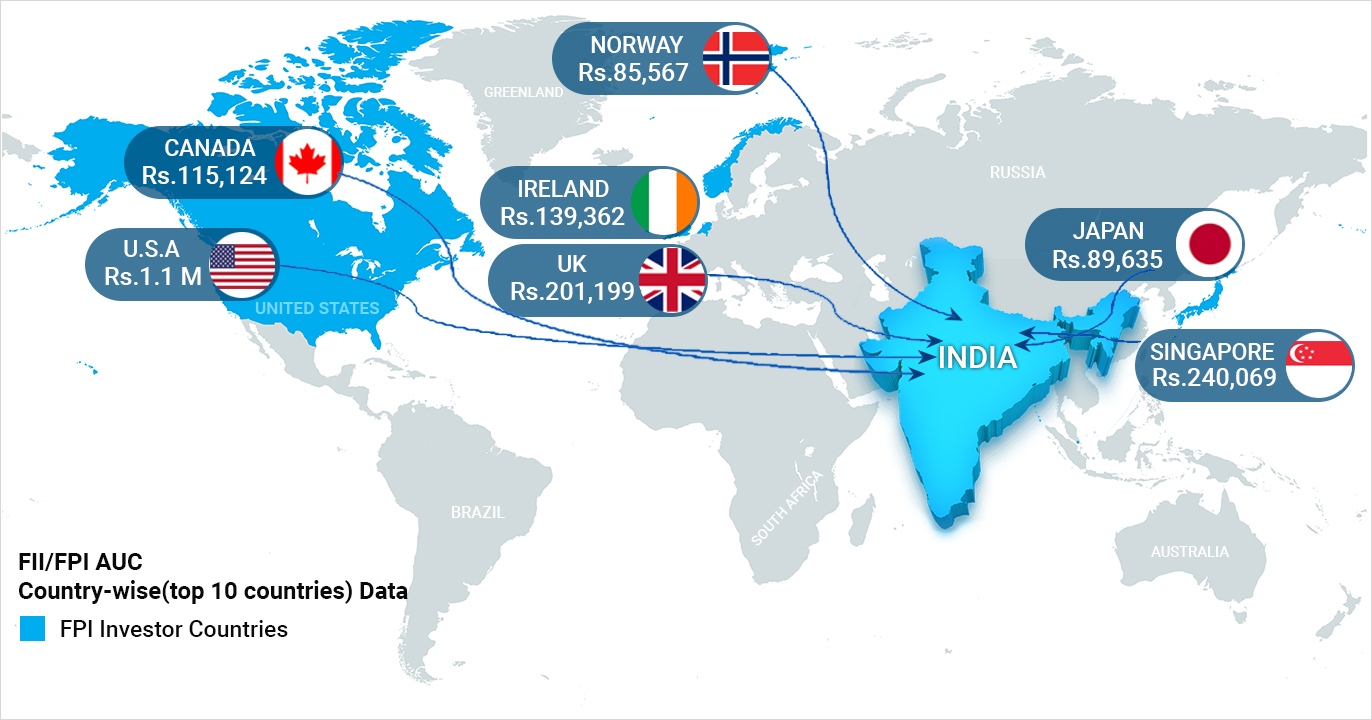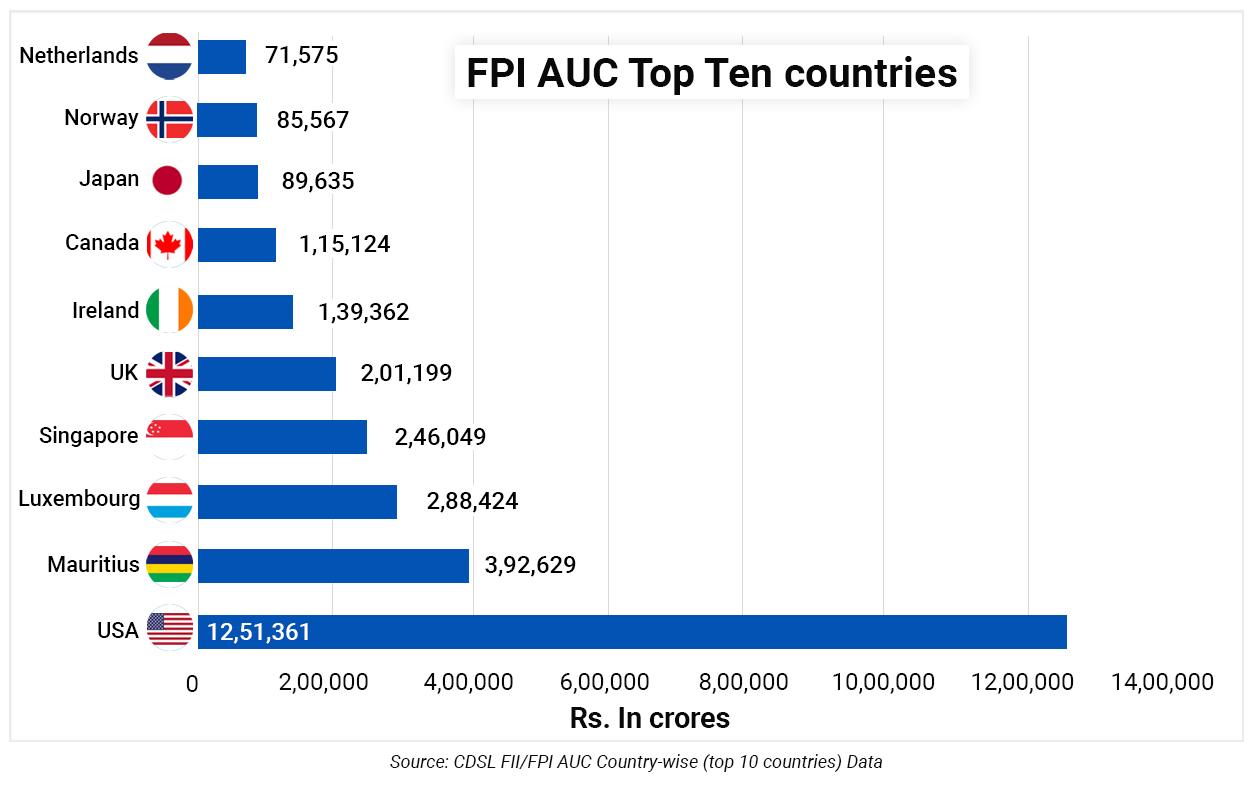 From a Rs. 1.1 trillion outflow in the month of March, the last few months, foreign capital has come back to equity markets in India. October and November 2020, have witnessed a significant resurgence in FPI inflows driven primarily by equity inflows. As of November 28, 2020, FPI inflows stood at Rs 62,782 crore resulting in the highest ever FPI inflows for a month for India and the flows have amounted to over Rs.60000 crores so far in December.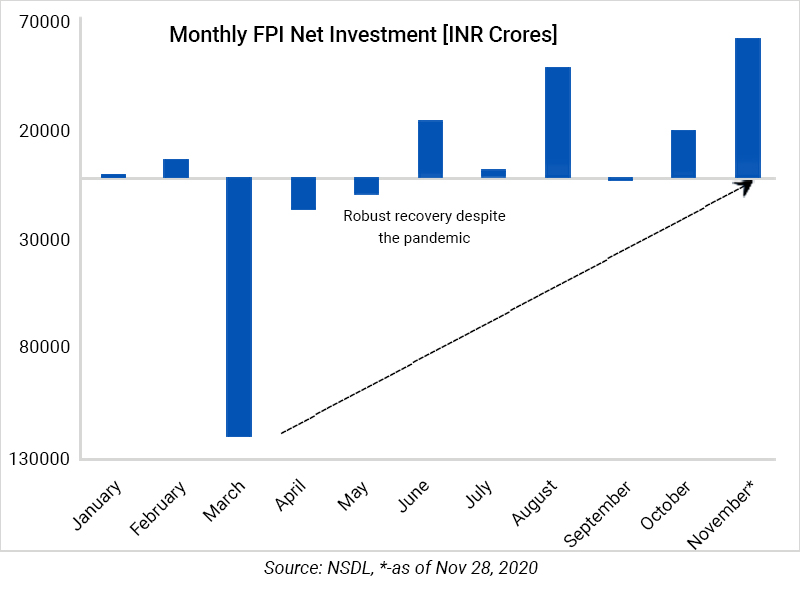 November 2020 FPI inflows has been higher than annual flows of 4 out of last 5 years taking the Sensex to new highs.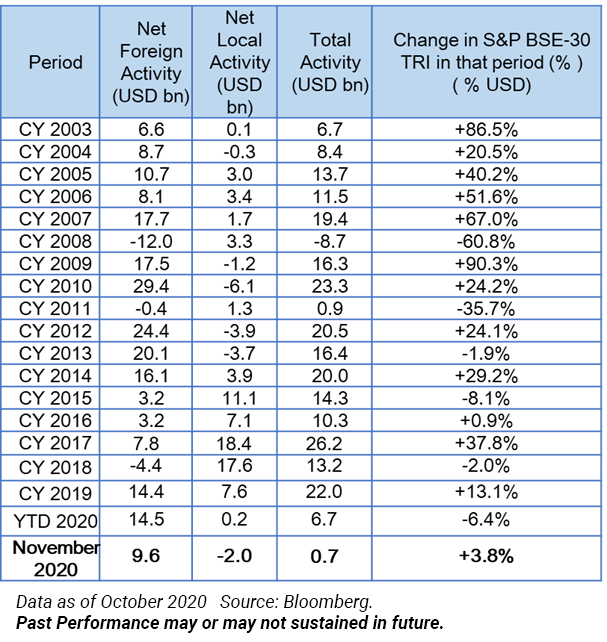 Given the improvement in economic scenario post COVID-19 and the increase in India's weightage by MSCI in their global Emerging Markets Index, we believe the surge in FPIs is likely to continue.
Let's first understand the four key factors that could propel the equity markets further due to FPI inflows:
1. Global Economic stimulus packages and Biden's win
Early this year, economic stimulus packages have been unveiled across the globe to combat against the Coronavirus and to kick-start the economy. Election of Joe Biden as the next President of the US was the key reason for the surge in equity markets along with economic stimulus packages across globe. We believe Biden is expected to adopt a more rational approach towards China due to which FPIs are revaluating their emerging markets risk perception. And India has also been a key beneficiary of this market sentiment.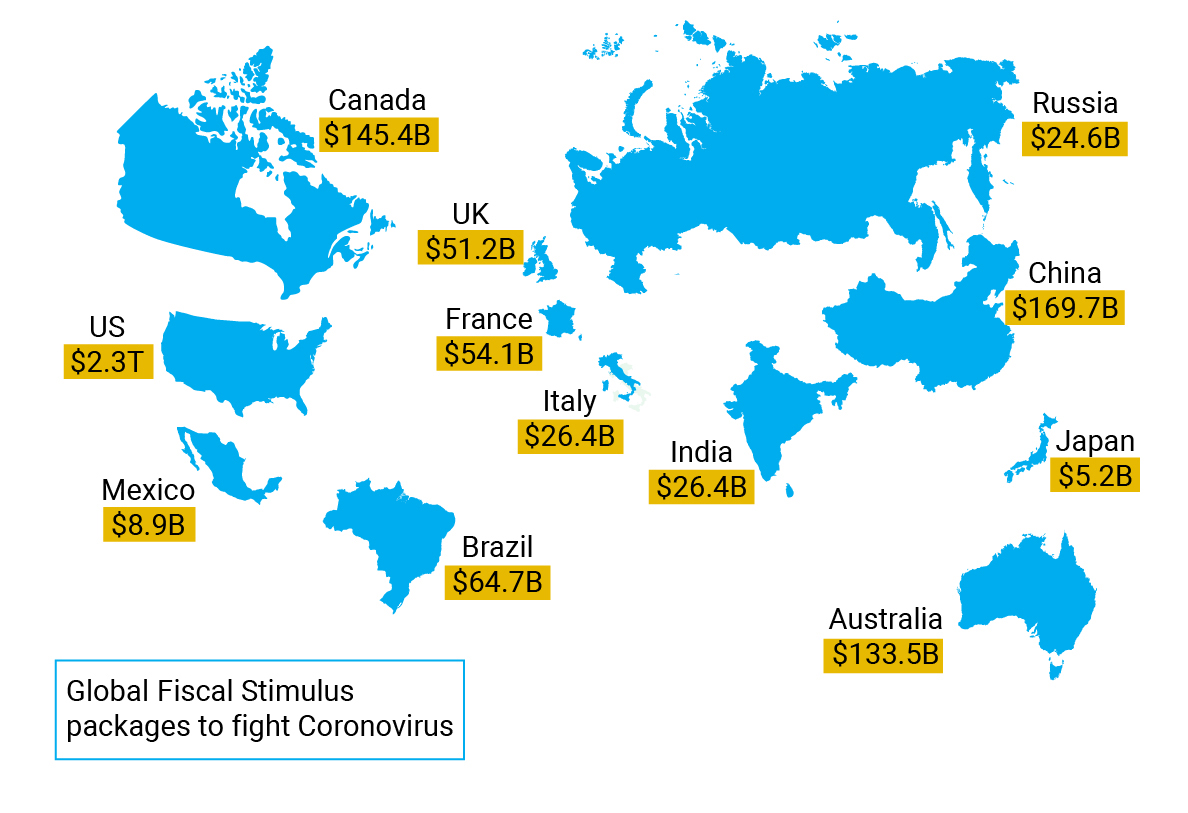 2. Liquidity Push
Central banks around the world including the US Federal Reserve have injected massive amounts of liquidity or printed currency to preserve economic stability and fuel small and medium sized businesses.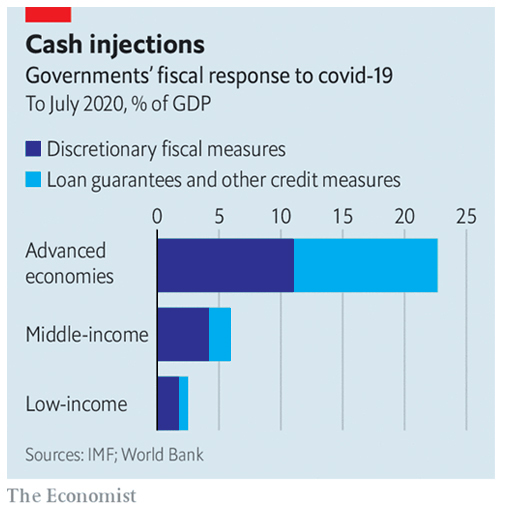 Even before the pandemic hit the world, slowing growth has plagued the global economy since the Global Financial Crisis of 2007-09. Therefore, central banks have responded by expanding the existing asset purchase programmes and introducing new policies.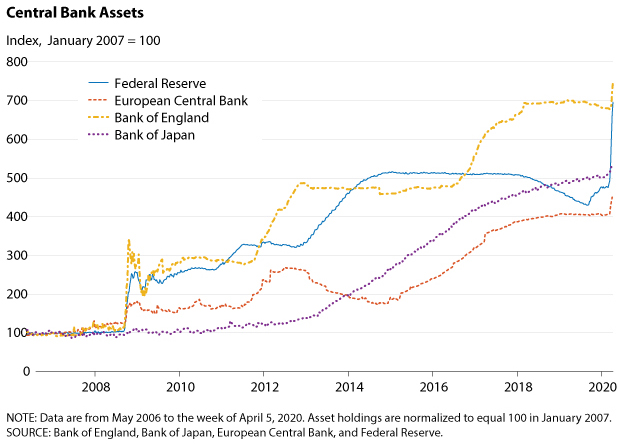 3. Negative Interest Rates
In extreme circumstances, central banks have pushed interest rates below zero. The European Central Bank and the Bank of Japan have had negative interest rates for several years as part of their recovery from the Global Financial Crisis. This made Interest rates so low that investors ended up losing money by keeping it in the bank, especially after factoring in inflation. In such a scenario, it made sense to look beyond fixed income investment opportunities and move their money to equity markets & diversify their portfolio in emerging markets such as India.
4. Successful vaccine trials
Currently, outside of China and Russia, there are 3 major players at an advanced stage of clinical trials for the vaccine. The list includes Moderna, Pfizer plus BionTech and AstraZeneca plus Oxford. After successive announcements of promising results of these trials, equity benchmarks rallied.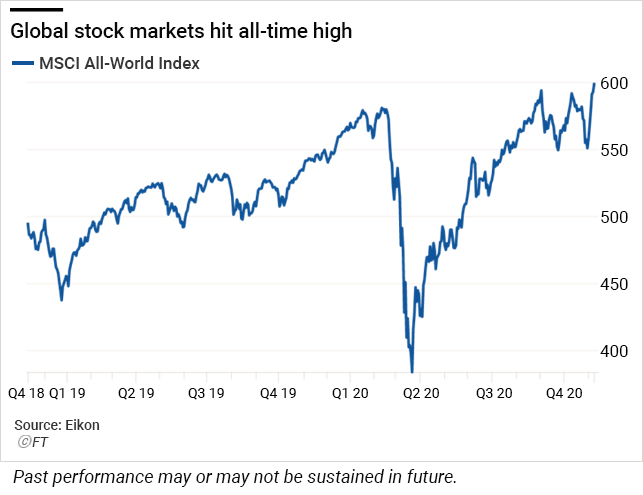 In conclusion, increased optimism surrounding the economic rebound due to rapid developing vaccines and the cheap liquidity backdrop is expected to encourage further risk taking in search for yield and continue to propel risk assets such as equities. Just like India emerged from the Global financial crisis, India is expected to rebound post Covid-19 by FY-22.
Read Q&A with our Fund Manager Nilesh Shetty and you can participate in India's long term compounding story.
You can also watch our past webinar video with Mr Nilesh Shetty, Co-Fund Manager Equity, Quantum AMC and Mr Arvind Chari Head of Fixed Income and Alternatives on How to Ride India's Economic Recovery?
The speakers reveal whether the Indian economy is recovering and whether it is sustainable. They go on to evaluate the outlook for equity markets and why it's a good idea to invest in Quantum's Long Term Equity Value Fund (QLTEVF), which is ideally poised to capture the benefits of this recovery.
What you can learn from the FPI resurgence is that you need to exercise caution and not take any knee-jerk reaction to your investments. Rather than timing the markets, take this time to:
1. Reassess your portfolio allocation in line with your financial goals.
2. Invest in opportunities beyond the Index rally which has been very concentrated.
3. Look for options beyond fixed income instruments and invest in equities with a long term duration to earn risk adjusted returns against inflation.
4. Focus on investing in quality companies through mutual funds.
5. Stagger your equity investments through systematic investment plans (SIPs) available for as low as Rs. 500.
---
Product Labeling
Name of the Scheme
This product is suitable for investors who are seeking*
Riskometer
Quantum Long Term Equity Value Fund

An Open Ended Fund of Fund Scheme Investing in Quantum Gold Fund
• Long term capital appreciation

•Invests primarily in equity and equity related securities of companies in S&P BSE 200 index.

Investors understand that their principal will be at Moderately High Risk
* Investors should consult their financial advisers if in doubt about whether the product is suitable for them.
---
Disclaimer, Statutory Details & Risk Factors:
The views expressed here in this Article / Video are for general information and reading purpose only and do not constitute any guidelines and recommendations on any course of action to be followed by the reader. Quantum AMC / Quantum Mutual Fund is not guaranteeing / offering / communicating any indicative yield on investments made in the scheme(s). The views are not meant to serve as a professional guide / investment advice / intended to be an offer or solicitation for the purchase or sale of any financial product or instrument or mutual fund units for the reader. The Article / Video has been prepared on the basis of publicly available information, internally developed data and other sources believed to be reliable. Whilst no action has been solicited based upon the information provided herein, due care has been taken to ensure that the facts are accurate and views given are fair and reasonable as on date. Readers of the Article / Video should rely on information/data arising out of their own investigations and advised to seek independent professional advice and arrive at an informed decision before making any investments. None of the Quantum Advisors, Quantum AMC, Quantum Trustee or Quantum Mutual Fund, their Affiliates or Representative shall be liable for any direct, indirect, special, incidental, consequential, punitive or exemplary losses or damages including lost profits arising in any way on account of any action taken basis the data / information / views provided in the Article / video. Please visit – www.quantumamc.com/disclaimer to read scheme specific risk factors.