School. A word associated with so many memories-the first medal won, that close match in which you scored the winning goal or run and became the hero for the day (or didn't and were vilified for the rest of the term), the chemistry lab explosions, the teachers' exasperation and most importantly the first friends that last us a lifetime. A school reunion is thus a time for great joy, to relive those wonderful moments we had as school kids.
Having just been to my school reunion (my hand is still stinging with all the high fives exchanged), there were two issues that we had to address: one, the venue for the reunion and two, how to split a fairly high five (digit bill) amongst 24 people, who've met for the first time since the Indus Valley Civilization (Mohenjo Daro, anyone?). So we pulled out our wallets and figured out who owes how much and to whom, and somehow, after using up all the math we ever learnt at school and with the help of the calculator app on our phones, managed to pay the bill.
This is a fairly common scenario that most of us would have experienced. However, if UPI were a more popular concept, we could've paid the bill in 5 minutes flat instead of the 45 minutes that it took.
What is UPI?
Let's get a bit boring here and try to define what UPI is. According to the website of NPCI (National Payments Corporation of India), UPI or Unified Payment Interface allows payments to be initiated by the payer, or by the payee. In the basic payee initiated flows, the payment request is routed by the initiating application through the NPCI switch to the payer for approval. However, in certain instances, where it is possible to connect with the payer immediately, it is preferred that the payee sends a payment request to the payer, who can then initiate the payment request with his credentials.
Sounds like a mouthful? In simple terms, UPI is a payment system that allows money transfer between any two bank accounts by using a smartphone.
UPI allows a customer to pay directly from a bank account to different merchants, both online and offline, without the hassle of typing credit card details, IFSC code or net banking/wallet passwords. Hence, if all of us had UPI apps installed on our phones, one person could have swiped his card and the rest of us could have paid him. Or better still, if the restaurant we went to had the app, then all of us could have just directly transferred the amount to the restaurant! No need to remove the wallet. All that we need is a phone (which was at hand for all the selfies anyway).
How does UPI work?
The Unified Payments Interface works from an app on your smartphone. The Hindu highlights the process in six simple steps:
1. Download and install the app from Play Store
2. Set app login
3. Create a virtual address
4. Add your bank account
5. Set M-Pin
6. Start transacting using UPI
Once you and a friend or a merchant has the app, then you can transact seamlessly, as long as you have the M-PIN of the one you are transacting with. There is no need to register billers, bank accounts and IFSC codes.
Using UPI
Apart from helping out dudes in distress, when it comes to payments, splitting the bill is not the only advantage of UPI. Mint has an informative chart on their website, which highlights the various uses of the UPI-based app. Here is the chart: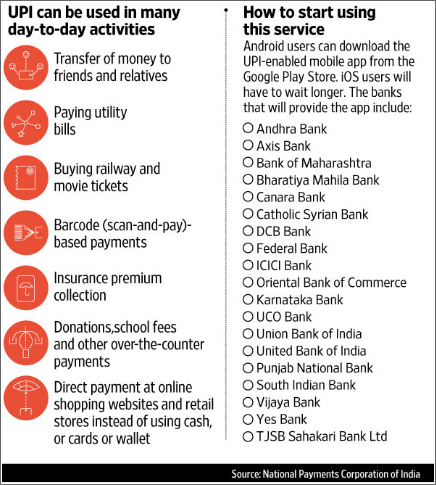 One major advantage of UPI is that you can make payments 24X7, without waiting for banks to open. No more suspense messages from NEFT telling you that the amount will be credited/debited once bank working hours resume. Transactions through the UPI will be instant and safe.
One of the drawbacks of the UPI, and this is a temporary thing, is that the bigger players-read HDFC Bank, SBI, BoB etc.-are yet to be supported by the app. But this seems to be a matter of time as no bank would want to miss out on giving their customers this convenience.
As Dr. Raghuram Rajan heads back to the world of academia having completed his term as RBI Governor, we have one more reason to thank him: his parting gift of UPI to us. If UPI does take off, it will change the way we pay bills at a restaurant, buy our tickets or even invest.
Good move RBI. Hoping for more to come...
Sources:
https://www.livemint.com/Industry/uzxn0ORTzqmUXLcoowGj9N/UPI-enabled-apps-coming-soon-to-Google-Play-Store.html
https://www.thehindu.com/business/Economy/what-is-unified-payment-interface/article9037034.ece
---
Disclaimer, Statutory Details & Risk Factors:
The views expressed here in this article / video are for general information and reading purpose only and do not constitute any guidelines and recommendations on any course of action to be followed by the reader. Quantum AMC / Quantum Mutual Fund is not guaranteeing / offering / communicating any indicative yield on investments made in the scheme(s). The views are not meant to serve as a professional guide / investment advice / intended to be an offer or solicitation for the purchase or sale of any financial product or instrument or mutual fund units for the reader. The article has been prepared on the basis of publicly available information, internally developed data and other sources believed to be reliable. Whilst no action has been solicited based upon the information provided herein, due care has been taken to ensure that the facts are accurate and views given are fair and reasonable as on date. Readers of this article should rely on information/data arising out of their own investigations and advised to seek independent professional advice and arrive at an informed decision before making any investments. Please visit – www.quantumamc.com/disclaimer to read scheme specific risk factors.