Over the last year, we have witnessed some of the most devastating environmental challenges across the globe, including bushfires in Australia, the heatwave in Antarctica, some of the worst recorded floods in China, and increasing Amazon rainforest deforestation, among many more.
According to the Global Risk Report by Likelihood and by Impact by World Economic Forum, the top risks of 2021 are primarily environmental.
Illustration 1: Top 3 Risks by Impact & Likelihood 2021

Wake-up Call for a Sustainable Tomorrow
This unprecedented environmental crisis has been a wake-up call for companies to move beyond profits and build a sustainable solution that incorporates ESG (Environment, Social and Governance) criteria. ESG comprises non-financial parameters that have a material impact on the future profitability of the company. ESG themed mutual funds provide exposure to businesses that achieve the triple bottom line – the 3Ps of Planet, People and Profits.
Illustration 2: Triple Bottom Line with ESG

Pandemic led Disruption Tests Resilience
The Pandemic led disruption tested companies on how they could survive despite the challenges. Companies with strong ESG fundamentals could mitigate risks better and capitalize on opportunities leading to strong revenue growth and thereby translating to higher valuations. Companies that implemented robust risk management, health, and safety measures, and encouraged employee retention were able to withstand the macro-economic shocks due to the Pandemic.
Illustration 3: Strong ESG credentials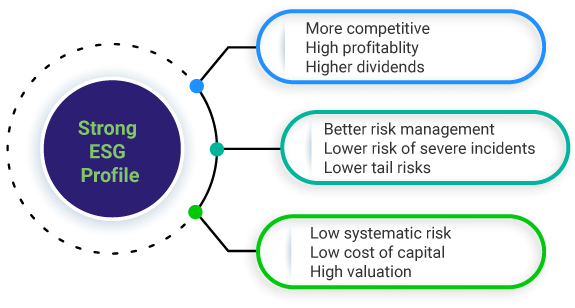 Responsible investing = Profitability
The Market Indices are a manifestation of how responsible investing and profitability are complementary. The ESG index has not just outperformed the Equity index, but it has also protected downside risk better as showcased below:
Illustration 4: MSCI ESG Index Versus MSCI India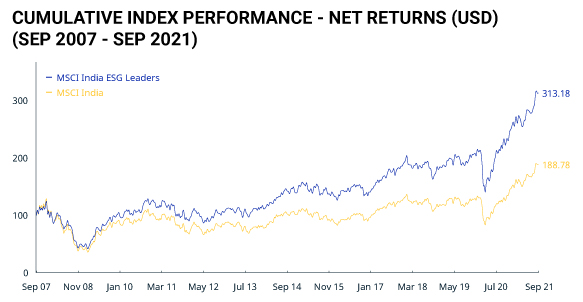 Past performance may or may not be sustained in the future.
As on Sept 30, 2021. Data Source: MSCI India ESG Leaders Index
Index Risk & Return Characteristics (Sept 28, 2007 - Sep 30, 2021)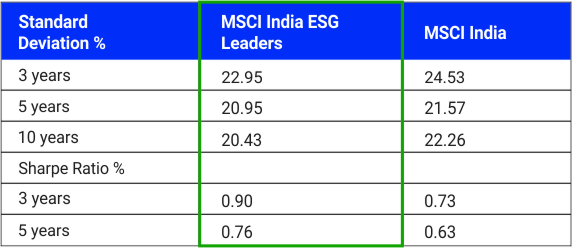 Past performance may or may not be sustained in the future.
The Sharpe Ratio which measures the reward per unit of risk is higher for ESG index, leading to better risk adjusted returns. Whereas, the standard deviation is lower, which means reduced downside risks.
How Do You Look for ESG Companies
Though there is a regulatory push for greater standardization of ESG metrics, as of today, there is a lack of readily available data and data provided can be very subjective. Today, ESG - like beauty - lies in the eyes of the beholder, whether that is the analyst or the fund manager.
The Story Behind the Unique ESG Scoring System at Quantum
Quantum India ESG Equity Fund (QIESG) is one of the first ESG themed mutual funds launched in India. What's unique about Quantum is that you do not have to rely on third-party data but can depend on years of experience and the in-house comprehensive & robust proprietary research. A formal approach to ESG started in 2015 in terms of an actual score.
However, we can trace the evolution of our unique scoring system way back in 1996 at Quantum Group level, where we came up with what we called an "Integrity Screen". And till date, the 'G' part of ESG - Governance sits at the heart of our evaluation of any company. So, while returns from stock could be high for a brief period of time, if a company does not meet our integrity checks, it will not be included in the portfolio, no matter how large the company's weight is in the benchmark.
How is our Proprietary ESG Score Calculated?
The ESG scoring system is a blend of quantitative and qualitative factors.
We evaluate over 200 parameters across the Environment, Social and Governance domains. What you get is the result of a thorough & on-ground 360-degree view of the company. We use information sourced from NGOs & regional regulatory boards, data gathered from plant & supply visits and our interaction with key management personnel, dealers, vendors, customers & regulatory & lots more.
Based on this research, we assign a score of -70 to +30 and ranked based on their ESG performance relative to their peers. Companies with an ESG score of > 0 qualify for inclusion in the portfolio. Finally, you get a diversified basket of ESG compliant companies with the potential to outperform conventional market indices.
Illustration 5: Proprietary ESG Scoring Methodology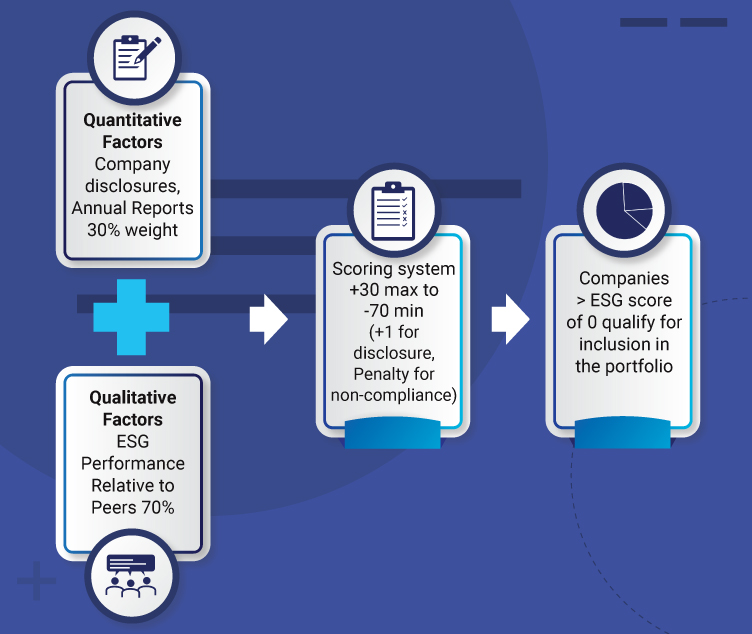 How the Fund has Performed
QIESG especially gained traction during the Covid-19-triggered market selloff, where it showcased resilience and managed downside risks better than conventional indices.

Past performance may or may not be sustained in the future.

Data as on Oct 29, 2021.

Load is not taken into consideration in Scheme returns calculation.

Different Plans shall have different expense structure.

Returns are net of total expense and are calculated on the basis of Compounded Annualized Growth Rate (CAGR). The Scheme is managed by Mr. Chirag Mehta and Ms. Sneha Joshi. Mr. Chirag Mehta is the Fund Manager effective from July 12, 2019. Ms. Sneha Joshi is the Associate Fund Manager effective from July 12, 2019. Mr. Chirag Mehta manages 5 schemes of Quantum Mutual Fund. For the performance of other Schemes Managed by Mr. Chirag Mehta please click here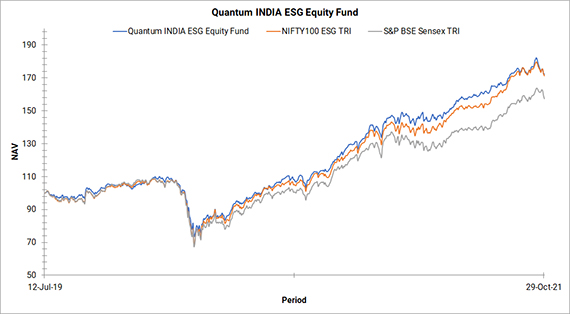 Past performance may or may not be sustained in the future.
Data as on Oct 29, 2021.
Here's what a resilient portfolio looks like:
• Value & Sector Agnostic Diversified Portfolio
• Low volatility and better downside risk mitigation
• Resilience in down markets
• Reduced tail risks
• Long term risk-adjusted performance
Be the Change You want to See in the World
Investors like you can drive the mandate for greater disclosure by companies on ESG parameters leading to better decisions and a better future for generations to come. So make the responsible investing decision with Quantum India ESG Equity Fund. Allocate 15% of your Equity Portfolio to Quantum India ESG Equity Fund.

---

Product Labeling
Name of the Scheme & Primary Benchmark
This product is suitable for investors who are seeking*
Risk-o-meter of Scheme
Risk-o-meter of Benchmark as of Oct 31, 2021
Quantum India ESG Equity Fund

An Open ended equity scheme investing in companies following Environment, Social and Governance (ESG) theme

Primary Benchmark: NIFTY100 ESG TRI
• Long term capital appreciation

• Invests in shares of companies that meet Quantum's Environment, Social, Governance (ESG) criteria.


Investors understand that their principal will be at Very High Risk
*Investors should consult their financial advisers if in doubt about whether the product is suitable for them.
The Risk Level of the Scheme in scheme Risk O Meter is basis it's portfolio as on October 31, 2021.
The Risk Level of the Benchmark Index in the Risk O Meter is basis it's constituents as on October 31, 2021.

---
Disclaimer, Statutory Details & Risk Factors:
The views expressed here in this article / video are for general information and reading purpose only and do not constitute any guidelines and recommendations on any course of action to be followed by the reader. Quantum AMC / Quantum Mutual Fund is not guaranteeing / offering / communicating any indicative yield on investments made in the scheme(s). The views are not meant to serve as a professional guide / investment advice / intended to be an offer or solicitation for the purchase or sale of any financial product or instrument or mutual fund units for the reader. The article has been prepared on the basis of publicly available information, internally developed data and other sources believed to be reliable. Whilst no action has been solicited based upon the information provided herein, due care has been taken to ensure that the facts are accurate and views given are fair and reasonable as on date. Readers of this article should rely on information/data arising out of their own investigations and advised to seek independent professional advice and arrive at an informed decision before making any investments. Please visit – www.quantumamc.com/disclaimer to read scheme specific risk factors.