When you plan your investments, you are envisioning a better life for yourself and your loved ones – your family, your children, and the generations to come. With the rising challenges confronting us such as unemployment, global warming, gender inequality, corruption, have you thought about where your savings are invested? Are the companies underlying your investments responsibly addressing these issues? So, the key question you need to ask yourself is:
Do you chase funds that make you the most money? Or Do you choose funds that help make the world a better place?
When you choose the latter, the former takes care of itself.
Don't take our word for it
There are studies which validate that sustainability = profitability over time.
Fig 1: Sustainability & Profitability are complementary

*Percentage of studies showing Data Source: Oxford report 'From stockholder to stakeholder' based on more than 200 academic studies (March 2015)
As a responsible investor, your investments are not just about meeting bottom lines but also identifying certain values or ethics that are important to you.
Instead of losing sleep over trying to predict the next best asset class or mutual fund, choose to build a sustainable portfolio with ESG investments. ESG stands for 'environmental, social and governance' and represents a range of criteria mutual fund companies use to screen companies underlying their investments.
Covid-19: A Call for prioritizing sustainable investments.
The COVID-19 Pandemic of 2020 has been a wake-up call for investors to prioritize a more sustainable approach – companies that adopted sustainability exhibited resilience during the equity market sell-offs.
Fig 2: ESG performance during Covid-19 fall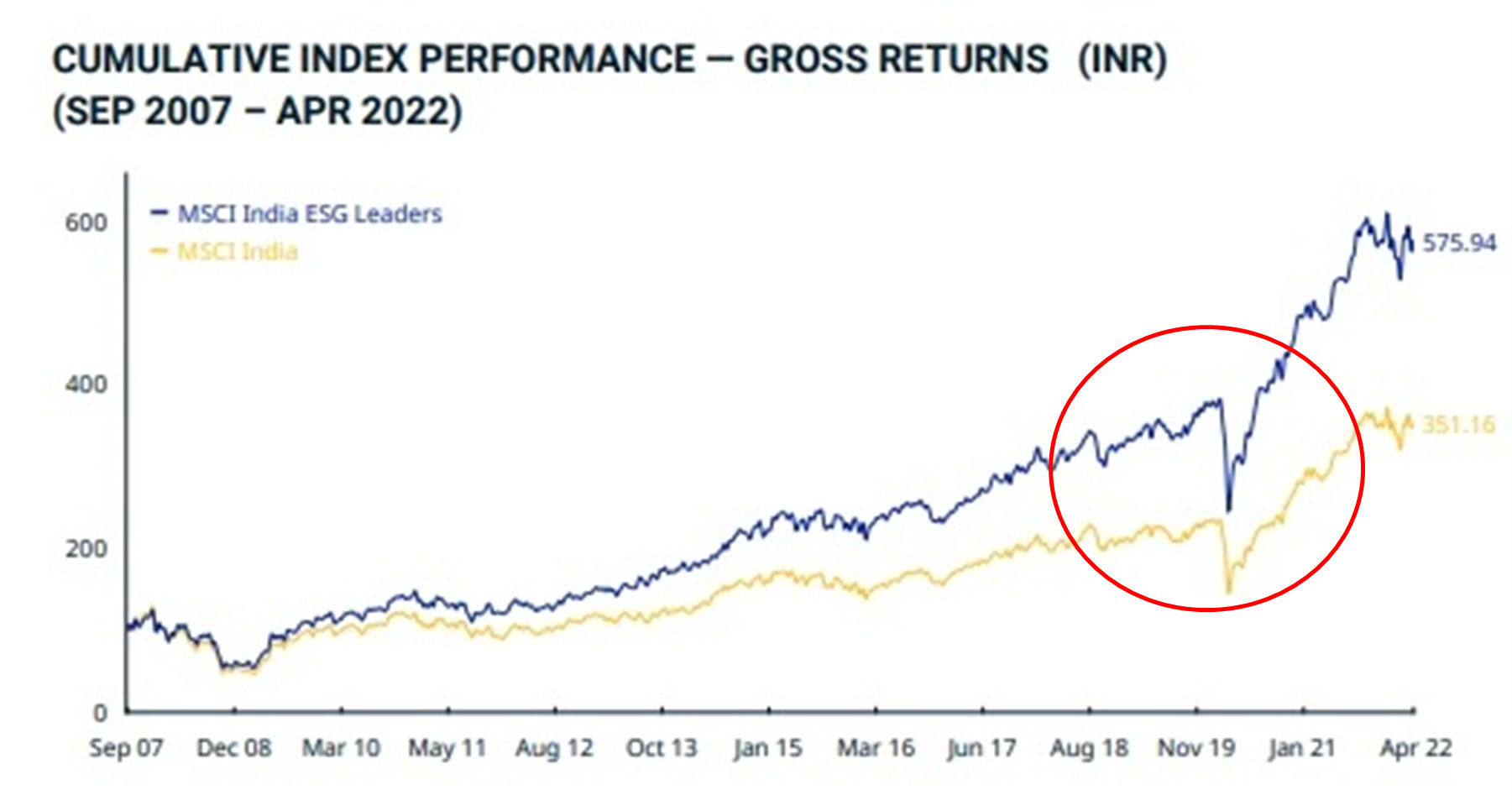 MSCI ESG Leaders Index – Data as of April 30, 2022
However, you must remember that ESG investments like other equity mutual funds are meant for long term investors. The longer you hold the mutual fund units, the better your chances for long term risk adjusted returns. When you invest in an ESG fund, choose to invest in a true to label ESG fund that go beyond BRSR (Business Responsibility and Sustainability Reporting) reports to a more holistic 360 degree on ground research.
Reasons to invest in Quantum India ESG Equity Fund
1. Resilient returns amidst economic uncertainty
2. Sustainability = Profitability
3. Proprietary ESG scoring methodology
4. Governance sits at the heart of our methodology
5. One of the first in the ESG funds space
6. Complements your Equity Portfolio
With rising inflation, fiscal deficit, increased market uncertainty, you have to become more and more conscious about the impact these macroeconomic uncertainties have on the company's business.
You can start by allocating 15% of your equity portfolio to
Quantum India ESG Equity funds
. As you get more comfortable with ESG investing, you could increase your exposure if desired.
See how it forms part of your diversified portfolio as part of
Quantum's Proprietary Asset Allocation Strategy
.
Fig 3: Quantum's Proprietary 12:20:80 Asset Allocation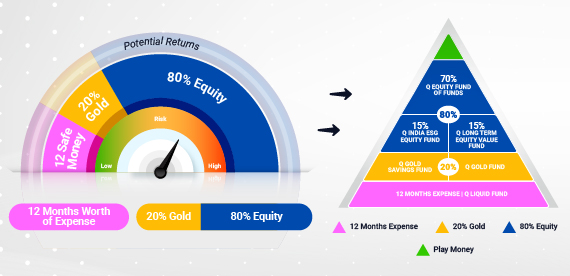 Strengthen your equity basket with Quantum India ESG Equity Fund and make it future ready and resilient for the next downturn.

Disclaimer:
The views expressed here in this Article / Video are for general information and reading purpose only and do not constitute any guidelines and recommendations on any course of action to be followed by the reader. Quantum AMC / Quantum Mutual Fund is not guaranteeing / offering / communicating any indicative yield on investments made in the scheme(s). The views are not meant to serve as a professional guide / investment advice / intended to be an offer or solicitation for the purchase or sale of any financial product or instrument or mutual fund units for the reader. The Article / Video has been prepared on the basis of publicly available information, internally developed data and other sources believed to be reliable. Whilst no action has been solicited based upon the information provided herein, due care has been taken to ensure that the facts are accurate and views given are fair and reasonable as on date. Readers of the Article / Video should rely on information/data arising out of their own investigations and advised to seek independent professional advice and arrive at an informed decision before making any investments. None of the Quantum Advisors, Quantum AMC, Quantum Trustee or Quantum Mutual Fund, their Affiliates or Representative shall be liable for any direct, indirect, special, incidental, consequential, punitive or exemplary losses or damages including lost profits arising in any way on account of any action taken basis the data / information / views provided in the Article / video.
Mutual Fund investments are subject to market risks, read all scheme related documents carefully.