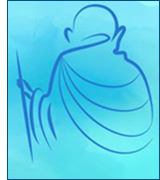 Mahatma Gandhi epitomised simplicity and minimalism. According to him "Happiness, the goal to which we all are striving is reached by endeavouring to make the lives of others happy, and if by renouncing luxuries of life, we can lighten the burdens of others, then surely the simplification of our wants is a thing greatly to be desired! And so, instead of supposing that we must become hermits and dwellers in caves in order to practice simplicity, we set about simplifying our affairs, each according to his own convictions and opportunity, much good will results and the simple life will at once be established".
Despite coming from a fairly privileged background, he led a simple life with less distractions. Wearing a single piece of cloth which he himself used to weave from raw cotton and eating the food he harvested on his own, he became one of the powerful people in history. This, he achieved through an unwavering commitment to his principles and philosophy. His simplicity clearly reflects in his ideas and his way of living. Simplicity is probably his greatest virtue.
Simplicity in the Investment Philosophy & Investment Process
When we make the decision to invest, our goal is very simple. It is to generate long-term returns that are capable of meeting investors financial needs and goals. When the goal is so simple, the path to achieving that goal should also be simple. Short-term investment decisions are coloured by judgment and are subject to noise. This makes them prone to volatility and unreliable as indicators of long-term performance. Often, investment managers used complicated investment strategies to make investors feel that they have an in-depth and robust investment process that keeps them in control and boosts the performance of the portfolio. However, this is just an illusion.
For an investment manager, it is important to tether the investment policy to simplicity. The investment process should be simple, the investment strategy should be simple and the overall experience should be simple and transparent. The only measure of investment success that should really matter to investors is whether or not they are able to reach their financial goals.
This behoves fund managers to adopt a simple and straight forward approach, one that is easy to implement and even easier to explain. A complicated approach only makes the investment process opaque and consequently, fragile to the changing investment landscape.
Simplicity in Communication
Communication is simple when you have nothing to hide. Thus, investors should always be wary of complicated and jargon filled investment communication that takes more energy from the reader than gives the reader the desired information. Investing is considered by money as a difficult and complicated process. Hence, many investors gravitate towards investment products that are provide lower yields but are relatively easier to understand. This can often be to their detriment as such investment might not generate sufficient returns to meet their long-term financial goals. The more complicated a product seems, the more it repels investors.
The onus lies upon the investment management community to create simple and effective communication material that investors can easily comprehend and use to make optimal investment decisions. Simplicity is the key in communication. Not only does it make it easier to consume the content but also ensures that there is little room for misinterpretation. For investment communication to be simple, to the point, relatable, jargon free and should clearly articulate the benefits and risks of the investment.
In today's time and age, a philosophy of simple living can help investors maintain peace of mind. Similarly, in today's volatile investment landscape, a simple investment philosophy can help investors build a "peace of mind" portfolio.
---
Disclaimer, Statutory Details & Risk Factors:
The views expressed here in this article / video are for general information and reading purpose only and do not constitute any guidelines and recommendations on any course of action to be followed by the reader. Quantum AMC / Quantum Mutual Fund is not guaranteeing / offering / communicating any indicative yield on investments made in the scheme(s). The views are not meant to serve as a professional guide / investment advice / intended to be an offer or solicitation for the purchase or sale of any financial product or instrument or mutual fund units for the reader. The article has been prepared on the basis of publicly available information, internally developed data and other sources believed to be reliable. Whilst no action has been solicited based upon the information provided herein, due care has been taken to ensure that the facts are accurate and views given are fair and reasonable as on date. Readers of this article should rely on information/data arising out of their own investigations and advised to seek independent professional advice and arrive at an informed decision before making any investments. Please visit – www.quantumamc.com/disclaimer to read scheme specific risk factors.