There is a growing awareness about moving towards a sustainable future. It might something as simple as using smarter alternatives to plastic, carpooling, conserving water, etc. Similarly, it's important to understand where your savings are invested. Are the companies in your portfolio making sustainable choices regarding the future or are they solely focused on gaining profits? Irrespective of the rising popularity of these funds, you may be having concerns - whether ESG investing is a bubble? Is it just another Fad?
ESG in its essence comprises non-financial issues that are material to the business earnings and valuation making them important consideration for your long-term investments. It stands for 'environmental, social and governance' criteria mutual fund companies use to screen companies.
More About ESG Investments
E-Environmental
How companies interact and help with issues with the planet, including climate change, carbon emissions, recycling, water stewardship.
S- Social
How they manage relationships with employees, suppliers, customers and communities – for example, Privacy & Data security, Corporate social responsibility, gender parity, worker rights and inclusion.
G-Governance
How companies treat minority shareholders, leadership issues, executive pay, internal controls and business ethics and fraudulency cases.
Lack of Standardization in ESG investing
One key challenge that companies and investors face is that data on ESG investing is currently subjective, though moving towards standardization – it is difficult to objectively define a 'good' ESG Fund. Today, ESG like beauty lies in the eye of the beholder.
How do you as investors assess whether the ESG funds are true to label?
Here are key questions to ask when looking at an ESG fund:
1. What methodology does the fund use to screen companies?
It's not the PE multiple (Price to Equity), or valuation or market cap that matters. Understand whether the fund is a true to label mutual fund and sticks to its fundamentals of environmental, social and governance criteria when evaluating underlying stocks.
2. Does it beyond the desk to actively research companies in its portfolio?
Choose ESG funds that go beyond BRSR (Business Responsibility and Sustainability Reporting) reports to a more holistic 360 degree on ground research
3. What is the fund track record?
Since ESG investing is a relatively new concept, it would be better to stick with funds that have been longer in the ESG space.
4. Does it form part of your long term investments?
This is probably one of the most important questions. ESG investments like other equity mutual funds are meant for long term investors. The longer you hold the mutual fund units, the better your chances for long term risk adjusted returns.
Reasons to invest in Quantum India ESG Equity Fund
1.Resilient returns amidst economic uncertainty
2.Sustainability = Profitability
3.Proprietary ESG scoring methodology
4. Governance sits at the heart of our methodology
5. One of the first in the ESG funds space
6. Complements your Equity Portfolio
With rising inflation, fiscal deficit, increased market uncertainty, it's important to become more and more conscious about the impact these macroeconomic uncertainties have on the company's business.
Since ESG is a relatively new concept, it's advisable that you completely understand it before investing. You can start by allocating 15% of your equity portfolio to
Quantum India ESG Equity funds
. As you get more comfortable with ESG investing, you could increase your exposure if desired.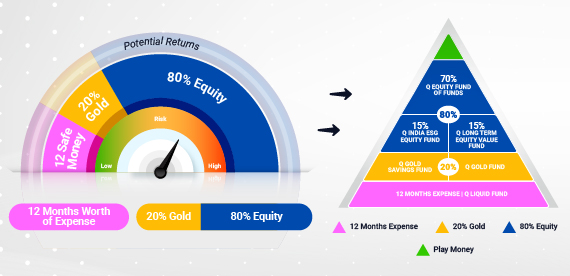 *Please note the above is a suggested fund allocation only and not as an investment advice / recommendation.
See how it forms part of your diversified portfolio as part of
Quantum's Proprietary Asset Allocation Strategy
.
Strengthen your equity basket with
Quantum India ESG Equity Fund
and make it future ready for the next downturn.

Disclaimer: The views expressed here in this Article / Video are for general information and reading purpose only and do not constitute any guidelines and recommendations on any course of action to be followed by the reader. Quantum AMC / Quantum Mutual Fund is not guaranteeing / offering / communicating any indicative yield on investments made in the scheme(s). The views are not meant to serve as a professional guide / investment advice / intended to be an offer or solicitation for the purchase or sale of any financial product or instrument or mutual fund units for the reader. The Article / Video has been prepared on the basis of publicly available information, internally developed data and other sources believed to be reliable. Whilst no action has been solicited based upon the information provided herein, due care has been taken to ensure that the facts are accurate and views given are fair and reasonable as on date. Readers of the Article / Video should rely on information/data arising out of their own investigations and advised to seek independent professional advice and arrive at an informed decision before making any investments. None of the Quantum Advisors, Quantum AMC, Quantum Trustee or Quantum Mutual Fund, their Affiliates or Representative shall be liable for any direct, indirect, special, incidental, consequential, punitive or exemplary losses or damages including lost profits arising in any way on account of any action taken basis the data / information / views provided in the Article / video.
Mutual Fund investments are subject to market risks, read all scheme related documents carefully.