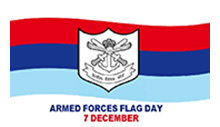 Little it is known that on 7th December every year we celebrate Armed Forces Flag Day.
India Army is one of the oldest armies in the world with formation of its units dating back to 1750's. Majority of its units and regiments have traditions that date even further. Even until today the Indian Army follows its traditions and yet embraces modernity. Indian army is the 2nd largest army in the world. It is one of the largest contributors in United Nations Peacekeeping Force and ever-ready to protect its citizens during natural calamities and unrests.
Historically it has been observed that strong armies have become ambitious and taken over their nations, thus questioning democratic nature and curtailing fundamental rights of its citizens. Between 1950 till date we have witnessed 231 successful coups with majority occurring in African continent followed by Asia. Majority of our neighboring countries have experienced coups multiple times thus creating instability in the region. Socio-Economic Research implies that coups lower the growth of income per person by as much as 1.3% a year over a decade. Despite being surrounded by such volatility Indian army has always remained away from politics.
The Armed Forces live by a code which states - The safety, honor and welfare of your country comes first, always and every time. The honor, welfare and comfort of the men you command come next. Your own ease, comfort and safety come last, always and every time. It is inspiring to even read these lines, let alone live them. Our Armed Forces are on a mission to protect the citizens of India from enemies, natural disasters and whatever else may come our way.
We at Quantum, salute the brave men & women of our Armed Forces. Just as the mission of the Armed Forces is to keep the country safe our mission is to ensure every Indian saver gets an opportunity to invest and build wealth with the best practices in the industry. While the Army honors its traditions and embraces modernity, Quantum Mutual Fund maintains the traditional values of simplicity by keeping its products simple & easy to understand and embraces modernity with the use of digital mediums to offer an array of services will only make it easy for investors to invest in mutual funds.
Happy Armed Forces Flag Day!
---
Disclaimer, Statutory Details & Risk Factors:
The views expressed here in this article / video are for general information and reading purpose only and do not constitute any guidelines and recommendations on any course of action to be followed by the reader. Quantum AMC / Quantum Mutual Fund is not guaranteeing / offering / communicating any indicative yield on investments made in the scheme(s). The views are not meant to serve as a professional guide / investment advice / intended to be an offer or solicitation for the purchase or sale of any financial product or instrument or mutual fund units for the reader. The article has been prepared on the basis of publicly available information, internally developed data and other sources believed to be reliable. Whilst no action has been solicited based upon the information provided herein, due care has been taken to ensure that the facts are accurate and views given are fair and reasonable as on date. Readers of this article should rely on information/data arising out of their own investigations and advised to seek independent professional advice and arrive at an informed decision before making any investments. Please visit – www.quantumamc.com/disclaimer to read scheme specific risk factors.