Quantum Mutual Fund, a member of AMFI, is the only fund house in India that is using a pure direct-to-investor approach to lower the costs for investors. But we are keen for our readers to understand the important role that AMFI has played in the development of the mutual fund industry. We spoke to Mr. A.P. Kurian, Chairman, AMFI here are the excerpts of the interview.

When was AMFI formed? How did it come into being?
AMFI was registered in 1995. Since 1993, when private and foreign players were allowed to set up Mutual Funds in India, the CEOs used to meet informally to share their views on various matters. All the players were seeking directions from SEBI individually It was a learning process for these new players and SEBI. The CEOs of these companies realized that they needed a platform to convey their requirements jointly to SEBI.

The idea of AMFI was born when the CEOs of these companies would meet every month at the Ritz Hotel. They felt the need for an association which could represent them to SEBI. Thus AMFI became a voice of the industry particularly for the Non-UTI segment which was evolving at that time.

What were the objectives with which AMFI was formed?
The objectives of AMFI were manifold, the main objectives are to:
Establish World Class Standards.
Promote Best Practices.
Represent the Industry and interact with Govt., RBI and the Regulator.
Promote Investor Education.
Disseminate Information.

The initial concentration of AMFI was on setting standards. We worked closely with SEBI on lot of things covering almost all aspects. With these objectives in mind and humble beginnings from a small office in Dalamal Towers, AMFI has now evolved into an association with 37 members and 35 of them have launched Schemes and have a combined Assets Under Management (AUM) of about Rs.5,00,000 Crores.

What would you say are the 5 major achievements of AMFI since its inception?
We worked closely with SEBI towards evolving and setting standards in valuation, accounting, disclosures and various Regulatory provisions. This was our priority areas in the beginning.

AMFI became the voice of the Mutual Fund Industry. Our suggestions on Budgets, Tax and Investment policy related matters were presented to Govt., SEBI and RBI which were given due consideration in framing policies relating to the Regulation of financial sector.

One of our major achievements, according to me, came in the year 2000 in the area of distribution of Mutual Funds. At that time there were no regulations, no certifications and no qualification required to distribute Mutual Funds. We introduced certification as a requisite qualification for distributors on a voluntary basis and for the first time, a detailed guideline for the distributors alongwith a Code of Conduct for them was introduced. We prepared a detailed textbook cum working manual on Mutual Funds to enable distributors to study and appear for the test. In 2002, SEBI made the AMFI certification mandatory which was a major step. AMFI has developed a Question Bank and the exams are conducted by NSE through an online facility and written exams are conducted by Indian Institute of Capital Markets. So far, 3.80 lakh people across the country have taken the exam.

In order to compare meaningfully the return from various types of Debt Funds, AMFI initiated the development of Benchmark Indices by CRISIL. For different Funds such as Liquid, Debt, Monthly Income and Balance Funds etc., suitable Benchmark Indices are constructed by CRISIL and it is mandatory for Mutual Funds to use these Benchmarks whenever they publish Performance Data.

Right from the beginning AMFI has initiated nationwide investor education programme both by itself and in association with the erstwhile Institute of Capital Market and currently conduct such programmes in association with ASSOCHAM, various other industrial bodies and investor associations. We produced a simple booklet - Making Mutual Funds Work For You - An Investor's Concise Guide with the support of USAID Fire project. Over 15 lakh copies have been distributed so far.

Anything that you wish AMFI could have done to improve the Mutual Fund industry despite of the above mentioned achievements?
We could have done better in the distribution segment. We have not gone beyond certification and registration of the distributor. We are now looking into this area.

You views on the KYC norms that came into effect in July 2007?
We were the first to set up a common platform for an investor to complete the KYC formality. It is a process the investor has to do only once in his/her lifetime free of cost. We conceptualized it and using the PAN as a reference number, get it executed through a third party, the cost being borne by the Industry players.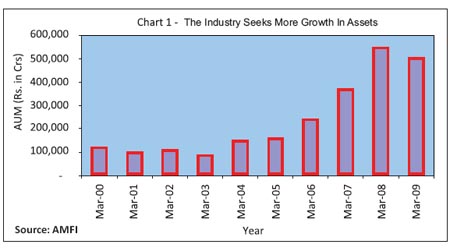 What has been the role of the foreign Mutual Fund players?
The participation of foreign players has contributed to the enhancement of the standards of the industry. These foreign players have brought in international Best Practices, Standards and Systems and Procedures.

What are your views on the current distribution fees?
We should migrate to the variable load structure. The industry is viewing it as a part of paradigm shift in the way we do business.

We have submitted a report on Multiple Plan for investors and are now awaiting SEBI's decision. An investor can opt for any one of the two plans proposed (Plan A & Plan B)

Under Plan A, a variable load or commission would be decided by the investor and the distributor depending on the extent of service and quality of advise rendered by the distributor with the annual normal expense ratio.

Under Plan B, there would be no load or commission charged to investors, but the distributor would be compensated by a higher trail commission. To enable the Asset Management Company to pay a higher trail commission, the annual expense ratio charged to the schemes will be increased by 0.75 percent.

Investors who directly submit their application without the intervention of the distributors will come under Plan A

What are your views on insurance commission?
Insurance commissions are too high. There is evidently a lack of level playing field for our industry. Insurance companies coming out with investment products offering higher commission and with other various charges, puts the Mutual Fund products at a disadvantageous position. This situation has to change and if insurance companies offer investment products broadly on the lines of Mutual Funds with insurance added on, there should be a level playing field allowing Mutual Funds to offer investment products with insurance added on and with similar disclosures and transparency and comparable commission structure between both the industries. We should migrate to a system wherein the insurance business is with the insurance companies and the investment of the Funds is done by the Mutual Fund companies to achieve optimal cost efficiency for the investor. Insurance companies must be permitted to outsource their investment function to Mutual Fund companies.

How much do you think is the impact of the blown up FMP and Real Estate investments?
FMPs are a good product and have done well in the past. The crisis we went through has come more from external sources and the primary reason was the liquidity crunch.

you think that in the present scenario the Mutual Fund distributors need more training to guide their investors?
Yes the distributors need more training at regular intervals. The Fund Houses need to train them and update them more on the products and marketing.

Do you believe that an AMC should have a minimum AUM threshold requirement for functioning in the Indian financial sector? Or should it be the performance and ethics of the AMC?
No need to have a minimum threshold for an AUM to function. Investors before investing should focus on the objectives of the scheme offered and its investment strategy, transparency, disclosures and the performance of the funds.

As you are aware, Quantum has been a vocal critic of an industry where there are so many malpractices - what is your advice to us ? What can we do as one small member of AMFI to make life better for investors?
In India only 3 - 5 percent of the households invest in Mutual Funds with about 8 percent of the savings allocated to Mutual Funds. We have come to this level over the last several decades of hard work put in by the Fund Houses and more importantly by the distributor community. There is certainly a need to increase the awareness about Mutual Funds. I am sure that in a country like India it is not possible to achieve increasing level of participation of the households in Mutual Funds without distributors.

---
Risk Factors: Mutual Fund investments are subject to market risks, read all scheme related documents carefully.
Please visit - www.quantumamc.com/disclaimer to read Scheme Specific Risk Factors. Investors in the Scheme(s) are not being offered a guaranteed or assured rate of return and there can be no assurance that the scheme's objective will be achieved and the NAV of the scheme(s) may go up or down depending upon the factors and forces affecting securities markets. Investment in mutual fund units involves investment risks such as trading volumes, settlement risk, liquidity risk, default risk including possible loss of capital. Past performance of the Sponsor / AMC/ Mutual Fund does not indicate the future performance of the Scheme(s). Statutory Details: Quantum Mutual Fund (the Fund) has been constituted as a Trust under the Indian Trusts Act, 1882. Sponsor: Quantum Advisors Private Limited. (liability of Sponsor limited to Rs. 1,00,000/-) Trustee: Quantum Trustee Company Private Limited. Investment Manager: Quantum Asset Management Company Private Limited (AMC). The Sponsor, Trustee and Investment Manager are incorporated under the Companies Act, 1956.