The word "Akshaya" denotes something that never diminishes and gold is an embodiment of permanent value - hence beginnings made, or valuables bought, on this day are considered to auspicious - certain to bring luck and success in material terms.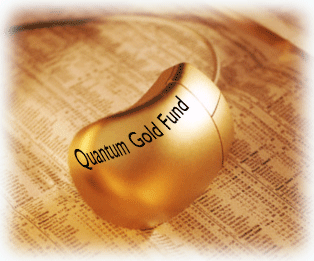 So have you planned your gold buying yet? Or are you still running to banks and jewelers to buy it?

Don`t lose this year...this Akshaya Tritiya change the way you buy gold.
Buy pure gold sitting at home! Surprised? - Buy Quantum Gold Fund - listed on NSE, like any other stock. Gold in your demat account!
Quantum Gold ETF provides you an opportunity of investing in gold while eliminating all the drawbacks of holding physical gold - cost of storage, liquidity and security among others.

More so, you can avoid the higher prices which you pay when you buy from your local jeweler or banker, avoid the purity issues and buy it in the most convenient manner on NSE by either calling your broker or buy through your online trading account, and hold gold safely in your demat account.
Worried about smaller denominations? You can buy as low as ½ gm of gold with each of Quantum Gold ETF units, that too without any premiums, closely matching ongoing international prices.
So don`t lose more on prices, making charges, purity etc by buying physical gold, this Akshaya Tritiya, buy gold by investing in Quantum Gold ETF on NSE Gold prices have fallen by almost 18% from its highs reached in this year. You can take advantage of this fall to add glitter to your portfolio.
This Akshaya Tritiya make an auspicious beginning by buying gold on the NSE (code: QGOLDHALF) in form of Quantum Gold Fund.
To know more on Quantum Gold Fund,
---
Disclaimer:
Investment Objective: QGF's investment objective is to generate returns that are in line with the performance of gold, subject to tracking errors. Asset Allocation: QGF will primarily invest in physical gold and if allowed under SEBI Regulations, also in gold related securities, but may invest in money market instruments to meet liquidity needs.Terms of Issue: QGF is an open-ended Exchange Traded Fund. The units being offered under this scheme will have a face value of Rs.100/- each and will issued at a premium equivalent to difference between the allotment price of each unit and the face value of Rs.100/- per unit. Each unit of QGF will approximately equal to the price of half (1/2) gram of Gold. Allotment price is the price of half (1/2) gram of physical gold in the domestic market. During the continuous offer, units will issued at NAV based prices. On an ongoing basis direct purchases from the Fund would restricted to only Authorised Participants and Eligible Investors. Direct purchase from the Fund by retail investors is not permitted. Units of QGF can bought/sold like any other stock on the National Stock Exchange of India Ltd. (NSE) or on any other stock exchange where it is listed. Entry Load: Nil Exit Load: Nil in case of Authorised Participants; 0.5% in case of Eligible Investors.

Statutory Details: Quantum Mutual Fund (the Fund) has been constituted as a Trust under the Indian Trusts Act, 1882.Sponsors: Quantum Advisors Private Limited. (liability of Sponsor limited to Rs. 1,00,000/-) Trustee: Quantum Trustee Company Private Limited. Investment Manager: Quantum Asset Management Company Private Limited (AMC). The Sponsor, Trustee and the Investment Manager are incorporated under the Companies Act, 1956. Risk Factors: Investments in mutual funds are subject to market risks including uncertainty of dividend distributions and the NAV of the schemes may go up or down depending upon the factors and forces affecting the gold and securities markets and there is no assurance or guarantee that the objectives of the schemes will achieved. The past performance of the Sponsor has no bearing on the expected performance of the scheme. Quantum Gold Fund is the name of the scheme and does not in any manner indicate either the quality of the Scheme, its future prospects or returns. Scheme specific risk: QGF is the first gold scheme launched by the AMC. The AMC has no previous experience in managing gold schemes. The QGF's NAV will react to the Gold price movements. The Investor may lose money over short or long period due to fluctuation in Scheme's NAV in response to factors such as economic and political developments, changes in interest rates and perceived trends in bullion prices, market movement and over longer periods during market downturns. Trading volumes, settlement periods and transfer procedures may restrict the liquidity of these investments of the QGF. Please read the Offer Document of QGF before investing. Offer Documents/Key Information Memorandum/Application Forms are available at the Quantum AMC Office at 107, Regent Chambers, Nariman Point, Mumbai-400021. It is to distinctly understood that the permission given by NSE should not in any way deemed or construed that the Offer Document for QGF has been cleared or approved by NSE nor does it certify the correctness or completeness of any of the contents of the Offer Document. The investors are advised to refer to the Offer Document of QGF for full text of the 'Disclaimer Clause of NSE'.