There are two main strategies you'd come across in mutual funds investing - passive management and active management. There are a lot more active funds than passive funds, and the former is more popular among investors.
Choosing to invest in stock markets through a mutual fund rather than picking individual shares is a passive investment strategy in itself, and most investors make this choice because of the edge mutual funds give in terms of research expertise, economies of scale and professional management.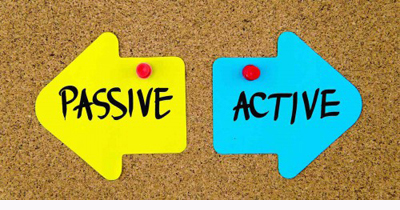 Here is a brief on these two strategies of mutual funds management and how to choose between them.
Actively managed mutual funds
Active mutual funds are managed with the help of investment analysis made by the fund house's research team. They pick out the most suitable shares out of the fund's defined universe of shares, and buy them when valuations are favourable, based on their extensive research. Often they meet with the management of their prospects to assess their business and working before making investment decisions.
Active mutual funds aim to deliver better returns than the stock market or an index like the S&P BSE Sensex, by investing only in select securities forming part of the market or index. The fund manager or the research team tactically manages investors' money to provide growth when they see opportunity or protect from loss when they perceive the broader market would tumble.
Pros and cons of actively managed mutual funds
Actively managed investments can potentially give superior returns than the relevant index over time.
However it is pertinent to remember that since investments are strategically managed, whether your investments outperform the stock market hangs on the ability of the fund manager or the analysts to correctly identify opportunities and threats and maneuver the portfolio well in all market conditions. And therefore, not all active funds might actually deliver better returns consistently!
Active mutual funds have a higher price tag than passive funds. The expense ratio of active funds is higher than that of passive funds. However their higher returns could more than justify and make for the extra cost you pay.
Passive mutual funds
Passive mutual funds seek to mirror the performance of a stock market index. Their portfolio is constructed with the same shares making the index and in identical proportions. The portfolio is re-balanced from time to time to match the index which the passive fund is tracking.
Returns of passive mutual funds are expected to reflect that of the index in any period.
Pros and cons of passively managed mutual funds
Expense ratio of passively managed fund is much lower than that of actively managed funds because of mainly two reasons. There is very little or almost no research and analysis involved in portfolio building of passive funds. This lowers the management fee component of expense ratio. The second reason is that trading is occasional in such funds. Only when the index itself undergoes a change would the fund's portfolio see change.
The drawback with passive mutual funds is that they do not allow investors to make better returns than the index. And in a market like India the potential to get higher returns by selective investment in stocks cannot be overlooked.
How do you choose between active and passive funds?
Ultimately active funds have potential to give better results because the opportunity to identify shares whose prices do not correctly reflect all publicly available information about those shares exists. If this were not the case and if markets factored in all available information in the price of shares then it would be impossible to outperform the index in the long run by selective investment in certain shares based on such analysis.
Because the mismatch of availability of information about a company and its valuation is still large in the Indian stock market scenario, at Quantum we believe it is possible for investors to generate better long term returns by investing in active mutual funds that balance risk and return well. All our funds are actively managed except for the Index Fund ETF and Gold Fund ETF, which replicate the movement of Nifty 50 index and the price of physical gold respectively.
Whether you choose to invest in the actively managed funds or passively managed funds of Quantum, you can rest assured that we will keep your costs the lowest possible, and generate returns commensurate with risks taken. Quantum employs a tried and tested research & investment process that maximizes returns of investors with a long-term focus. We invite you to read more about our investment philosophy and join our family of investors if the philosophy matches your own.

---
Disclaimer, Statutory Details & Risk Factors:
The views expressed here in this article / video are for general information and reading purpose only and do not constitute any guidelines and recommendations on any course of action to be followed by the reader. Quantum AMC / Quantum Mutual Fund is not guaranteeing / offering / communicating any indicative yield on investments made in the scheme(s). The views are not meant to serve as a professional guide / investment advice / intended to be an offer or solicitation for the purchase or sale of any financial product or instrument or mutual fund units for the reader. The article has been prepared on the basis of publicly available information, internally developed data and other sources believed to be reliable. Whilst no action has been solicited based upon the information provided herein, due care has been taken to ensure that the facts are accurate and views given are fair and reasonable as on date. Readers of this article should rely on information/data arising out of their own investigations and advised to seek independent professional advice and arrive at an informed decision before making any investments. Please visit – www.quantumamc.com/disclaimer to read scheme specific risk factors.