In this exclusive Q&A Chirag Mehta, Fund Manager of Quantum India ESG Equity Fund, explains the positive correlation between sustainability and economic return. Read on to know more about this latest investment opportunity in ESG funds.
Q1. What are the ESG funds? How are they different from other mutual funds?
ESG investing considers environmental, social and corporate governance criteria to generate risk adjusted long-term returns and positive societal impact. With high governance standards, these companies tend to look beyond their traditional remit. They well understand that lack of foresight on risk and responsibility management eventually translates into lower profitability and valuation.

ESG is a structured approach of measuring the sustainability of companies by identifying potential risks hidden beneath a company's business activities and it is indeed something that does have material impact on the firm's valuation.

ESG factors cover issues that traditionally are not part of financial analysis, yet may have financial relevance

This might include an assessment of how businesses approach climate change, waste management, and whether or not they adopt fair labor policies, ethical supply chains etc.

ESG funds are different from other equity mutual funds as they not only seek to generate positive returns, but also strive to have a long-term impact on society, the environment, and the mission of the business itself. ESG investing allows investors to express their own values and to ensure that their savings and investments reflect their preferences. As long-term investors, we fundamentally believe in the importance of environmental, social and governance (ESG) analysis as a means to understanding both opportunities and risks. The thinking is that, if environmental, social and governance (ESG) factors are ingrained in investors' thinking, then it's a win-win proposition for all - we will end up having more valuable companies, more value for end-investors and, ultimately, a more sustainable system.


Q2. Why are ESG funds relevant to investors? Do investors need to look at ESG compliant companies before investing?
There is strong research evidence to show that a business which has good ESG practices will deliver good returns, demonstrate better operational performance and will be less risky compared to a business which doesn't.

In an increasingly complex and interconnected world, the importance of actively managing risks and opportunities related to emerging environmental and social trends, in combination with rising public expectations for better accountability and corporate governance, presents a new set of challenges with far-reaching financial consequences for businesses in the form of litigation, bad reputation, product boycotts, strikes and factory shutdowns, etc.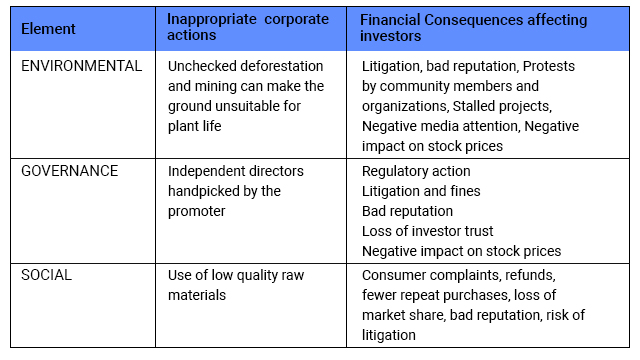 For investors to determine which companies are best equipped to handle and overcome these challenges, and thus be more profitable and sustainable over the long term, it has become essential to evaluate their ESG practices.


Q3. How do you at Quantum identify companies that meet ESG standards? Are there any parameters to check them?
Based on our experience of 25 years of evaluating "G" at Quantum Group and recognizing "S" we built a proprietary process to measure ESG. Our evolution into the world of ESG analysis began in 2015.

Quantum's ESG Approach
► Our analysis is guided by the materiality of the issues
► Governance sits at the heart of our analysis
► Typically focus on areas such as capital allocation, board composition, quality of disclosures and treatment of minority shareholders
► Shortcomings go hand in hand with poor performance on the social and environmental fronts, making it a good proxy for wider problems
► Identify companies that can act as long term stewards of capital
The evaluation process consists of a blend of quantitative and qualitative factors.
● 30% weight: Companies are evaluated on their levels of disclosures provided in their sustainability reports / business responsibility reports / annual reports. Companies with higher disclosures get higher scores.
● 70% weight: Evaluate companies on their ESG performance relative to their peers and national / global regulations on material ESG aspects. Check for any past violations / red flags of certain E&S metrics and corporate governance regulations

While computing the ESG score, 50% weightage is given to the Governance aspect, and the remaining 50% to the Environmental and Social aspects. Governance sits at the heart of our analysis because we believe that it can be a good proxy to understand the company's E and S performance. This is because governance shortcomings usually go hand in hand with poor performance on the social and environmental fronts.

Companies which score positive and are above the minimum threshold ESG score are generally included in the portfolio. Allocation is based on the ESG score of the company, while adhering to broad sector weights to ensure diversification.


Q4. As compared to other conventional mutual funds, what returns can investors expect from ESG funds? Can you also provide the Quantum ESG fund returns?
Our ideology and experience of seeing well managed and responsible companies deliver better returns over the long term has translated to an outperformance in the real world.

Not only has the ESG index outperformed its Equity counterpart, but has also protected downside risk better.


Performance of Quantum India ESG Equity Fund : Since Inception (July 2019)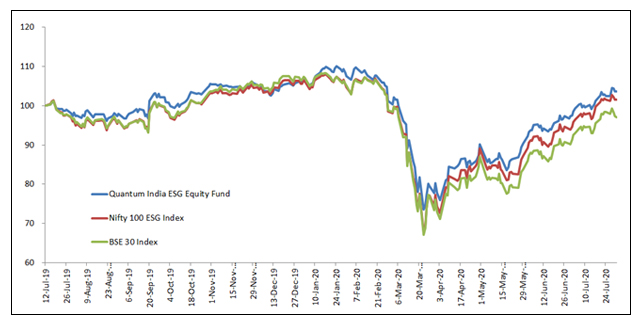 Since inception, QESG has outperformed by 2.21% against the benchmark Nifty 100 ESG Index.
Past performance may or may not be sustained in the future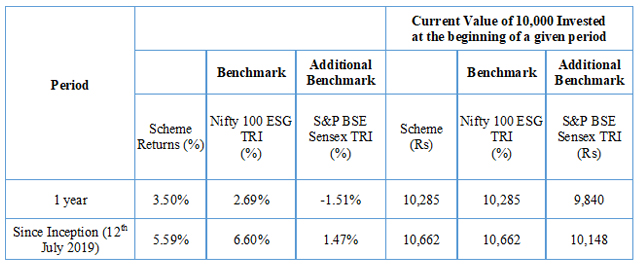 Past performance may or may not be sustained in the future.
Load is not taken into consideration in scheme returns calculation.
Different Plans shall have different expense structure. Returns are calculated on the basis of Compounded Annualized Growth Rate (CAGR).
The Schemes has been in existence for more than 1 year but has not yet completed 3 and 5 years period. Returns are net of total expenses and are calculated on the basis of Compounded Annualized Growth Rate (CAGR).

Click here to view other schemes managed by Chirag Mehta.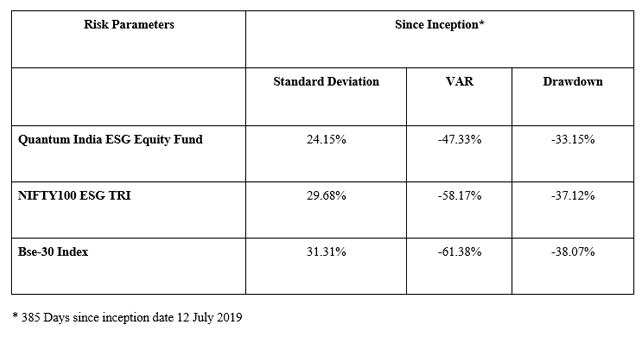 Q5. Investors nowadays are very much concerned about the impact of their actions on the environment. Does the Quantum India ESG Fund bring an opportunity for investors to contribute towards the environment and sustainability?
Yes, investors are more environmentally and socially conscious of their purchase decisions and actions nowadays.

Investors realize that every time they purchase a product or invest in a company stock, they are making a much broader choice. It is important that one considers the environmental and ethical implications of their decision every single time.

Would you continue buying products from or investing in a company that is slowly poisoning the air you breathe, or one that employs child labour? So what can you do? Vote with your wallet.

By demanding and choosing products and businesses that are environmentally friendly and ethical, and avoiding those which are not, investors can put pressure on businesses to do the right thing for the planet and the society.

We believe that a company's track record in environmental, social and governance is increasingly becoming an important consideration for investing. However, for the average investor, analysing these aspects of a business can be challenging, mostly due to lack of resources like time and information.

That's where the Quantum India ESG fund can help with its readymade portfolio of great governance businesses that are responsible.
Editor's Note: Want to know more about how ESG funds can fit into your overall portfolio. Write to us at [email protected] Or give us a missed call at +91-22-68293807 and we will call you back.
---
Product Labeling
Name of the Scheme & Primary Benchmark
This product is suitable for investors who are seeking*
Risk-o-meter of Scheme
Quantum India ESG Equity Fund

An Open ended equity scheme investing in companies following Environment, Social and Governance (ESG) theme
• Long term capital appreciation

• Invests in shares of companies that meet Quantum's Environment, Social, Governance (ESG) criteria.


Investors understand that their principal will be at Very High Risk

* Investors should consult their financial advisers if in doubt about whether the product is suitable for them.
---
Disclaimer, Statutory Details & Risk Factors:
The views expressed here in this article / video are for general information and reading purpose only and do not constitute any guidelines and recommendations on any course of action to be followed by the reader. Quantum AMC / Quantum Mutual Fund is not guaranteeing / offering / communicating any indicative yield on investments made in the scheme(s). The views are not meant to serve as a professional guide / investment advice / intended to be an offer or solicitation for the purchase or sale of any financial product or instrument or mutual fund units for the reader. The article has been prepared on the basis of publicly available information, internally developed data and other sources believed to be reliable. Whilst no action has been solicited based upon the information provided herein, due care has been taken to ensure that the facts are accurate and views given are fair and reasonable as on date. Readers of this article should rely on information/data arising out of their own investigations and advised to seek independent professional advice and arrive at an informed decision before making any investments. Please visit – www.quantumamc.com/disclaimer to read scheme specific risk factors.