Corporate debt markets have been under stress since the IL&FS default. With onset of Covid-19 and its economic uncertainty - the situation has further worsened. The conflict between the investment objective and the portfolio positioning of various debt mutual fund schemes especially those of Liquid Funds is in news for all the wrong reasons. However, investors of Quantum Liquid Fund (QLF) have no reason to worry about, here's why .
Unfortunately, investors and many fund managers ignored the liquidity and credit risk associated with the high yielding lower quality private debt which now came to haunt the entire market. While it's time for some AMCs to regain the trust of their investors, for us at Quantum it is an opportunity to re-iterate what we have always been telling you, choose your fund wisely! It also builds our confidence in doing what we are doing...following our processes, our values and our zest to stand by our investment styles, no matter what.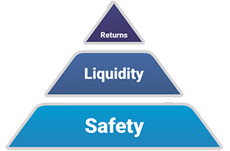 We follow the SLR investment philosophy (Safety, Liquidity and Returns) for managing the fixed income funds at Quantum. We realized that achieving all three - high safety, high liquidity and high returns is not easy. The investment objective of a liquid fund is to keep your investment safe and liquid and try and achieve slightly higher returns than bank savings deposits.




In order to enhance transparency we disclose our portfolios of Quantum Liquid Fund and Quantum Dynamic Bond Fund on not just monthly but also on a weekly basis on our website. Since liquid funds are meant for short term investing, we believe sharing our portfolio not just monthly but also on a weekly basis allows us to update our investors on the bond market sentiments and portfolio construction. In the recent past, we have been consistently highlighting the continued stress in the bond markets and that despite all the actions by the Reserve Bank of India, some segments of the bond market remains risky for investors and presents a systemic risk to the industry as well.




Over the years we have tightened our processes and stopped investing in any private corporate credit corporations completely. We do not take any private credit exposure and invest only in government securities, treasury bills and bonds issued by a select few AAA rated Public Sector Undertakings (PSU) which are shortlisted under our proprietary credit research and review process. The fund thus hopes to mitigate the issue of credit risks (risk of default) and liquidity risks (unable to liquidate/sell the assets to meet redemptions) by investing in safer and more liquid instruments.




To re-iterate (we feel that we need to keep re-iterating this, given the market scenario) the investment objective of a liquid fund is to keep your investment safe and liquid and try and achieve slightly higher returns than bank savings deposits. QLF aims to have very high liquidity, minimum volatility and near zero chances of capital loss (credit risk – risk of default of interest and principal).




The investment team grades investors based on its assessment of their holding period and matches short term investors with Cash and short term treasury bills investment.

There is no way Quantum would sacrifice any of the above factors to chase returns. Thus we request investors to stay calm, choose funds wisely. If you are looking for returns with risk, we have equity funds, if you are looking for risk adjusted returns with considerably less risk, we have a multi-asset fund, but if you are in search of an investment avenue with minimal risk then Quantum Liquid Fund is your answer.

---
Product Labeling
Name of the Scheme
This product is suitable for investors who are seeking*
Riskometer
Quantum Liquid Fund

(An Open Ended Liquid Scheme)
• Income over the short term

• Investments in debt / money market instruments


* Investors should consult their financial advisers if in doubt about whether the product is suitable for them.
---
Disclaimer, Statutory Details & Risk Factors:
The views expressed here in this article / video are for general information and reading purpose only and do not constitute any guidelines and recommendations on any course of action to be followed by the reader. Quantum AMC / Quantum Mutual Fund is not guaranteeing / offering / communicating any indicative yield on investments made in the scheme(s). The views are not meant to serve as a professional guide / investment advice / intended to be an offer or solicitation for the purchase or sale of any financial product or instrument or mutual fund units for the reader. The article has been prepared on the basis of publicly available information, internally developed data and other sources believed to be reliable. Whilst no action has been solicited based upon the information provided herein, due care has been taken to ensure that the facts are accurate and views given are fair and reasonable as on date. Readers of this article should rely on information/data arising out of their own investigations and advised to seek independent professional advice and arrive at an informed decision before making any investments.
Mutual fund investments are subject to market risks read all scheme related documents carefully.
Please visit – www.quantumamc.com/disclaimer to read scheme specific risk factors. Investors in the Scheme(s) are not being offered a guaranteed or assured rate of return and there can be no assurance that the schemes objective will be achieved and the NAV of the scheme(s) may go up and down depending upon the factors and forces affecting securities market. Investment in mutual fund units involves investment risk such as trading volumes, settlement risk, liquidity risk, default risk including possible loss of capital. Past performance of the sponsor / AMC / Mutual Fund does not indicate the future performance of the Scheme(s). Statutory Details: Quantum Mutual Fund (the Fund) has been constituted as a Trust under the Indian Trusts Act, 1882. Sponsor: Quantum Advisors Private Limited. (liability of Sponsor limited to Rs. 1,00,000/-) Trustee: Quantum Trustee Company Private Limited. Investment Manager: Quantum Asset Management Company Private Limited. The Sponsor, Trustee and Investment Manager are incorporated under the Companies Act, 1956.