Over the last 2 years, investors have witnessed a range of emotions, from fear of losing out in the market crash of Mar 2020 to the greed of cashing in on the rally that followed. According to an old Wall Street saying, the market is primarily driven by just two emotions: fear and greed. While it is easier said than done to overcome emotions, you can avoid letting emotions take control over your actions or behavior.



How Fear Impacts Investments


One of the most common fears of investing in mutual funds is fear of losing money.


Equity mutual funds are volatile by nature. For example, at the onset of Covid back in March 2020, markets fell by over 40% in just one month. After the 2008 crisis, markets fell by 55% in few months. Yet the markets have recovered and have seen a rally thereafter. No one can say when that trigger will come, which leads to uncertainty in equity markets. So, an investor who would have booked profits out of fear during these times would have seen significant losses in their portfolio. Untimely profit-booking can be detrimental to your wealth creation journey.


Another way of showcasing fear is through inaction.


Factors like inflationary pressures, a spike in third-wave Omicron cases and an impending interest rate hike in the near future can lead investors to avoid making a decision and thus exhibit inertia or inaction to invest.


How Greed Impacts Investments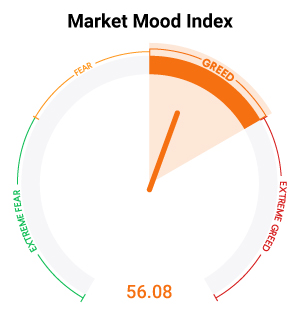 Source: MMI Fear & Greed Index - Market Mood Index For Indian Share Market Today (tickertape.in) as retrieved on Jan 19, 2022

According to the Market Mood Index (MMI) for Indian Share Market, the current market sentiment is in the greed zone.


Here are two common ways how greed impacts investment:


• Heed to herd mentality


An investor who is overcome with the emotion of greed often tends to jump in on the bandwagon or follow the herd mentality. They heed to 'investment advice' from their friend or an unverified source like a WhatsApp investment community. For instance, the most common approach to selecting a mutual fund is to chase the top performing schemes in terms of recent returns that ultimately may or may not work in their favour.


• Overestimating the risk appetite


Sometimes, in pursuing higher returns, investors may oversubscribe to IPOs (Initial Public Offering) or select NFOs (New Fund Offers) without due diligence or consideration to their risk appetite.



Overcoming Fear & Greed in Investing
Be fearful when others are greedy & greedy when others are fearful
- Warren Buffett


Replace fear with caution and greed with passion.


Replace fear by exercising caution of the market risks and replace greed with a passion to fulfil your goals by following an investment roadmap.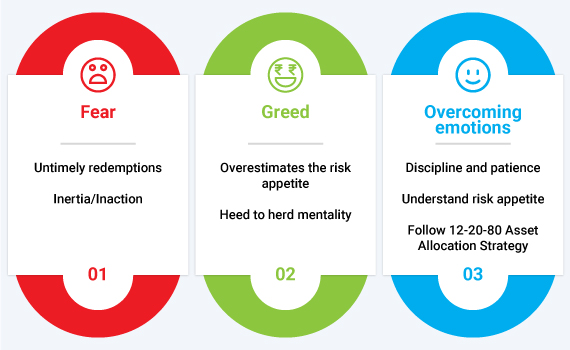 4 Ways to Overcome Emotions

Exercise discipline and patience:
Sometimes doing nothing is often easier said than done. But on one hand, it demands exercising patience and perseverance and not getting swept by market noise or emotions. Perhaps the best way to exercise discipline and patience is by setting an SIP (Systematic Investment Plan). An SIP can often be the simplest way to rid yourself of the urge to make untimely redemptions due to the rupee cost averaging benefit that allows you to buy more when markets are down and less when markets are rising, thereby averaging your cost of investment.

Understand risk appetite:
Understand how risk-sensitive you are and to set your return expectations accordingly when fear and greed grip the market.

Research:
Fear and greed often come from a place of ignorance. There is no substitute for research. For instance, while selecting a new fund, avoid banking too much on rankings alone. You need to remember that top-ranking or best performing scheme of 2021 may or may not remain best performing in 2022 or the future. Every fund, investing style, or market cap performs in cycles. The year 2021 saw value investment style outperforming the growth style of investment. Sectors that were lagging behind in the last few years saw outperformance. Perform due diligence or invest using Quantum Mutual fund, which take cares of your research by using quantitative and qualitative aspects to carefully determine the portfolio.

Follow an investment roadmap:
It's usually best to ignore the bulls and bears - and stick to a long-term plan based on a 12-20-80 asset allocation strategy. Here are the building blocks that form this strategy.
12-20-80 Asset Allocation Strategy Building Blocks
Foundation Block:
Emergency funds should be at the foundation of your portfolio. Set aside safe money worth 12 months of expenses in a liquid fund such as Quantum Liquid Fund that helps you prepare for emergencies and offers you the option to liquidate (up to Rs.50K) whenever you need. This also helps you overcome the fear of booking profits from your long-term equity investments whenever times are uncertain.

Risk Reducing Block:
You can capitalize on Gold's risk-reducing characteristics and allocate 20% of your portfolio to the yellow metal through innovative forms such as Quantum Gold Fund ETF and Quantum Gold Savings Fund. Gold generally tends to perform better when equities are under stress thus helping you overcome fear of losses.

Play Money:
Exercise flexibility to a point up to 5% of your portfolio that you would like to invest in opportunities that complement or add value to your overall asset allocation strategy. For example, this might be a new asset class like Cryptocurrency or an NFO you think would be beneficial.

Re-evaluate your strategy:
Finally, remember also to re-evaluate your strategy from time to time. Rebalance as required to bring your assets to their original allocation and remain rational when making decisions to change your plan of action as needed.
Thus, by using the building blocks with underlying assets in Equity, Debt and Gold, you can be on your way to overcoming emotions concerning market uncertainty and achieve your long term financial goals.


Login to your account today and use our easy Asset Allocation tool (available on your dashboard) to balance your portfolio in just a few clicks. It's that simple!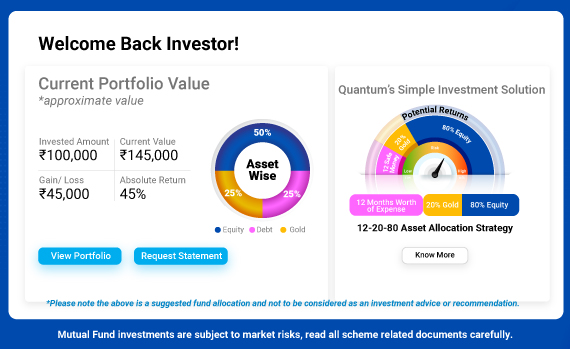 Thus, to sum up, avoid letting emotions such as fear and greed control your actions that often leads to irrational decisions. Instead of allowing the dominant market sentiment to dictate your investment decisions, overcome with the magic of asset allocation.


---
Watch our recent webinar where Chirag Mehta talks about overcoming herd mentality.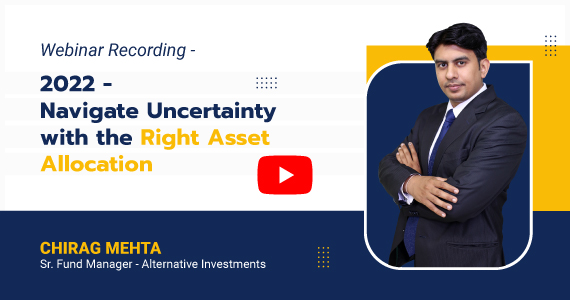 ---
Product Labeling
Name of the Scheme
This product is suitable for investors who are seeking*
Riskometer
Quantum Equity Fund of Funds

An Open Ended Fund of Funds scheme Investing in Open Ended Diversified Equity Schemes of Mutual Funds
• Long term capital appreciation

• Investments in portfolio of open-ended diversified equity schemes of mutual funds registered with SEBI whose underlying investments are in equity and equity related securities of diversified companies

Investors understand that their principal will be at Very High Risk
Quantum India ESG Equity Fund

An Open ended equity scheme investing in companies following Environment, Social and Governance (ESG) theme
• Long term capital appreciation

• Invests in shares of companies that meet Quantum's Environment, Social, Governance (ESG) criteria.

Investors understand that their principal will be at Very High Risk
Quantum Long Term Equity Value Fund

An Open Ended Equity Scheme following a Value Investment Strategy
• Long term capital appreciation

• Invests primarily in equity and equity related securities of companies in S&P BSE 200 index.

Investors understand that their principal will be at Very High Risk
Quantum Gold Savings Fund

An Open Ended Fund of Fund Scheme Investing in Quantum Gold Fund
• Long term returns

• Investments in units of Quantum Gold Fund - Exchange Traded Fund whose underlying investments are in physical gold.

Investors understand that their principal will be at Moderately High Risk
Quantum Gold Fund

An Open Ended Scheme Replicating / Tracking Gold
• Long term returns

• Investments in physical gold


Investors understand that their principal will be at Moderately High Risk
Quantum Liquid Fund

An Open-ended Liquid Scheme. A relatively low interest rate risk and relatively low credit risk.
• Income over the short term

• Investments in debt / money market instruments.


Investors understand that their principal will be at Low Risk
* Investors should consult their financial advisers if in doubt about whether the product is suitable for them.
The Risk Level of the Scheme in the Risk O Meter is based on the portfolio of the scheme as on December 31, 2021.
---
Potential Risk Class Matrix - Quantum Liquid Fund
Credit Risk →
Relatively Low
Moderate (Class B)
Relatively High (Class C)
Interest Rate Risk↓
Relatively Low (Class I)
A-I
Moderate (Class II)
Relatively High (Class III)
---

Disclaimer, Statutory Details & Risk Factors:
The views expressed here in this article / video are for general information and reading purpose only and do not constitute any guidelines and recommendations on any course of action to be followed by the reader. Quantum AMC / Quantum Mutual Fund is not guaranteeing / offering / communicating any indicative yield on investments made in the scheme(s). The views are not meant to serve as a professional guide / investment advice / intended to be an offer or solicitation for the purchase or sale of any financial product or instrument or mutual fund units for the reader. The article has been prepared on the basis of publicly available information, internally developed data and other sources believed to be reliable. Whilst no action has been solicited based upon the information provided herein, due care has been taken to ensure that the facts are accurate and views given are fair and reasonable as on date. Readers of this article should rely on information/data arising out of their own investigations and advised to seek independent professional advice and arrive at an informed decision before making any investments.
Mutual fund investments are subject to market risks read all scheme related documents carefully.
Please visit – www.QuantumAMC.com to read scheme specific risk factors. Investors in the Scheme(s) are not being offered a guaranteed or assured rate of return and there can be no assurance that the schemes objective will be achieved and the NAV of the scheme(s) may go up and down depending upon the factors and forces affecting securities market. Investment in mutual fund units involves investment risk such as trading volumes, settlement risk, liquidity risk, default risk including possible loss of capital. Past performance of the sponsor / AMC / Mutual Fund does not indicate the future performance of the Scheme(s). Statutory Details: Quantum Mutual Fund (the Fund) has been constituted as a Trust under the Indian Trusts Act, 1882. Sponsor: Quantum Advisors Private Limited. (liability of Sponsor limited to Rs. 1,00,000/-) Trustee: Quantum Trustee Company Private Limited. Investment Manager: Quantum Asset Management Company Private Limited. The Sponsor, Trustee and Investment Manager are incorporated under the Companies Act, 1956.