The year 2020 did not begin on a very positive note for the world. First, the Coronavirus or COVID-19 outbreak infected almost every part of the globe, turning out to be a pandemic (and brought the global economy to a grinding halt plus teaching us to respect social distancing).Then Australia's bushfires, which reportedly were 46% bigger than last year's Amazon forest blaze.The Locust swarm attack in East Africa, India, Pakistan, and many other countries proving to be a threat for agriculture produce. A massive volcanic eruption in the Philippines.
Earthquakes in Turkey, Greece, India, Pakistan, the US, the Caribbean region, and many other parts of the globe.
The recent cyclones- Amphan and Nisarga witnessed by eastern and western parts of India.
And notwithstanding these crushing events, let's not forget the escalated geopolitical tensions that inflict risk of war.
The Almighty lone knows what really is in store for us in the remaining months of 2020 and beyond – good, bad or ugly!
But one thing is sure: The year 2020 is teaching us one significant lesson. That is, be more responsible and caring human beings as we are all stakeholders of planet earth and the universe.
Linking the happenings of the events of 2020 so far to the world of investing by recognising the scientific cause-effect relationship, the year 2020 introduces us to the world of Socially Responsible Investing.
Socially Responsible Investing means ethical, green and clean investing. As stakeholders, sensible handling of issues such as global warming, pollution control, human rights, etc. is essential in the path to progress and sustainable living. And for this governance and social values, play a key role. People need to be more responsible in their actions, otherwise, everything can fall apart; it could be a disastrous recipe for the environment and society.
Hence, in the journey of wealth creation, we need to be sensitive to Environment, Social, and Governance (ESG) issues. Thus, Socially Responsible Investing is also referred to as ESG Investing.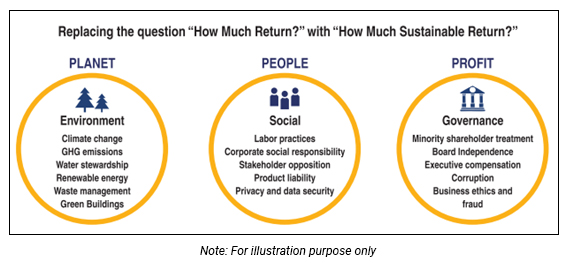 Environment, Social, and Governance (ESG) factors are the three pillars that encompass a lot of material issues impacting the overall performance of the company and its growth.
Globally, ESG Investing is gaining prominence -- particularly pension funds in the US and Europe have been giving a lot of emphasis on the ESG parameters while investing.
In Asia and emerging market economies, such as India, the ESG theme is picking up slowly but surely.
In India as well, ESG is gaining traction and Quantum Mutual Fund is among the three mutual funds houses that currently offer ESG Funds.
The broader investment objective of an ESG Fund is investing in equity and equity-related instruments of companies that meet Environment, Social and Governance (ESG) criteria. So, typically companies engaged in the business of tobacco, alcohol, controversial weapons, gambling operations that compromise on ethics and cause harm to the society and the environment at large are excluded.
The current climate is turning the spotlight on to the ESG theme. These days the private sector is, thankfully, slowly owning up to this larger goal via CSR (Corporate Social Responsibility) projects. This makes it favourable to focus on ESG Funds.
An ESG Fund endeavours to invest in businesses which are:

✔ Ensuring sustainable management of natural and human resources
✔ Diversity within the organizational structure
✔ Prudent management and socially responsible framework of business
Thus, broadly the spotlights are on the Environmental, Social and Governance aspects of the company with intensive analysis following a comprehensive ESG framework. The aim is to provide investors with an opportunity to have exposure to sustainable investment options.
In the portfolio construction activity, the fund manager could follow a combination of 'top-down' and 'bottom-up approach' and not necessarily limit to one. Fund managers follow a certain matrix for inclusion and exclusion of securities in the portfolio (within the ESG Framework) as outlined by the investment strategy, which varies from scheme to scheme.
You would agree that at a broader level, asset managers have a fiduciary responsibility while serving the interest of investors' and community/society at large. So, in the portfolio construction activity, a conscious effort is made with sector level and stock level screening using both, qualitative and quantitative parameters.
In recent years, the availability of alternative ESG information and tools has vastly increased to assist fund managers to take appropriate investment decisions.
ESG Funds in India usually benchmark their performance to the Nifty 100 ESG Total Return Index.
Here's why investing in the ESG Funds is worthwhile:
1) Offers a solution for socially responsible investing (by aligning with your personal philosophy -- moral, beliefs, and social values)
2) Fair diversification with, of course, Environment, Social, and Governance aspects being the focal points in the investment process
3) Offers an avenue for better investment allocation
4) Ensures liquidity and the risk is mitigated with robust investment processes in place
5) The potential to deliver long term risk-adjusted performance as compared to its benchmark.
There is evidence to suggest that Socially Responsible Investing can help you earn respectable returns.
Graph: ESG Investing - A rewarding experience!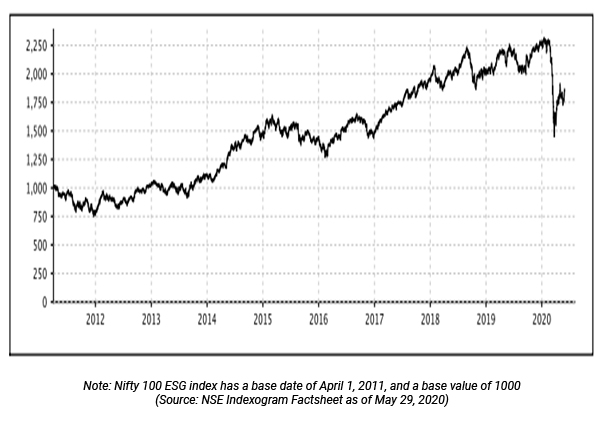 The graph above reveals that since the base date of April 1, 2011, the Nifty 100 ESG Index has clocked a 'total return' of 8.55% CAGR as of May 29, 2019––a decent reward for investors.
Investors should consider allocating some portion of their investible surplus in an ESG Fund and embrace Socially Responsible Investing. After all, we are a part of a large ecosystem and we must choose companies that follow sustainable practices when investing our hard-earned money.
That being said, do not assume that Socially Responsible Investing via ESG Funds will expose you to low-risk.
ESG Funds do carry risk, but far more well managed in the investment strategy and the processes and systems followed by the fund house to choose securities for the underlying portfolio.
If your risk profile is high, broader investment objective is capital appreciation, and the envisioned financial goals are far away, consider investing in an ESG Fund.
It is time to make the world a better place, contribute to its wellbeing, and be the emissary of the positive change you wish to see the world. Build wealth with responsible investing!
Happy Investing!
---
Disclaimer, Statutory Details & Risk Factors:
The views expressed here in this article / video are for general information and reading purpose only and do not constitute any guidelines and recommendations on any course of action to be followed by the reader. Quantum AMC / Quantum Mutual Fund is not guaranteeing / offering / communicating any indicative yield on investments made in the scheme(s). The views are not meant to serve as a professional guide / investment advice / intended to be an offer or solicitation for the purchase or sale of any financial product or instrument or mutual fund units for the reader. The article has been prepared on the basis of publicly available information, internally developed data and other sources believed to be reliable. Whilst no action has been solicited based upon the information provided herein, due care has been taken to ensure that the facts are accurate and views given are fair and reasonable as on date. Readers of this article should rely on information/data arising out of their own investigations and advised to seek independent professional advice and arrive at an informed decision before making any investments. Please visit – www.quantumamc.com/disclaimer to read scheme specific risk factors.