After the GDP contraction in 2020 due to Covid-19 induced economic deceleration, India's economic growth has bounced back in CY 2021, driven by pent-up consumer demand. Quantitative easing and accommodative policies have also helped corporate India to get back on track. Corporate profitability has been at record levels which is also getting reflected in the equity rally.
However, there are several questions that remain:
• Will risks to economic recovery remain?
• Will the equity rally sustain?
• What can you do to cope with the immediate short-term risks and also be on track to achieve your long-term goals?
Risks to India's economic recovery
Though CPI inflation remains within RBI's target range, elevated inflation levels in raw materials and crude prices may force the Central Bank to increase interest rates, thereby putting the recovery off track. The informal sector, where much of the India's population works, is still reeling under the effects of the pandemic and subsequent economic distress.
Here's an overview of the positives and negatives in India's economic growth trajectory: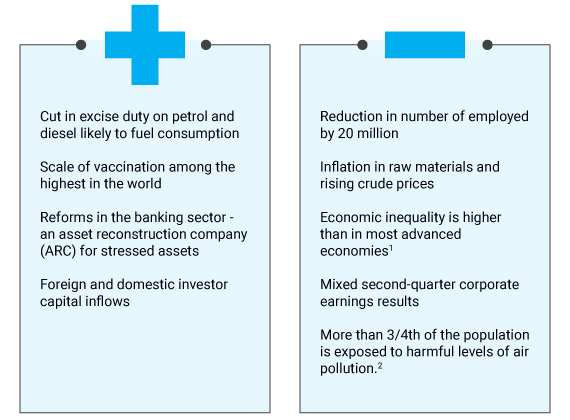 Source: 1 – Bloomberg 2 & 3 – oecd.org
Ride the long-term Growth Story with a Robust Asset Allocation Strategy
Instead of timing the market and missing out on long-term growth potential, you can adopt a simple and effective asset allocation strategy to deal with market cycles. This is based on our belief that assets are cyclical and there is no single winning asset class. Diversifying your portfolio with the right investment in equity, debt and gold, among other investments, is imperative for your financial health. This process is called Asset Allocation.
Asset Allocation can diversify the market risk which helps to can even reduce the downside risks and further your chances of achieving your financial goals.
Quantum's 12-20-80 Asset Allocation Strategy to ride the market cycles
Use our tried and tested DIY (Do-It-Yourself) Asset Allocation strategy that you can follow to help you reach your financial goals while diversifying the portfolio which helps to reduce the downside risk.
Asset Allocation Strategy Building Blocks
1. Foundation Block: Emergency funds should be at the foundation of your portfolio. Set aside safe money worth 12 months of expenses in Quantum Liquid Fund that helps you prepare for emergencies and offers you insta-redemption option (up to Rs.50K) whenever you need.
2. Risk Reducing Block: You can invest in Gold's risk-reducing characteristics and allocate 20% of your portfolio to the yellow metal. Though Gold prices have corrected from the highs touched in 2020, you can use the correction to build your allocation to gold.
3. Equity Block: Diversify the balance 80% across an equity bucket that is market cap, sector, or style agnostic.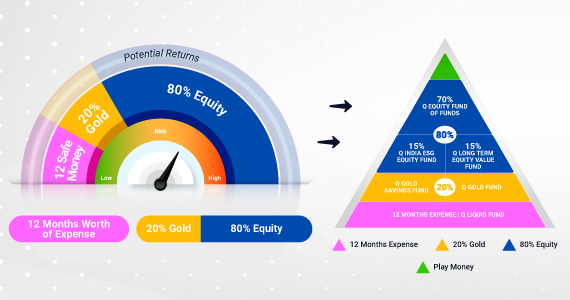 Please note that the above suggested fund allocation only and is not to be considered as investment advice / recommendation, please seek independent professional advice, and arrive at an informed investment decision before making any investments.

Benefits of Quantum's 12-20-80-Asset Allocation Strategy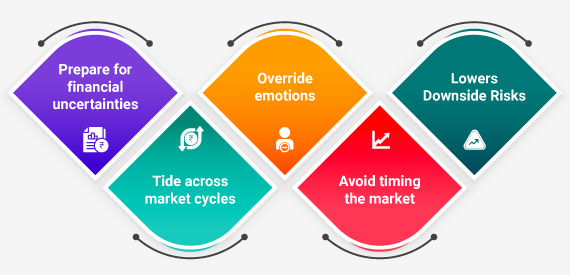 While prudent asset allocation is one way to mitigate market uncertainty, ideal asset allocation is not static and need to be agile and dynamic.
Readymade Mutual Fund Solution
If you are one of those investors who would rather let a professional fund manager lead the direction on how to keep up with the diverse economic variables, then a readymade mutual fund solution with Quantum Multi Asset Fund of Fund is another option to consider. The fund manager has the flexibility to follow a regular rebalancing approach within each asset class of equity, debt and gold, thereby giving investors the potential to generate risk-adjusted returns through diversification of investments.
The long-term investor who is following the prudent DIY or the Readymade Asset Allocation Strategy need not worry about market levels or economic trends.
It's time to take the opportunity to diversify your portfolio to ride India's growth story.
---
Watch our recent webinar where our Fund Managers shared all about Asset Class Outlook & Economic View in the Current Market Scenario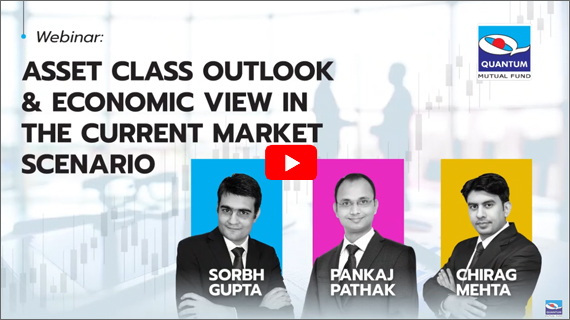 ---
---
Name of the Scheme & Primary Benchmark
This product is suitable for investors who are seeking*
Risk-o-meter of Scheme
Quantum Liquid Fund

An Open Ended Liquid Scheme
• Income over the short term

• Investments in debt / money market instruments.


Investors understand that their principal will be at Low Risk
Quantum Gold Fund

An Open Ended Scheme Replicating / Tracking Gold
• Long term returns

• Investments in physical gold.


Investors understand that their principal will be at Moderately High Risk
Quantum Gold Savings Fund

An Open Ended Fund of Fund Scheme Investing in Quantum Gold Fund
• Long term returns

• Investments in units of Quantum Gold Fund - Exchange Traded Fund whose underlying investments are in physical gold.


Investors understand that their principal will be at Moderately High Risk
Quantum Equity Fund of Funds

An Open Ended Fund of Funds scheme Investing in Open Ended Diversified Equity Schemes of Mutual Funds
• Long term capital appreciation

• Investments in portfolio of open-ended diversified equity schemes of mutual funds registered with SEBI whose underlying investments are in equity and equity related securities of diversified companies


Investors understand that their principal will be at Very High Risk
Quantum India ESG Equity Fund

An Open ended equity scheme investing in companies following Environment, Social and Governance (ESG) theme
• Long term capital appreciation

• Invests in shares of companies that meet Quantum's Environment, Social, Governance (ESG) criteria.


Investors understand that their principal will be at Very High Risk
Quantum Long Term Equity Value Fund

An Open Ended Equity Scheme following a Value Investment Strategy
• Long term capital appreciation

• Invests primarily in equity and equity related securities of companies in S&P BSE 200 index.


Investors understand that their principal will be at Moderate Risk
*Investors should consult their financial advisers if in doubt about whether the product is suitable for them.
The Risk Level of the Scheme in the Risk O Meter is based on the portfolio of the scheme as on October 31, 2021.
---
Disclaimer, Statutory Details & Risk Factors:
The views expressed here in this article / video are for general information and reading purpose only and do not constitute any guidelines and recommendations on any course of action to be followed by the reader. Quantum AMC / Quantum Mutual Fund is not guaranteeing / offering / communicating any indicative yield on investments made in the scheme(s). The views are not meant to serve as a professional guide / investment advice / intended to be an offer or solicitation for the purchase or sale of any financial product or instrument or mutual fund units for the reader. The article has been prepared on the basis of publicly available information, internally developed data and other sources believed to be reliable. Whilst no action has been solicited based upon the information provided herein, due care has been taken to ensure that the facts are accurate and views given are fair and reasonable as on date. Readers of this article should rely on information/data arising out of their own investigations and advised to seek independent professional advice and arrive at an informed decision before making any investments.
Mutual fund investments are subject to market risks read all scheme related documents carefully.
Please visit – www.QuantumAMC.com to read scheme specific risk factors. Investors in the Scheme(s) are not being offered a guaranteed or assured rate of return and there can be no assurance that the schemes objective will be achieved and the NAV of the scheme(s) may go up and down depending upon the factors and forces affecting securities market. Investment in mutual fund units involves investment risk such as trading volumes, settlement risk, liquidity risk, default risk including possible loss of capital. Past performance of the sponsor / AMC / Mutual Fund does not indicate the future performance of the Scheme(s). Statutory Details: Quantum Mutual Fund (the Fund) has been constituted as a Trust under the Indian Trusts Act, 1882. Sponsor: Quantum Advisors Private Limited. (liability of Sponsor limited to Rs. 1,00,000/-) Trustee: Quantum Trustee Company Private Limited. Investment Manager: Quantum Asset Management Company Private Limited. The Sponsor, Trustee and Investment Manager are incorporated under the Companies Act, 1956.