Dhanteras, is fast approaching on the 10th of November and it marks the first day of the grand Diwali celebration, a time when homes across India are lit up with the warm glow of diyas.
Buying gold on this auspicious occasion is believed to usher in the welcome of wealth and prosperity to your home. In addition to cultural significance, we believe that investing in gold - a real asset - on Dhanteras is a smart financial decision too!
In light of renewed geopolitical tensions in the Middle East and the subsequent correction in domestic equity markets, we believe that it's an opportune time to invest in Gold.
How Can Gold Benefit Your Investment Portfolio?
Here are four strong reasons to consider investing in gold beyond its traditional importance & relevance.
1) A Real Strategic Diversifier:
Gold doesn't just safeguard your wealth, it also offers balance to your portfolio. One of the key advantages of including gold in your investment portfolio is that when equity markets are under stress, gold generally shines brighter. For instance, Gold prices surged sharply in March 2023 when a regional banking crisis unfolded in the United States. By adding Gold, you can navigate turbulent markets and safeguard your wealth. As per Quantum's tried and tested 12|20:80 Asset Allocation Strategy, it is suggested to allocate 20% of your investments to the yellow metal through efficient financial forms such as Gold ETFs and Gold Mutual Funds. Click here for our handy
12|20:80 Asset Allocation Calculator
2) Wise investment decision during Current Geopolitical & Economic Uncertainty:
in times of geopolitical and economic instability, Gold has historically held its value and acted as a shield, safeguarding the investments from the global economic turmoil. Through various instances such as the pandemic, geopolitical tension or global slowdown, allocating a portion of your investments to gold can be wise decision.
3) Assists to Cope with Inflation:
If you look at history, you will find that the Gold has kept pace with global fiat money supply over the years, helping capital preservation. Over the long term, gold prices may keep pace with increases in the cost of living.
If you see in the chart below, Gold has performed well during periods of high inflation. In periods of higher inflation (over 6%) Gold has given an average nominal return of 11% and real return of 1.27 % for the last 43 years for the period between Oct 31, 1980 to Oct 31, 2023. Real return is impact of inflation deducting from Gold Returns.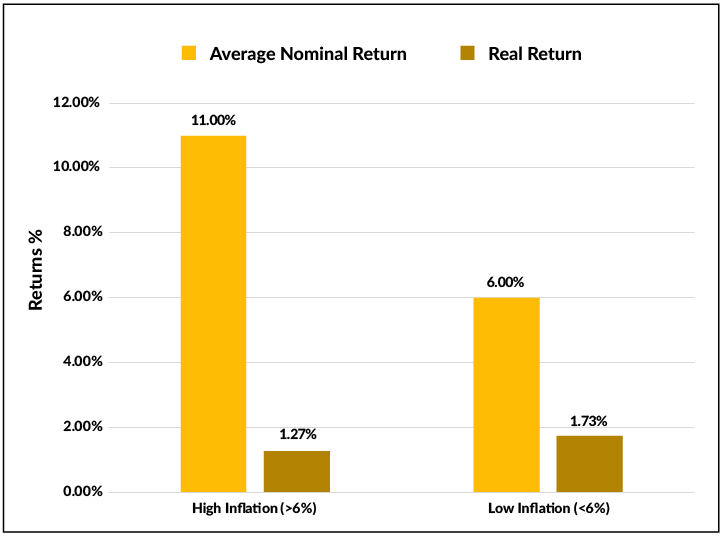 Inflation is based on annual India CPI y-o-y changes from Oct 1980 to Oct 2023 | Gold performance is based on Domestic gold prices from Oct 1980 to Oct 2023
| Past performance may or may not be sustained in the future.
Making a Smart Gold Investment
Digital Gold has taken off in recent times due to the advantages of convenience, purity and safety aspects. Gold ETF, Gold Mutual Fund and SGB (Sovereign Gold Bond) are the popular avenues for digital investments in Gold.
Gold ETFs are one of the leading digital investment avenues in the country that allows flexibility to start with smaller denominations. As per AMFI data, Gold ETFs saw inflows of Rs. 1659.5 crores in September 2023.
Benefits of Quantum Gold Fund & Quantum Gold Savings Fund:
Purify: The underlying Quantum Gold Fund - ETF that the Fund invests in gold bars of highest purity. Every gold bar underlying the Quantum Gold Fund - ETF goes through an independent purity test.
Liquidity: Quantum Gold Savings Fund units can be easily liquidated anytime 24X7.
No minimum limit on investment: Flexibility to invest using an SIP with Rs.500. Investors preferring Gold ETF route can invest in smaller units where each unit represents 1/100th of 1 gram of gold, making it accessible unlike physical gold available in larger weights such as 100 grams or 10 grams of gold.
Dhanteras holds a special place in the hearts of millions. While its cultural and religious significance is paramount, the modern world sees the festival as a time of financial opportunity. Investing in Gold during mahurat will align with traditions and strengthen your financial portfolio. As, as you prepare to embrace the warmth of the diya's glow and the festive spirit, don't delay in inviting the good luck of gold into your life & consider making a smart investment in gold with Quantum Gold Savings Fund or Quantum Gold Fund.
---
Product Labeling
Name of the Scheme
This product is suitable for investors who are seeking*
Riskometer of scheme

Quantum Gold Fund

An Open Ended Scheme Replicating / Tracking Gold

• Long term returns

• Investments in physical gold




Investors understand that their principal will be at High Risk

Quantum Gold Savings Fund

An Open Ended Fund of Fund Scheme Investing in Quantum Gold Fund

• Long term returns

• Investments in units of Quantum Gold Fund – Exchange Traded Fund whose underlying investments are in physical gold




Investors understand that their principal will be at High Risk
*Investors should consult their financial advisers if in doubt about whether the product is suitable for them.
The investors of Quantum Gold Savings Fund will bear the scheme expenses in addition to the expenses of other schemes in which the Fund of Funds scheme makes investment (subject to regulatory limits).


Disclaimer, Statutory Details & Risk Factors:
The views expressed here in this article / video are for general information and reading purpose only and do not constitute any guidelines and recommendations on any course of action to be followed by the reader. Quantum AMC / Quantum Mutual Fund is not guaranteeing / offering / communicating any indicative yield on investments made in the scheme(s). The views are not meant to serve as a professional guide / investment advice / intended to be an offer or solicitation for the purchase or sale of any financial product or instrument or mutual fund units for the reader. The article has been prepared on the basis of publicly available information, internally developed data and other sources believed to be reliable. Whilst no action has been solicited based upon the information provided herein, due care has been taken to ensure that the facts are accurate and views given are fair and reasonable as on date. Readers of this article should rely on information/data arising out of their own investigations and advised to seek independent professional advice and arrive at an informed decision before making any investments.
Mutual fund investments are subject to market risks read all scheme related documents carefully.