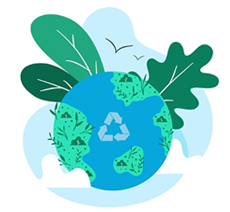 OIKOS. The Greek word for "home" is the root of both "ecology" and "economics". Ecology is the study of natural systems, and economics is the study of a human system or human market systems. Therefore acknowledging the economic value of the ecosystem that we are part of, and that it is our duty to live responsibly is obvious.
If we are to make progress, we must consider ecology and economics as two sides of the same coin. No growth is sustainable if it's not cohesive with the environment. Although the past few decades of rapid economic growth have brought many benefits to India, however, it has been clouded by a degrading environment, exposing the population to serious air and water pollution. A recent world bank report finds that environmental degradation costs India $80 billion per year or 5.7% of its economy. Green growth strategies are needed to promote sustainable growth and to break the pattern of environmental degradation and natural resource depletion. Emission reductions can be achieved with minimal cost to GDP.
The Kuznets Curve
The Environmental Kuznets Curve is a mathematical formula that explains the relationship between environment equality and economic development. According to the curve the environment will worsen until a certain point where the country reaches a specific average income. Then money is invested back into the environment, and the ecosystem is restored.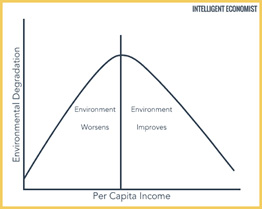 In the U.S., for example, greater income makes it possible to purchase electric cars which use less oil and don't pollute as much.
However, while Environmental Kuznets Curve might just be a hypothesis, it does make an important point of giving back to nature.
It is important for us to understand that economic growth is only sustainable if we act responsibly towards our environment. In order to help economy grow keeping in mind the ecology aspect, we as investors should invest in environmentally responsible businesses.
It is a win-win situation for an investor, as these businesses that opt for environmentally sustainable future in turn enjoy sustainable earnings and profits.
As an effort to complete our equity bucket of funds, we have launched a fund that aims to achieve growth by investing in sustainable businesses by following the ESG (Environmental, Social and Governance) route. This relatively new concept to seek growth – Quantum's ESG fund invests in companies that focus on 3Ps; Planet, People and Profit. It is time to make money by making a difference to the world we call our home. After all, Oikos aka home is where we belong!
Data Source: World Bank
---
Product Labeling
Name of the Scheme & Primary Benchmark
This product is suitable for investors who are seeking*
Risk-o-meter of Scheme
Quantum India ESG Equity Fund

An Open ended equity scheme investing in companies following Environment, Social and Governance (ESG) theme
• Long term capital appreciation

• Invests in shares of companies that meet Quantum's Environment, Social, Governance (ESG) criteria.


Investors understand that their principal will be at Very High Risk
* Investors should consult their financial advisers if in doubt about whether the product is suitable for them.
---
Disclaimer, Statutory Details & Risk Factors:
The views expressed here in this article / video are for general information and reading purpose only and do not constitute any guidelines and recommendations on any course of action to be followed by the reader. Quantum AMC / Quantum Mutual Fund is not guaranteeing / offering / communicating any indicative yield on investments made in the scheme(s). The views are not meant to serve as a professional guide / investment advice / intended to be an offer or solicitation for the purchase or sale of any financial product or instrument or mutual fund units for the reader. The article has been prepared on the basis of publicly available information, internally developed data and other sources believed to be reliable. Whilst no action has been solicited based upon the information provided herein, due care has been taken to ensure that the facts are accurate and views given are fair and reasonable as on date. Readers of this article should rely on information/data arising out of their own investigations and advised to seek independent professional advice and arrive at an informed decision before making any investments. Please visit – www.quantumamc.com/disclaimer to read scheme specific risk factors.