Equity mutual funds have the potential to help you reach your financial goals in the long term. This is regardless of what style of investing the fund follows; i.e. growth or value. So what is the big debate all about? The big question is, whether to invest in growth or value-oriented funds?
Let us dig deeper into these investment approaches.
The value of 'Value'
Quantum Mutual Funds for the longest time has been a follower of the value-based strategy. Our flagship fund Quantum Long Term Equity Value Fund has imbibed the tenets of value investing since its inception. A fund that invests in value stocks will buy undervalued companies with good business, strong management and the ones that have long-term potential to grow.
Here's a quote from the legendary investor Warren Buffet, who has been a proponent of the value style of investing.
"Price is what you pay, Value is what you get. Whether we are talking about stocks or socks, I like buying quality merchandise when it is marked down."
Value investing cannot be explained more simply.
To that effect, the three features of value investing are: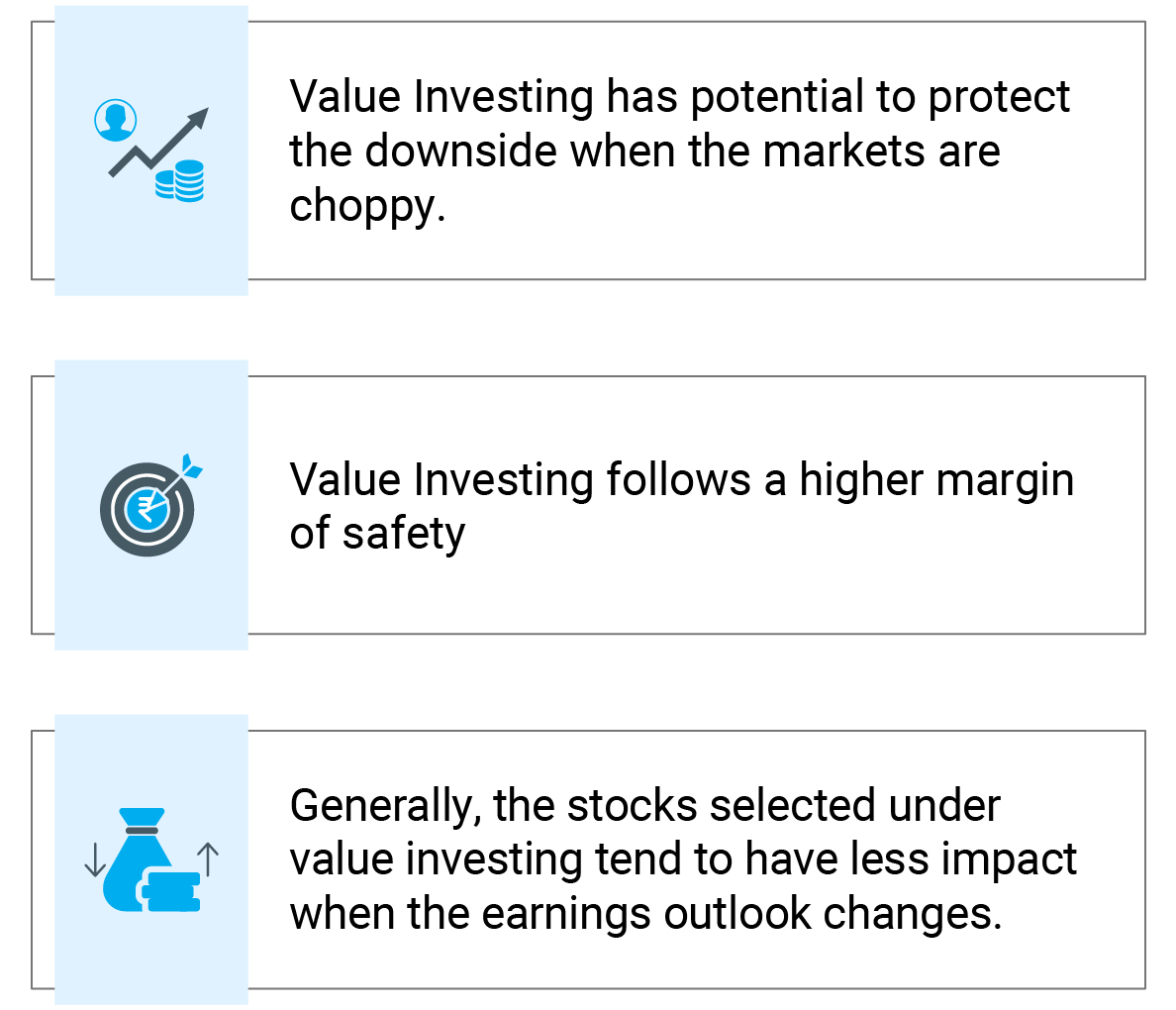 The "growth style" is to chase the stock-price trends. Investors expect certain stocks that are already performing well to outperform in the near future and invest in them.
The features of the growth style of investing are: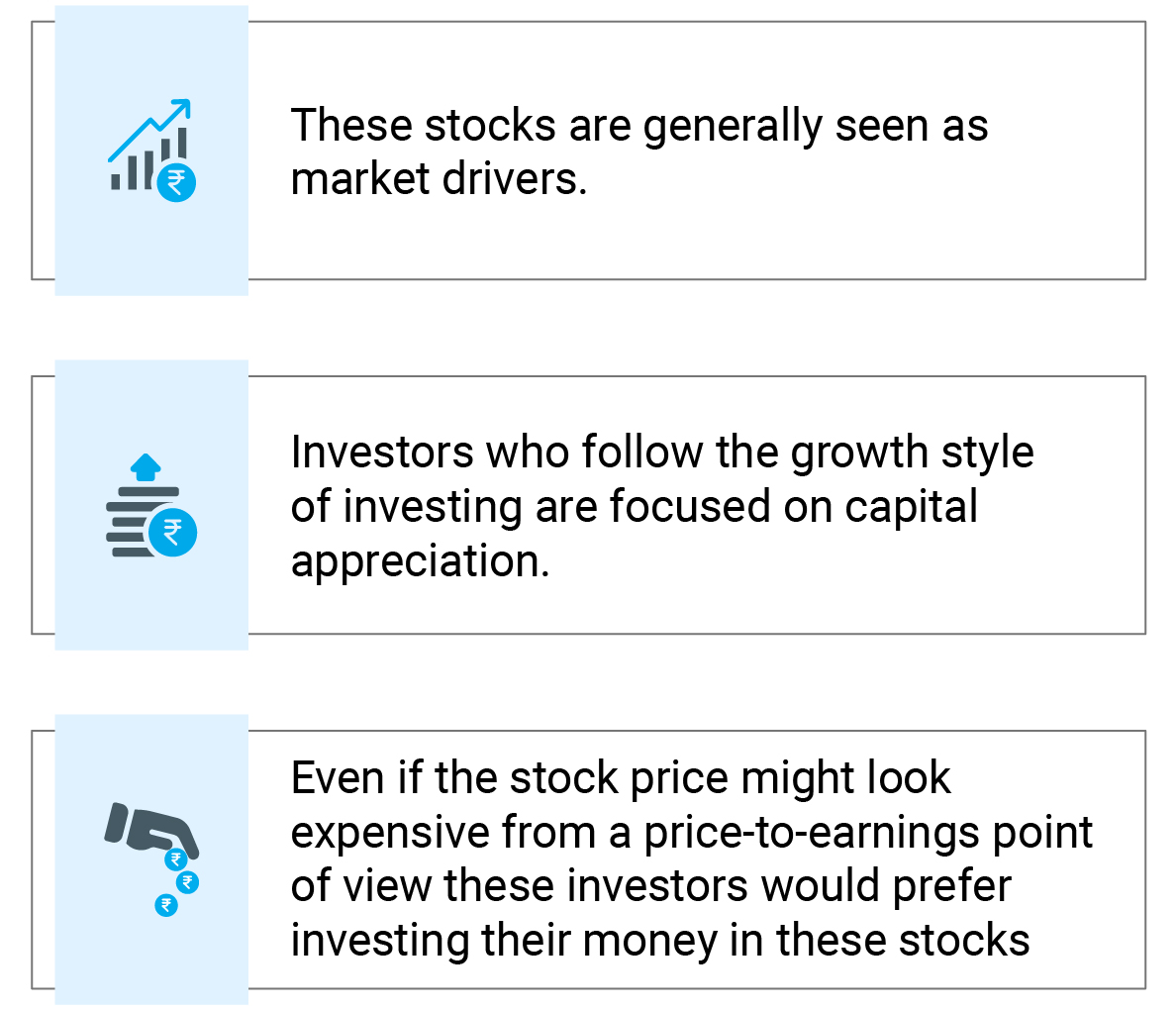 A little back story
Over the past 5 – 6 years, value investing has been out of favour. What is seen is that markets are dominated by select few stocks. Both Indian and US markets have seen this trend. While in the US the technology stocks decided the market flow, here in India the 3 large caps have accounted for almost 47% of the gains (Total Return) in the BSE-30 Index between the period of May 2014 until as recently as May 2021.
Graph 1 - The business strength of larger companies reflects in equity returns over the long term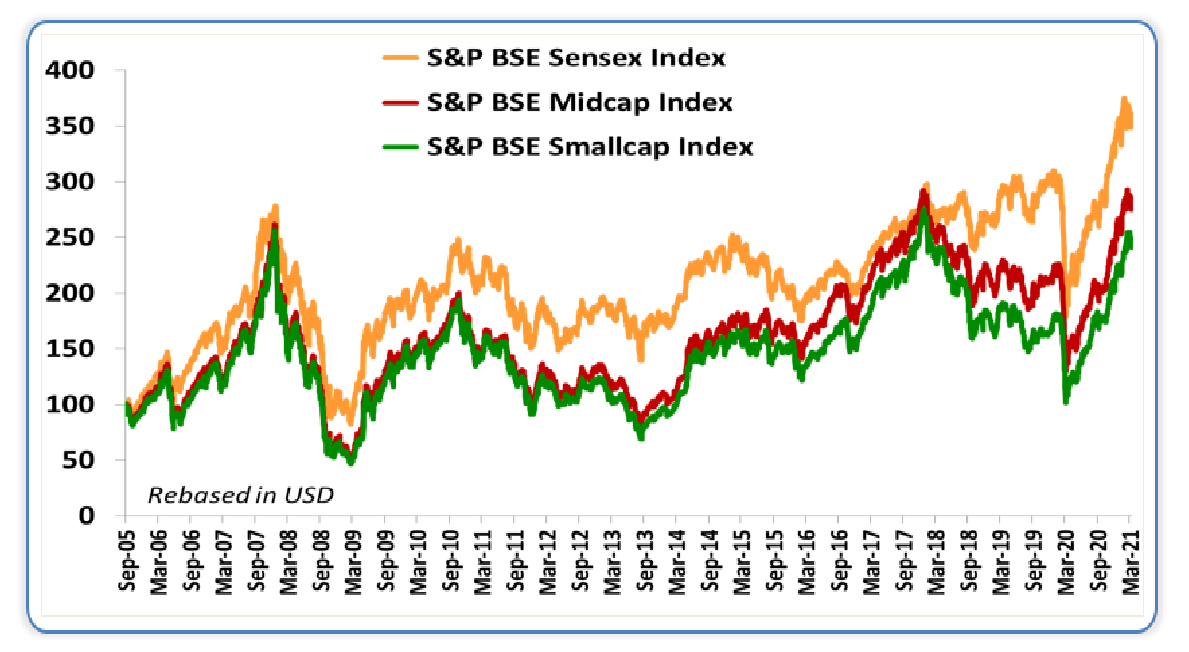 Past performance may or may not sustained in future
Updated as of Mar 31, 2021
Data for the period between Sep 2005 - Mar 2021. Source: S&P BSE Sensex 30 Index, S&P BSE Midcap Index & S&P BSE Small cap index
Also, central banks have seen to be addressing economic challenges by cutting rates and pushing money into the system. Discipline in the central banking system is essential for value investing.
Post the COVID-19 related macro shock & market meltdown in March-April 2020, we saw a broad-based economic recovery & value stocks making a comeback. Quantum Long Term Equity Value Fund, a fund based purely on the principles of long-term value, generally performs well when risk is adequately priced. Falling interest rates, attractive mortgage rates & cost control by corporates have helped to make room for some optimism.
However, what was more heartening is that even after the market saw a considerable recovery, value funds continued to do well, given the strong fundamentals & attractive valuations available across many sectors.
The takeaway for investors?
Well, the honest answer is that there is no right or wrong, amongst these two styles of investing. Both these equity investment styles work in different market conditions. There is no need for investors to worry about Growth or Value.
Table: Difference between Value & Growth Style of Investing
| | | |
| --- | --- | --- |
| Parameters | Value | Growth |
| Fundamentals | Lower P/E Ratio & a lower P/BV Ratio, Higher Dividend Yields | Higher P/E Ratio & a higher P/BV Ratio |
| Focus | Intrinsic Value | Potential value |
| Pricing | Undervalued, below their worth or fair value, incorporates margin of safety | Fair to overvalued |
One needs to focus on creating an equity portfolio that has the right mix of equity mutual funds that follow different investment styles. At Quantum, we suggest to consider 15-15-70 model for your equity bucket. According to this strategy -
Illustration – Suggested Equity Allocation*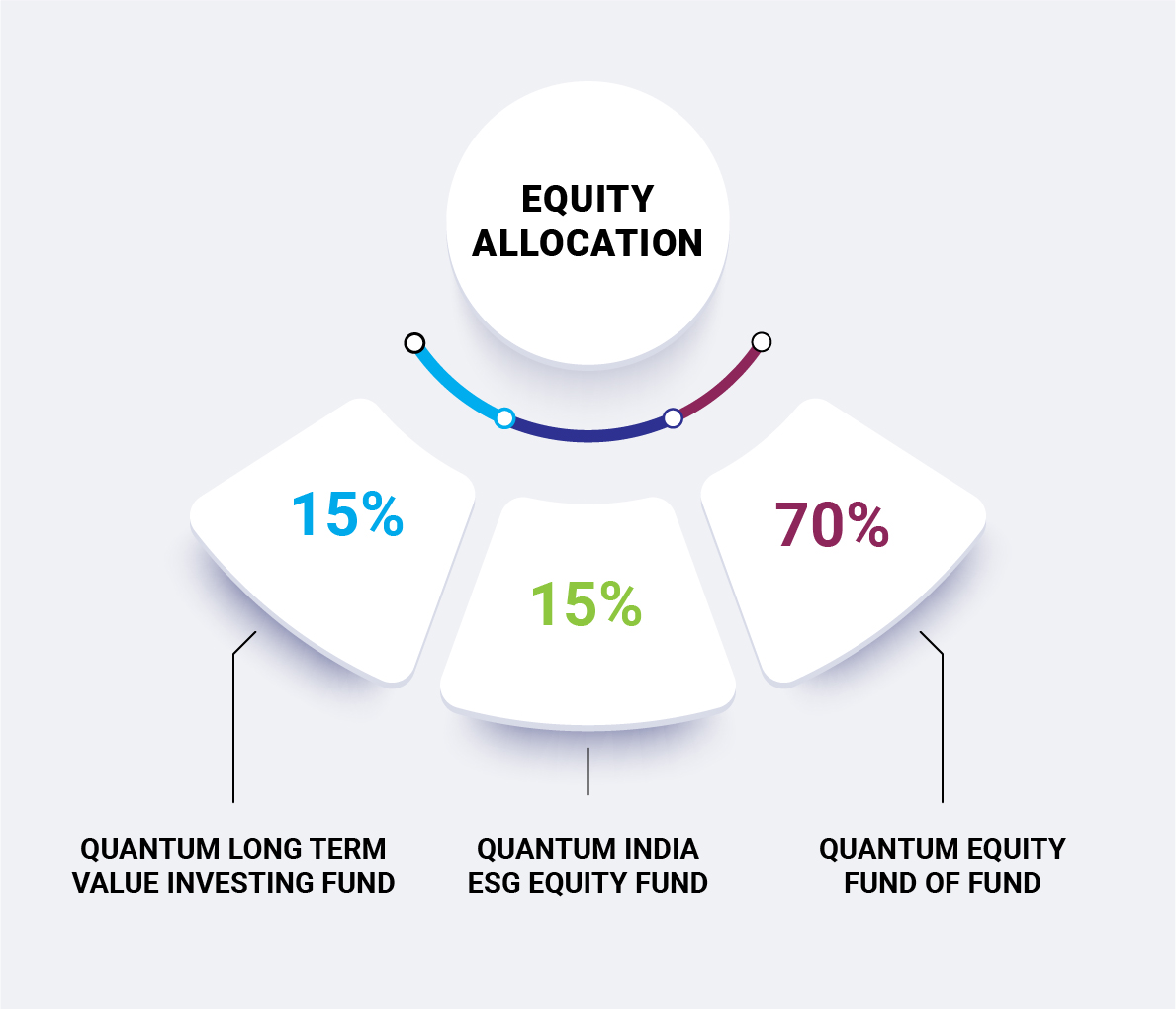 *Please note that the above suggested fund allocation only and is not to be considered as an investment advice/ recommendation, please seek independent professional advice and arrive at informed decision before making any investments.
• 15% of your equity investments can be invested in the value-based fund – Quantum Long Term Equity Value Fund,
• 15% of your equity investments can be invested in ESG fund - Quantum India ESG Equity Fund and
• The rest 70% of your equity allocation can be invested in one equity fund of funds that has a mix of different investment styles including Growth - Quantum Equity Fund of Funds. Here, we select a basket of the best equity funds based on the independent research & then invest money to funds managed by other fund houses, which are performing well, for the risk they are taking.
Build your equity allocation by investing in just three funds. This diversification has the potential to reduce downside risk in falling market while also helping you create long term wealth.
---
Watch our latest Mega webinar video on 10 Charts, 1 Growth Story where Arvind Chari, CIO Quantum Advisors and Sorbh Gupta, Fund Manager Equity give you further insights into the growth vs. value investing.
---
Product Labeling
Name of the Scheme
This product is suitable for investors who are seeking*
Riskometer
Quantum India ESG Equity Fund

An Open ended equity scheme investing in companies following Environment, Social and Governance (ESG) theme
• Long term capital appreciation

• Invests in shares of companies that meet Quantum's Environment, Social, Governance (ESG) criteria.

Investors understand that their principal will be at Very High Risk
Quantum Long Term Equity Value Fund

An Open Ended Equity Scheme following a Value Investment Strategy
• Long term capital appreciation

• Invests primarily in equity and equity related securities of companies in S&P BSE 200 index.


Investors understand that their principal will be at Very High Risk
Quantum Equity Fund of Funds

An Open-ended Fund of Funds scheme Investing in Open Ended Diversified Equity Schemes of Mutual Funds
• Long term capital appreciation

• Investments in portfolio of open-ended diversified equity schemes of mutual funds registered with SEBI whose underlying investments are in equity and equity related securities of diversified companies.


Investors understand that their principal will be at Very High Risk
* Investors should consult their financial advisers if in doubt about whether the product is suitable for them.
The Risk Level of the Scheme in the Risk O Meter is based on the portfolio of the scheme as on May 31, 2021.
except for Quantum Equity Fund of Funds as on April 30, 2021.
---
Disclaimer, Statutory Details & Risk Factors:
The views expressed here in this article / video are for general information and reading purpose only and do not constitute any guidelines and recommendations on any course of action to be followed by the reader. Quantum AMC / Quantum Mutual Fund is not guaranteeing / offering / communicating any indicative yield on investments made in the scheme(s). The views are not meant to serve as a professional guide / investment advice / intended to be an offer or solicitation for the purchase or sale of any financial product or instrument or mutual fund units for the reader. The article has been prepared on the basis of publicly available information, internally developed data and other sources believed to be reliable. Whilst no action has been solicited based upon the information provided herein, due care has been taken to ensure that the facts are accurate and views given are fair and reasonable as on date. Readers of this article should rely on information/data arising out of their own investigations and advised to seek independent professional advice and arrive at an informed decision before making any investments.
Mutual fund investments are subject to market risks read all scheme related documents carefully.
Please visit – www.QuantumAMC.com to read scheme specific risk factors. Investors in the Scheme(s) are not being offered a guaranteed or assured rate of return and there can be no assurance that the schemes objective will be achieved and the NAV of the scheme(s) may go up and down depending upon the factors and forces affecting securities market. Investment in mutual fund units involves investment risk such as trading volumes, settlement risk, liquidity risk, default risk including possible loss of capital. Past performance of the sponsor / AMC / Mutual Fund does not indicate the future performance of the Scheme(s). Statutory Details: Quantum Mutual Fund (the Fund) has been constituted as a Trust under the Indian Trusts Act, 1882. Sponsor: Quantum Advisors Private Limited. (liability of Sponsor limited to Rs. 1,00,000/-) Trustee: Quantum Trustee Company Private Limited. Investment Manager: Quantum Asset Management Company Private Limited. The Sponsor, Trustee and Investment Manager are incorporated under the Companies Act, 1956.