The Indian equity markets since the COVID-19 pandemic lows have had a remarkable run. The mid and small-caps in addition to large cap have generated decent returns and demonstrated the ability to generate good wealth.
Small-sized companies, despite the various challenges, have proven their mettle. Many such companies are climbing their way up the leadership ladder.
Particulars
S&P BSE SENSEX
S&P BSE Mid-Cap
S&P BSE Small-Cap
Year 2020 COVID-19 Pandemic low
23-Mar-20
23-Mar-20
23-Mar-20
Index level
25,981.24
9,711.44
8,872.83
Price-to-Equity Ratio (in times)
15.67
18.25
136.66
All-time high dates on closing
15-Sep-2023
11-Sep-2023
11-Sep-2023
All-time high level on closing (in points)
67,838.63
33,064.96
38,533.40
Index level as of September 29, 2023 (in points)
65,828.41
32,340.71
37,562.23
Absolute Returns in CY 2023 (YTD)
8.20%
27.76%
29.85%
Absolute Returns since the March 23, 2020 low as on September 29,2023
153.37%
233.02%
323.34%
CAGR since March 23, 2020 low as on September 29,2023
30.22%
40.74%
50.66%
Data Source : BSE Past performance may or may not be sustained in the future
Small-caps account for 85% of the listed companies at present. Many of these also have a presence in niche, innovative and sunrise businesses, such as green energy, new-age technology, drones, AI, geospatial systems, genomics, semiconductors, clean mobility, food processing, biotechnology, logistics etc. and so on that have the potential to grow in the long run.
Table 2: Small-caps Exposure to Sectors/Themes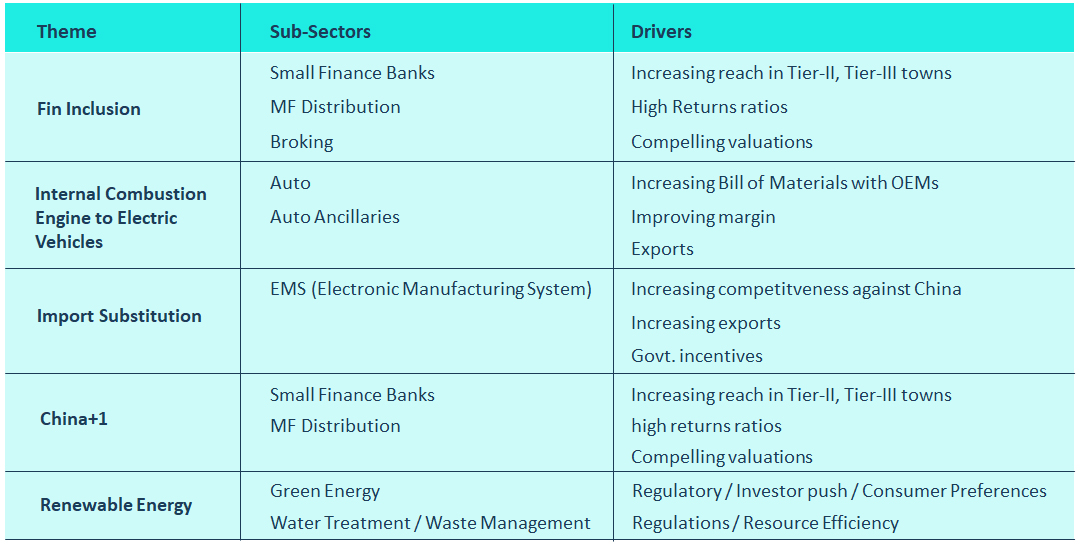 Worried that the Indian equity markets are near the peak?
Well, here is an interesting fact: while the Indian equity market is near its peak there are pockets of value in Small-Caps. Simply put, even now there are some 'value buying' opportunities in certain small-cap stocks. Take a look at the graph here...
Graphs: Valuations and Smallcap Index-to-Sensex Ratio

Data as of Sep 30, 2023.
The S&P BSE 250 Small Cap index P/E is trading below the long-term average. Certain small-cap companies are trading still lower than large-cap peers. There is also a chance of re-rating in the mispriced undervalued smaller companies. Such stocks may still have potential room for further growth and the potential to scale fresh peaks.
Also, the Smallcap Index-to-Sensex Ratio is below its long-term averages, which seems to offer a margin of safety or comfort to invest in small-caps.
And considering that India is a "bright spot" with structural reforms on the roll and many companies likely to be beneficiaries of the growth story, there maybe more steam in some of the small-caps. Certain small-cap companies today, have the potential to become mid or large-caps of tomorrow.
However, what you need to follow is a prudent approach. While there are many Small Cap Funds out there, you need to invest in the right Small Cap Fund that follows a robust investment process, prioritises liquidity, market capitalisation, and does not stray from its mandate.
Quantum Small Cap Fund – for Thoughtful Investors
The Quantum Small Cap Fund follows a prudent investment approach that mitigates the risks while exploring on the opportunities in the small-cap space.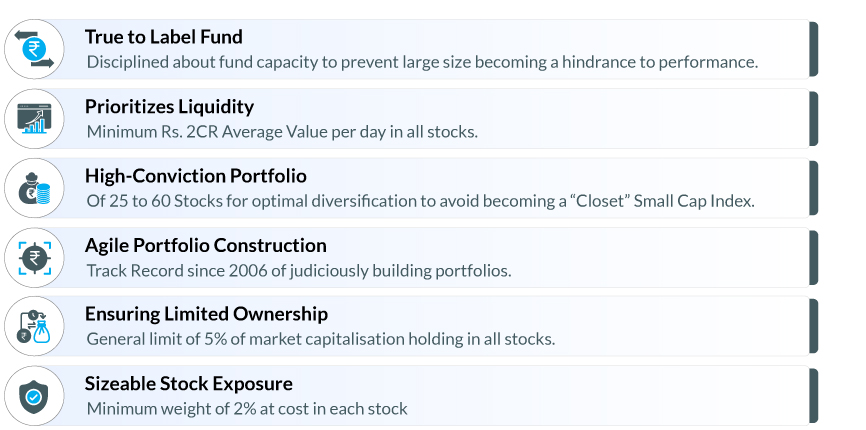 To pick stocks for the portfolio, Quantum Small Cap Fund follows the bottom-up stock selection approach with a risk control measurement while investing across sectors.
Investment Process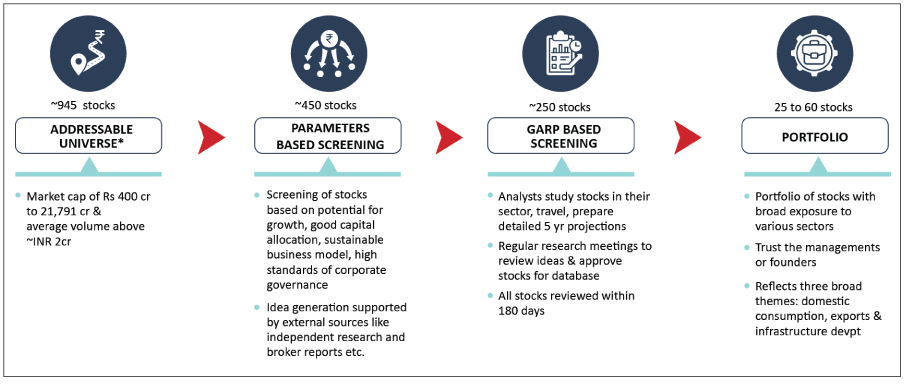 Data as on September 30, 2023. Please refer Scheme Information Document of the Scheme for complete Investment Strategy
Portfolio Construction Process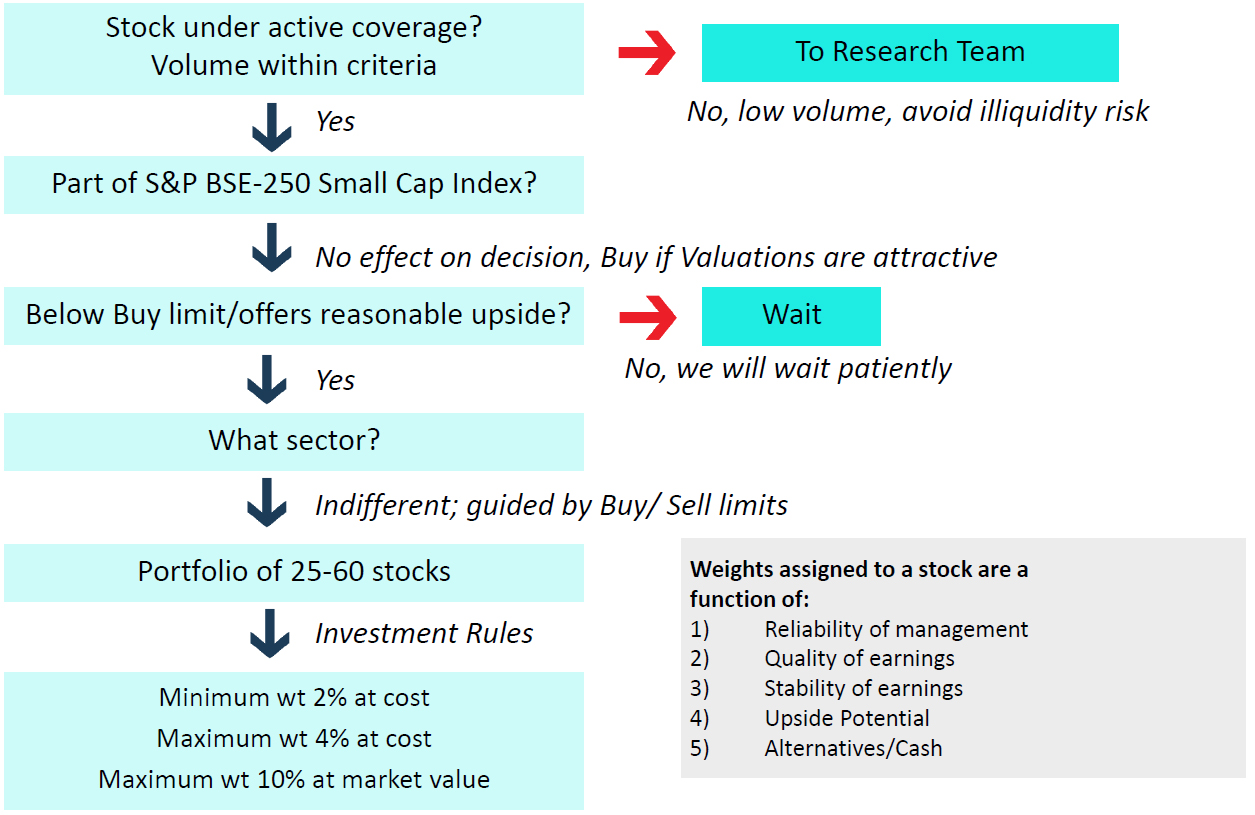 Please refer Scheme Information Document of the Scheme for complete Investment Strategy
The investment strategy of Quantum Small Cap Fund is to invest in a basket of stocks after using intensive fundamental analysis (both quantitative and qualitative), monitor the portfolio actively and control risk by keeping the portfolio adequately diversified.
The primary focus of Quantum Small Cap Fund is to give due consideration to liquidity and market capitalisation of the stocks under evaluation.
Table 3: Two priorities of Quantum Small Cap Fund - Liquidity and Market Capitalization

The above Liquidity & Market Cap Universe is defined based on current market thresholds & are subject to change as per changing market conditions. Please refer Scheme Information Document of the Scheme for complete Investment Strategy.
We approach small caps where the average liquidity per day is at least Rs 2 crore. Also, we find it comforting to invest in small-caps in the market capitalisation range of Rs 400 crore to around Rs 22,000 crore. As of September 30, 2023, there are still around 945 stocks meeting this criterion.
Quantum Mutual Fund approaches small-cap stocks with a GARP (Growth At Reasonable Price) perspective.
Valuations are developed based on...
a) The business of the company, the environment in which the company operates the skills and resources of its management
b) The strength of the company's balance sheet
c) Cash flow relative to its long-term goals
d) And other fundamental sector criteria.
While Quantum Small Cap portfolio shall focus primarily on a buy and hold strategy at most times, i.e. hold the portfolio with high conviction, it may balance the same with a rational approach to selling when the valuations become too demanding or if there are adverse changes to that company's management, business prospects or the markets in which that company operates or if other better alternatives are available.
So, we are very agile in the portfolio construction activity backed by research capabilities to navigate the small-cap universe.
If you aspire to earn good returns by taking additional risk, consider investing in the Quantum Small Cap Fund. The NFO is open and closes on Oct 27. Don't miss – grab the opportunity to invest in a Small Cap with a Big Difference.
Happy Investing!
---
Product Labeling
Name of the Scheme
This product is suitable for investors who are seeking*
Riskometer of scheme

Quantum Small Cap Fund

An Open-Ended Equity Scheme Predominantly Investing in Small Cap Stocks

• Long term capital appreciation

• Investment in Small Cap Stockx




Investors understand that their principal will be at Very High Risk
*Investors should consult their financial advisers if in doubt about whether the product is suitable for them.
#The product labeling assigned during the NFO is based on internal assessment of the scheme characteristics or model portfolio and the same may vary post NFO when the actual investments are made.
For latest riskometer, investors may refer to the Monthly Portfolios disclosed on the website of the Fund www.QuantumAMC.com


Disclaimer, Statutory Details & Risk Factors:
The views expressed here in this article / video are for general information and reading purpose only and do not constitute any guidelines and recommendations on any course of action to be followed by the reader. Quantum AMC / Quantum Mutual Fund is not guaranteeing / offering / communicating any indicative yield on investments made in the scheme(s). The views are not meant to serve as a professional guide / investment advice / intended to be an offer or solicitation for the purchase or sale of any financial product or instrument or mutual fund units for the reader. The article has been prepared on the basis of publicly available information, internally developed data and other sources believed to be reliable. Whilst no action has been solicited based upon the information provided herein, due care has been taken to ensure that the facts are accurate and views given are fair and reasonable as on date. Readers of this article should rely on information/data arising out of their own investigations and advised to seek independent professional advice and arrive at an informed decision before making any investments.
Mutual fund investments are subject to market risks read all scheme related documents carefully.