As equity markets zoom forward at record levels, you may be worried about the impact of rich valuations & increase in your investment value. Through this article, we address certain concerns related to your investments in the Quantum Long Term Equity Fund (QLTEVF).
Why are the Markets Rallying?
While it is true that liquidity has been pumped in the economy, which has helped drive up the equity markets, it's not the complete picture. This rally is based on certain fundamentals as outlined below:
• Economic activity in some sectors is similar or higher than pre-pandemic levels
• Consistent capital inflows driven primarily by the active retail investor participation
• Earnings upgrade backed by record operating profits and sound cost control measures in some of the sectors
• Strong catalyst of low interest rates leading to traction in the real estate markets and thereby picking up the economy
By this, it is our view that the rally may continue and you should stay invested to make the most of the opportunities in the Indian equity market for the long term. There is however, the risk of the third wave which could derail the economy leading to job losses and impact the consumption, thereby reducing market share of companies.
If you are looking to create the best of both worlds; i.e. combine potential to earn risk adjusted returns over the long term and minimize downside during a correction, staying invested in value funds is key. When you redeem, you might miss out on opportunities for growth in the broader market. The performance of the Quantum Long Term Equity Value Fund is a witness to this downside protection during the pandemic.
Value Funds: Here is How They Made a Rebound
If you were among the early investors, you would have witnessed a great 10-year track record between 2006-2016. However, during the period between 2017-2019, value funds underperformed.
Those who kept the faith in Quantum Long Term Equity Value Fund and stayed invested were benefited this past year. During the onset of the pandemic, your value fund portfolio got the opportunity for a strong rebound as we added new names at reasonably attractive valuations.
Performance of the Scheme
Direct Plan
Quantum Long Term Equity Value Fund - Direct Plan - Growth Option
Current Value ₹10,000 Invested at the beginning of a given period
Benchmark
Additional Benchmark
Benchmark
Additional Benchmark
Period
Scheme Returns (%)
S&P BSE 200 TRI* Returns (%)
S&P BSE Sensex TRI Returns (%)
Scheme (₹)
S&P BSE 200 TRI* (₹)
S&P BSE Sensex TRI (₹)
Since Inception (13th Mar 2006)
14.09%
13.04%
12.96%
76,950
66,700
65,942
August 30, 2011 to August 31, 2021 (10 years)
14.27%
15.15%
14.72%
38,000
41,064
39,529
August 28, 2014 to August 31, 2021 (7 years)
11.35%
13.93%
13.00%
21,251
24,953
23,572
August 31, 2016 to August 31, 2021 (5 years)
10.91%
15.82%
16.48%
16,790
20,853
21,451
August 31, 2018 to August 31, 2021 (3 years)
11.34%
14.96%
15.49%
13,805
15,198
15,412
August 31, 2020 to August 31, 2021 (1 year)
56.50%
55.45%
50.55%
15,650
15,545
15,055
Data as of August 31, 2021
Past performance may or may not be sustained in future.
Load is not taken into consideration in scheme returns calculation.
Different Plans shall have a different expense structure.
Returns are net of total expenses and are calculated on the basis of Compounded Annualized Growth Rate (CAGR).
*with effect from February 01, 2020 benchmark has been changed from S&P Sensex TRI to S&P BSE 200 TRI. As TRI data is not available since inception of the scheme, benchmark performance is calculated using composite CAGR S&P BSE 200 index PRI Value from March 13, 2006 to July 31, 2006 and TRI Value since August 1, 2006.
The Fund is managed by Mr. Sorbh Gupta and Mr. Nilesh Shetty. Mr. Sorbh Gupta has been managing the fund since Dec 01, 2016. Mr. Nilesh Shetty has been managing the fund since Mar 28, 2011.
Click here to view other funds managed by them.
Chart 1: Value Investing Makes a Rebound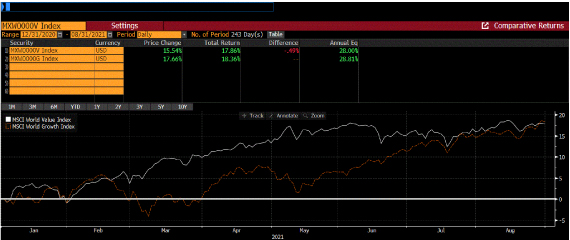 Source: Bloomberg | Data for the period between Jan 01 to Aug 31, 2021
Past performance may or may not be sustained in future.
When Do Value Funds Perform or Underperform
It's important to understand market indicators better, primarily to gauge when value funds perform/underperform. There are specific periods when a value fund underperforms due to underlying economic conditions such as low growth, high liquidity chasing few select stocks. 2017-2019 was one of such periods.
Value Funds thrives in a normalized interest rate environment and when there is a more broad-based economic growth. The equity market might merely move up on sentiments and liquidity in the short term, leading to stock price movements that may not correspond with a company's long-term fundamentals.
Unless you are nearing your financial goals, booking profits may not be advisable. Here are four reasons why value fund adds value to your QLTEVF portfolio: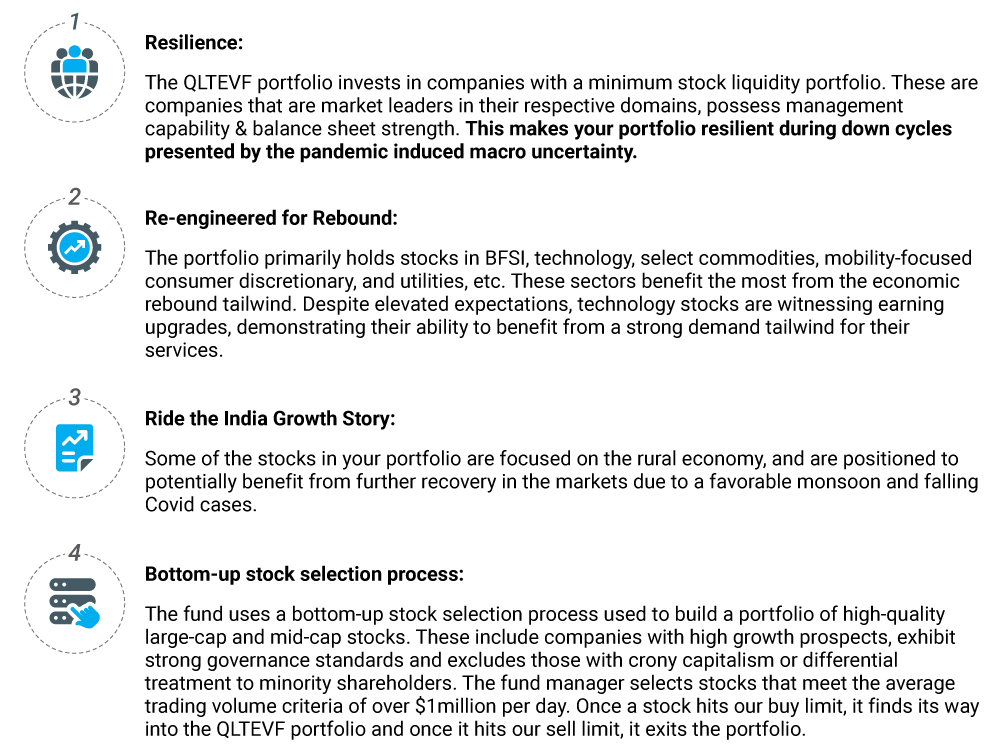 To conclude, there is no way to predict where markets are headed. Add the Value of Quantum Long Term Equity Value Fund to help you to ride the long term India growth story.
---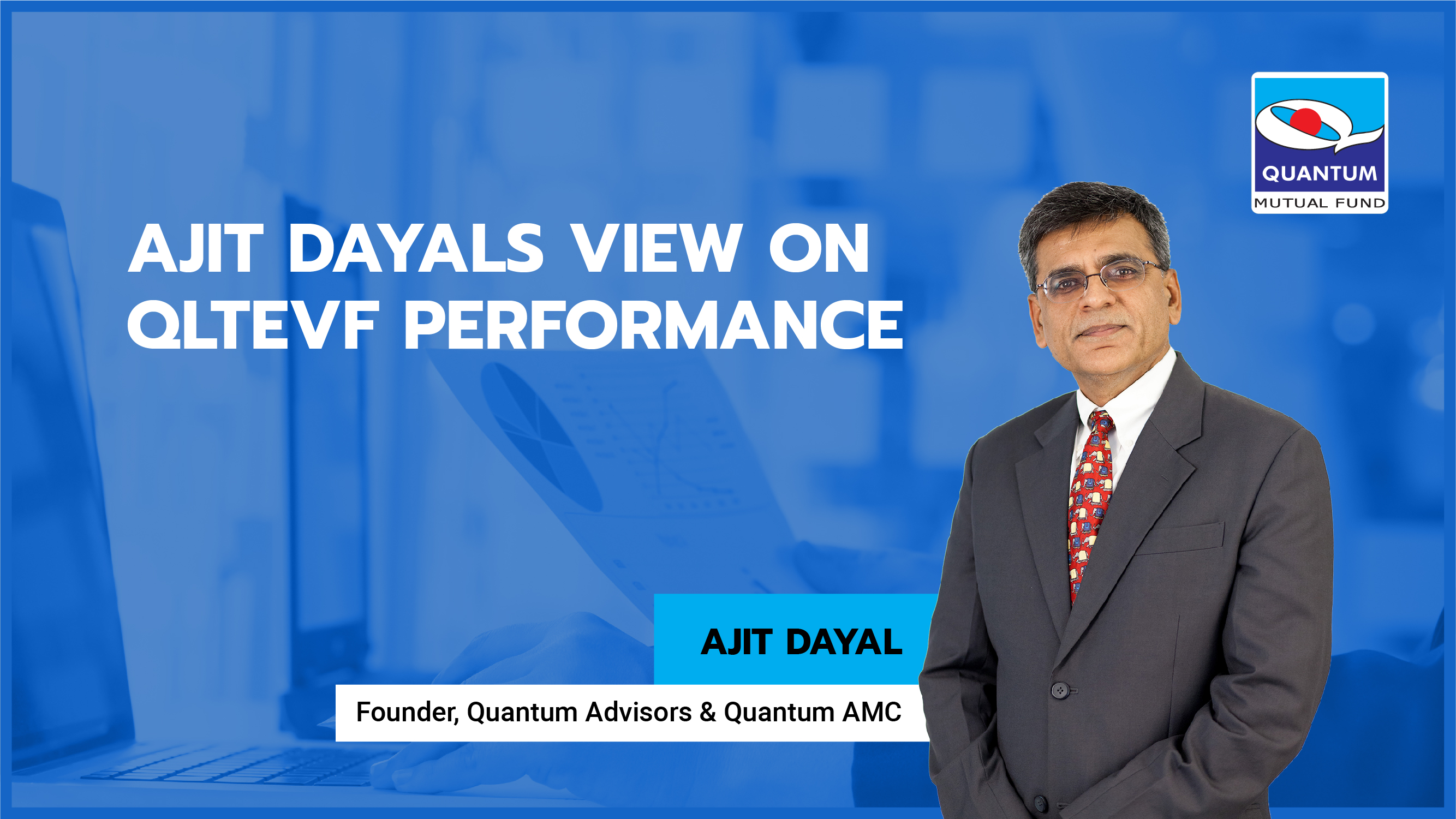 Watch our latest video from our Founder Ajit Dayal, who explains why it's important for you to stay invested in Quantum Long Term Equity Value Funds.
---
Product Labeling
Name of the Scheme
This product is suitable for investors who are seeking*
Riskometer
Quantum Long Term Equity Value Fund

An Open Ended Equity Scheme following a Value Investment Strategy
• Long term capital appreciation

• Invests primarily in equity and equity related securities of companies in S&P BSE 200 index.


Investors understand that their principal will be at Very High Risk
* Investors should consult their financial advisers if in doubt about whether the product is suitable for them.
The Risk Level of the Scheme in the Risk O Meter is based on the portfolio of the scheme as on August 31, 2021.
---
Disclaimer, Statutory Details & Risk Factors:
The views expressed here in this article / video are for general information and reading purpose only and do not constitute any guidelines and recommendations on any course of action to be followed by the reader. Quantum AMC / Quantum Mutual Fund is not guaranteeing / offering / communicating any indicative yield on investments made in the scheme(s). The views are not meant to serve as a professional guide / investment advice / intended to be an offer or solicitation for the purchase or sale of any financial product or instrument or mutual fund units for the reader. The article has been prepared on the basis of publicly available information, internally developed data and other sources believed to be reliable. Whilst no action has been solicited based upon the information provided herein, due care has been taken to ensure that the facts are accurate and views given are fair and reasonable as on date. Readers of this article should rely on information/data arising out of their own investigations and advised to seek independent professional advice and arrive at an informed decision before making any investments.
Mutual fund investments are subject to market risks read all scheme related documents carefully.
Please visit – www.quantumamc.com/disclaimer to read scheme specific risk factors. Investors in the Scheme(s) are not being offered a guaranteed or assured rate of return and there can be no assurance that the schemes objective will be achieved and the NAV of the scheme(s) may go up and down depending upon the factors and forces affecting securities market. Investment in mutual fund units involves investment risk such as trading volumes, settlement risk, liquidity risk, default risk including possible loss of capital. Past performance of the sponsor / AMC / Mutual Fund does not indicate the future performance of the Scheme(s). Statutory Details: Quantum Mutual Fund (the Fund) has been constituted as a Trust under the Indian Trusts Act, 1882. Sponsor: Quantum Advisors Private Limited. (liability of Sponsor limited to Rs. 1,00,000/-) Trustee: Quantum Trustee Company Private Limited. Investment Manager: Quantum Asset Management Company Private Limited. The Sponsor, Trustee and Investment Manager are incorporated under the Companies Act, 1956.