Recently we've made some announcements that may have received your attention. We've received plenty of feedback, both positive and negative, on our willingness to pay commissions to distributors now that SEBI has mandated that their fees must be disclosed. Understandably, some are worried that it's a change in stance and merely a ploy for us to grow. Of course, like any other firm we do want to grow. The better question is: who benefits from our growth?
We know greater reach will add to our growth. We know that means more fees for us. We will benefit for sure.
But here's the best part: so will you.
As we announced last week, here's what the Quantum Long Term Equity Fund's total expense ratio will look like as we grow: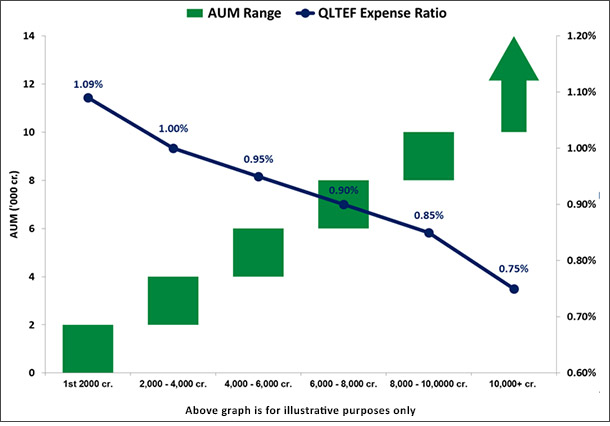 We want to reiterate: As we grow, you will pay less. You will benefit. How much? Let's take an example to show how lower fees compound over time: if you were to invest with us through a regular plan (effective April 1, 2017), this is how mutual fund investing with us would stack up against a typical Fund, beginning with an initial investment of Rs. 100,000 and annual returns before fees of 15%:
| | TER - Reg Plan | 5 Years % Less | 10 Years % Less | 25 Years % Less |
| --- | --- | --- | --- | --- |
| QLTEF* | 1.24% | 190,523 - | 362,991 - | 2,510,381 - |
| Scheme B | 1.75% | 186,291 -2.2% | 347,042 -4.4% | 2,243,651 -10.6% |
| Scheme C | 2.00% | 184,244 -3.3% | 339,457 -6.5% | 2,123,054 -15.4% |
| Scheme D | 2.25% | 182,214 -4.4% | 332,021 -8.5% | 2,008,694 -20.0% |
*w.e.f. April 1, 2017


Above table is for illustrative purposes only.The above TER figures are excluding statutory levies and applicable taxes if any.
Therefore after 25 years, the difference between investing in QLTEF, with a lower expense ratio, and a sample fund with an expense ratio of 2.25% would be whopping Rs. 501,687! Imagine what you could do with an extra ˜Rs. 5 lacs in your portfolio!
Continue Focussing - On You and on Keeping Costs Low
We have always prided ourselves on being low-cost. We're not the lowest cost in the industry at present, but what we're laying out for you is our promise that that's merely a function of size. You can take our word for it, just like we held our word after years of saying that we'd pay commissions to distributors if those commissions were transparent.
Our disciplined investment process remains the same. The only thing we've sacrificed is our revenues.
At Quantum, know that our focus is always on the customer, and the simplest proof of that is in the numbers above.
With Regards,
Team Quantum
---
Product Labeling
Name of the Scheme & Primary Benchmark
This product is suitable for investors who are seeking*
Risk-o-meter of Scheme
Quantum Long Term Equity Value Fund

An Open Ended Equity Scheme following a Value Investment Strategy
• Long term capital appreciation

• Invests primarily in equity and equity related securities of companies in S&P BSE 200 index.


Investors understand that their principal will be at Moderate Risk
---
Disclaimer, Statutory Details & Risk Factors:
The views expressed here in this article / video are for general information and reading purpose only and do not constitute any guidelines and recommendations on any course of action to be followed by the reader. Quantum AMC / Quantum Mutual Fund is not guaranteeing / offering / communicating any indicative yield on investments made in the scheme(s). The views are not meant to serve as a professional guide / investment advice / intended to be an offer or solicitation for the purchase or sale of any financial product or instrument or mutual fund units for the reader. The article has been prepared on the basis of publicly available information, internally developed data and other sources believed to be reliable. Whilst no action has been solicited based upon the information provided herein, due care has been taken to ensure that the facts are accurate and views given are fair and reasonable as on date. Readers of this article should rely on information/data arising out of their own investigations and advised to seek independent professional advice and arrive at an informed decision before making any investments. Please visit – www.quantumamc.com/disclaimer to read scheme specific risk factors.