Bank fixed deposits have traditionally been looked upon as the favourite financial instruments to park your money, due to assurance of guaranteed returns. But in the light of recent bank crisis, is it wise to have all your savings in one bank?
Put yourself in the shoes of a person under this situation. You have invested INR 10 lakh in a bank fixed deposit for a tenure of 2 years and received timely fixed interest payout each quarter.
However, a few months before your deposit was about to mature, the bank was put under Prompt Corrective Action (PCA) by RBI owing to its deficit due to bad loans.
You had plans to use that deposit, but now you can't withdraw your money until the moratorium is lifted or as per the prevailing Bank/RBI norms.
The reality is that many investors have lost their hard-earned money due to financial irregularities at some banks. And consequently, the financial regulator- Reserve Bank of India (RBI) has stepped in to impose swift controls against such banks.
Starting with Yes Bank, and PMC Bank up to the latest one: Lakshmi Vilas Bank, a legacy 93-year old institution, the financial sector has witnessed an alarming number of debacles in the last 30 months and the economic distress due to the current pandemic has not helped the situation.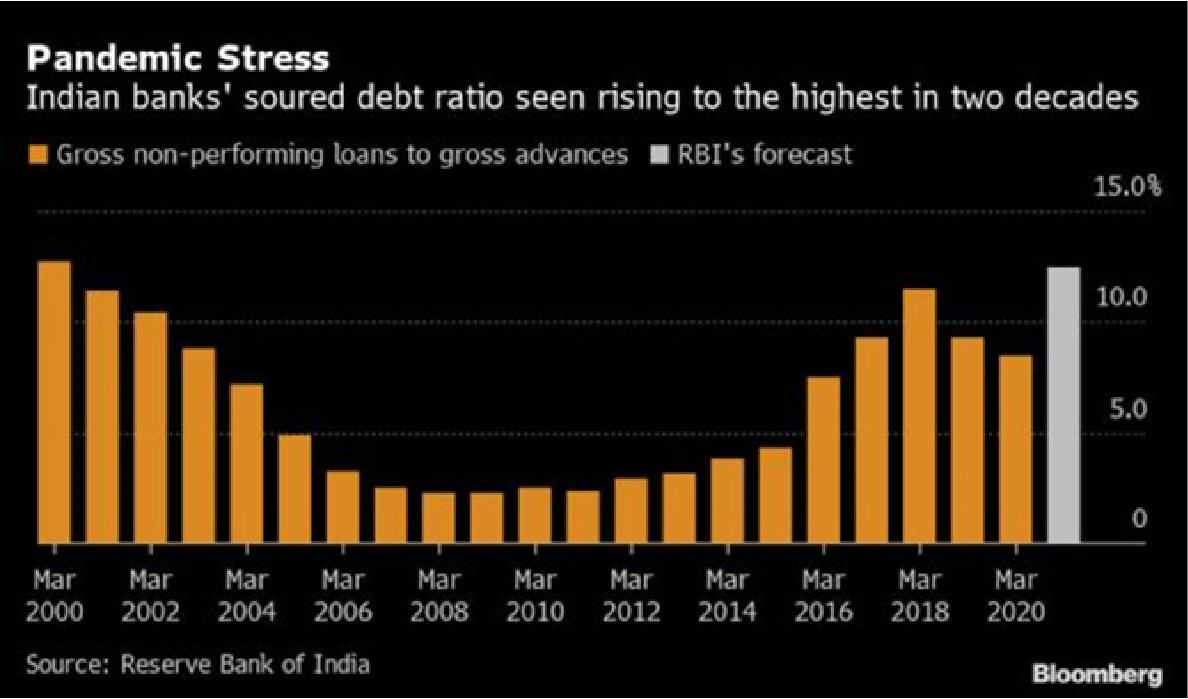 As per the graph above, NPAs (Non-Performing Assets) of banks are rising. A non-performing asset (NPA) is a loan or an advance where recovery of interest and / or principal has become uncertain.
So what should you do?
You can begin by considering these questions carefully.
1. Is your money in a bank FD or a savings account providing you the right investment option?
2. Are you concentrating all your savings in a single Bank Account?
3. Can you consider alternative investment option such as Mutual Funds to park your hard-earned money?
Why consider mutual funds?
Investing all your savings in a bank that offers higher returns on FDs might seem attractive but is definitely not a risk-worth taking. It is better to diversify your investments.
Investing in Mutual Funds instead can offer risk adjusted returns and is also another option to consider to a bank FD.
We all know that mutual funds are subject to market risks. However, you can choose to diversify your investment options and start your investment in a multi-asset fund that spreads your investment risk across asset classes.
Here's why your money in Multi Asset Mutual Funds is a smart choice:

Make the right decision with regards to your investments.
---
Product Labeling
Name of the Scheme
This product is suitable for investors who are seeking*
Riskometer
Quantum Multi Asset Fund of Funds

An Open Ended Fund of Funds Scheme Investing in schemes of Quantum Mutual Fund
• Long term capital appreciation and current income

• Investments in portfolio of schemes of Quantum Mutual Fund whose underlying investments are in equity , debt / money market instruments and gold

* Investors should consult their financial advisers if in doubt about whether the product is suitable for them.
---
Disclaimer, Statutory Details & Risk Factors:
The views expressed here in this article / video are for general information and reading purpose only and do not constitute any guidelines and recommendations on any course of action to be followed by the reader. Quantum AMC / Quantum Mutual Fund is not guaranteeing / offering / communicating any indicative yield on investments made in the scheme(s). The views are not meant to serve as a professional guide / investment advice / intended to be an offer or solicitation for the purchase or sale of any financial product or instrument or mutual fund units for the reader. The article has been prepared on the basis of publicly available information, internally developed data and other sources believed to be reliable. Whilst no action has been solicited based upon the information provided herein, due care has been taken to ensure that the facts are accurate and views given are fair and reasonable as on date. Readers of this article should rely on information/data arising out of their own investigations and advised to seek independent professional advice and arrive at an informed decision before making any investments.
Mutual fund investments are subject to market risks read all scheme related documents carefully.
Please visit – www.QuantumAMC.com to read scheme specific risk factors. Investors in the Scheme(s) are not being offered a guaranteed or assured rate of return and there can be no assurance that the schemes objective will be achieved and the NAV of the scheme(s) may go up and down depending upon the factors and forces affecting securities market. Investment in mutual fund units involves investment risk such as trading volumes, settlement risk, liquidity risk, default risk including possible loss of capital. Past performance of the sponsor / AMC / Mutual Fund does not indicate the future performance of the Scheme(s). Statutory Details: Quantum Mutual Fund (the Fund) has been constituted as a Trust under the Indian Trusts Act, 1882. Sponsor: Quantum Advisors Private Limited. (liability of Sponsor limited to Rs. 1,00,000/-) Trustee: Quantum Trustee Company Private Limited. Investment Manager: Quantum Asset Management Company Private Limited. The Sponsor, Trustee and Investment Manager are incorporated under the Companies Act, 1956.