Just as you've vowed to protect your sister, it's time to make a commitment to act towards #PlanetKiRaksha. To ensure a better future for you and your loved ones, it is imperative that you also take steps to protect the planet. This becomes more pertinent as the next crisis could be environmental crisis. This becomes more important as India is one of the vulnerable countries to the effects of climate change. Some of the area experiencing extreme weather events, such as heat waves, droughts, and floods.
Environmental challenges in India
According to the 2021 World Air Quality Report, India is home to 63 of the 100 most polluted cities with New Delhi gaining the top spot for the most polluted.
According to earth.org, 70% of surface water estimated to be unfit for consumption
March 2022 – was the hottest and driest month recorded in 120 years
According to the Central Pollution Control Board (CPCB), India currently produces more than 25,000 tonnes of plastic waste every day on average
Raksha Bandhan presents a good opportunity for you to go beyond the ordinary and take steps to build wealth & save the environment at the same time with a mutual fund that takes care of the planet and invests basis ESG parameters.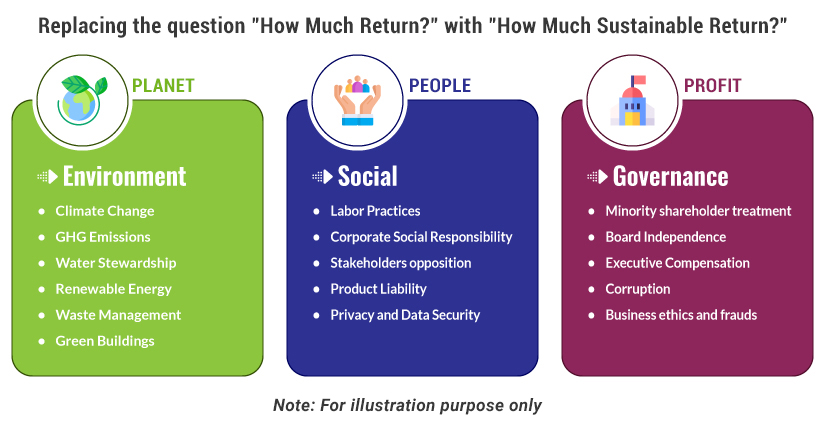 ESG investing selects companies that prioritize environmental protection, social responsibility, and strong corporate governance practices. Evidence suggests that a lack of foresight on risk management eventually translates into lower profitability and valuation.
Therefore, when you prioritize ESG factors in your equity investing, it not only helps to fuel your financial growth with the equity exposure but also helps lower downside and make a positive impact on the planet.
#TheESGAdvantage
Quantum India ESG Equity Fund - Higher returns than benchmark Nifty 100 ESG TRI & BSE Sensex TRI
Good for the Planet, Good for your Portfolio
Helps build a well-diversified equity portfolio
ESG investing offers potential to disrupt the Equity investing landscape
This is because ESG companies are more resilient to shocks and are better positioned to grow in the long run.
Quantum India ESG Equity Fund, one of India's first ESG themed equity fund has generated risk adjusted returns over the long run. The fund has delivered CAGR Returns – 17.24% CAGR since inception vs the Benchmark Nifty 100 ESG TRI (15.81%) and Sensex (15.65%).**
Second, it is an investment that gives back.
When you invest in an ESG fund, you are helping to support companies that are making a positive impact on the world. TBy investing in a portfolio that not only helps you grow wealth for your future but is also backed by values such as combatting climate change, you can make a difference for the future of our planet and ensure a better world for your loved ones to live in.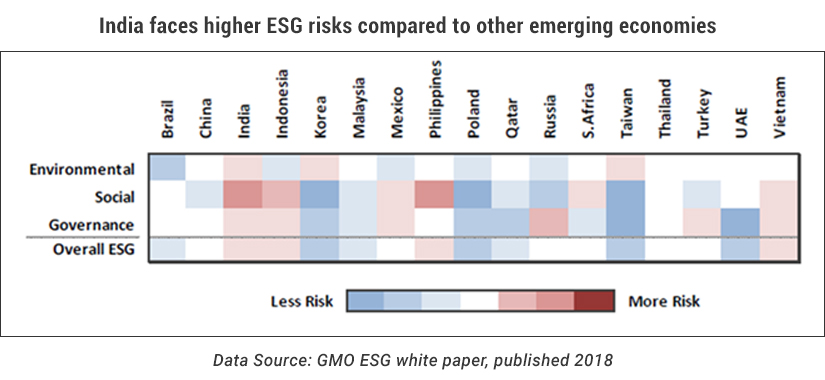 Life is uncertain, as we have witnessed during the pandemic. It's high time that we prepare for the crisis that is already upon us . Invest in an ESG fund that not only offers financial independence but also helps save the environment
Start with small steps and promise to take action for #PlanetkiRaksha with an SIP in Quantum India's ESG Equity Fund today.
Explore our Asset Allocation Calculator to see how ESG investing fits within a diversified Equity Portfolio as per 12|20:80 Asset Allocation Strategy.
Start an SIP Today!
Performance of the Scheme
Direct Plan
Quantum India ESG Equity Fund - Direct Plan
Current Value ₹10,000 Invested at the beginning of a given period
Period
Scheme Returns (%)
Tier 1 - Benchmark# Returns (%)
Additional Benchmark Returns (%)##
Scheme (₹)
Tier 1 - Benchmark# Returns (₹)
Additional Benchmark Returns (₹)##
Since Inception (12th Jul 2019)
17.24%
15.81%
15.65%
19,070
18,139
18,036
July 31, 2020 to July 31, 2023 (3 years)
22.52%
20.82%
22.38%
18,390
17,637
18,329
July 29, 2022 to July 31, 2023 (1 year)
15.69%
10.04%
16.93%
11,579
11,009
11,703
Data as on July 31, 2023.
#NIFTY100 ESG TRI, ##S&P BSE Sensex TRI. Past performance may or may not be sustained in the future.
Load is not taken into consideration in Scheme returns calculation. Returns are net of total expenses and are calculated on the basis of Compounded Annualized Growth Rate (CAGR).
The Scheme is managed by Mr. Chirag Mehta and Ms. Sneha Joshi. Mr. Chirag Mehta is the Fund Manager and Ms. Sneha Joshi is the Associate Fund Manager managing the scheme since July 12, 2019.
For other Schemes Managed by Mr. Chirag Mehta please click here.
---
Product Labeling
Name of the Scheme
This product is suitable for investors who are seeking*
Riskometer of scheme
Riskometer of

Benchmark

Quantum India ESG Equity Fund

An Open ended equity scheme investing in companies following Environment, Social and Governance (ESG) theme

Tier I Benchmark: NIFTY100 ESG TRI

• Long term capital appreciation

• Invests in shares of companies that meet Quantum's Environment, Social, Governance (ESG) criteria.


Investors understand that their principal will be at Very High Risk
*Investors should consult their financial advisers if in doubt about whether the product is suitable for them.


Disclaimer, Statutory Details & Risk Factors:
The views expressed here in this article / video are for general information and reading purpose only and do not constitute any guidelines and recommendations on any course of action to be followed by the reader. Quantum AMC / Quantum Mutual Fund is not guaranteeing / offering / communicating any indicative yield on investments made in the scheme(s). The views are not meant to serve as a professional guide / investment advice / intended to be an offer or solicitation for the purchase or sale of any financial product or instrument or mutual fund units for the reader. The article has been prepared on the basis of publicly available information, internally developed data and other sources believed to be reliable. Whilst no action has been solicited based upon the information provided herein, due care has been taken to ensure that the facts are accurate and views given are fair and reasonable as on date. Readers of this article should rely on information/data arising out of their own investigations and advised to seek independent professional advice and arrive at an informed decision before making any investments.
Mutual fund investments are subject to market risks read all scheme related documents carefully.