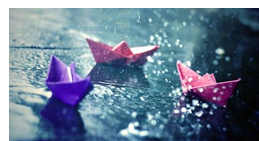 Over the course of history, water, or the lack of it, has caused the rise or fall of civilizations. Be it the Indus Valley civilization based around the Sindhu (Indus), the old Egyptian civilization around the Nile basin or the ancient Assyrian and Babylonian civilizations that flourished along the banks of the Tigris & Euphrates; water has been an indispensable factor for survival and progress.
Today, millennia later, with so many advances in science and technology has the dependence of society on this precious resource diminished? Well, the only difference may be that we are not left at the mercy of rivers and have become geographically dispersed; otherwise water is still very crucial for the health and wellbeing of societies.
Monsoons provide for most of the water requirements for us in India, the other smaller source being the snowmelt of the Himalayan glaciers. And so now, after two successive years of deficient rainfall the Met department's recent forecast for an "above normal" monsoon is reason enough to cheer!
It is not just the farmers that look to the monsoons for good prospects; rains are the catalyst for a host of other sectors of the economy. Not surprisingly, the day following the Met's monsoon forecast for 2016 was released (April 12, 2016) the stocks markets swelled, with S&P BSE Sensex closing 481 points higher on April 13th, 2016.
Let's take a quick peek into the different sectors or industries whose business can be affected directly or indirectly by the monsoons.
Give me my grain
Agricultural output in India is heavily dependent on rain as barely less than half of the arable land is covered by irrigation. Half of India`s farm output comes from crops planted during the first half of the June-September south-western monsoon season. For crops apart from food grains like rice which is sown at the start of the monsoon, wheat which is sown post monsoon to cash crops like sugarcane, cotton of which India is an exporter, monsoons and their even distribution will be crucial.
Moreover, agriculture has strong links with the industrial and service sectors. Despite the fact that agriculture contributes only about 14% to the national GDP it still is responsible for the employment of about 50% of the population. As agricultural yields rise the incomes of the rural population rise too, boosting demand in consumption of Fast Moving Consumer Goods (FMCGs).
Tractors and bikes
If the monsoon is good and the farmer reaps a good harvest, then his/her disposable income goes that much higher. Higher income means the meeting of 'aspirational' items like a new bike or even a tractor. Thus, the demand for two-wheelers and low cost four wheelers generally are higher in years of good monsoon. FMCG's companies with big semi-urban, rural footprint selling soaps, shampoos and toothpaste, etc would see good sales as a result of adequate rains.
Industries manufacturing agricultural inputs like fertilizers, pesticides and hybrid seeds as also makers of farm equipment like tractors could see their demands rise after good monsoon years.
Gold shining
Poor monsoon dampens the demand for gold too, as was seen in the last two years. India is the world's top consumer of gold and much of the demand comes from rural farmers. Inadequate rainfall leading to a shrunk harvest meant less disposable income with farmers, and therefore lower gold purchases. But the above-normal monsoon forecast for this year could add to gold's glitter. Sales from the rural areas could go up during the festival-cum-shopping season around Diwali.
More clean power to you
Monsoon rainwater not only raises ground water levels and reservoirs for irrigation but it also supports hydroelectric output. Hydro-electric power is a clean, renewable energy source and presently it constitutes about 16% of the total installed power generation capacity in the country.
Higher rainfall reduces the demand for diesel which is used to pump water from wells for irrigation. Agricultural pump sets makes up about 3.3% of India's demand for diesel.
The impacts of a good monsoon would become visible in the economy in the subsequent months of the southwest monsoon or later through the year. If we end up having a better-than-normal, consistent and well distributed rainfall this year, then it would put RBI in a more comfortable position to cut rates, giving further boost to the economy. As a matter of fact it is laudable that despite the last two drought years, inflation in the country was kept tame. Low crude oil price was a major contributor for this.
To conclude, with the Met forecast finally out it does look like the monsoons will arrive this year in full force and help fulfill the PM's Acche Din promise to the people of this country. Until then, let's just keep saying, "Rain, Rain, Come Again; Show Us All Your Face Again!"
---
Disclaimer, Statutory Details & Risk Factors:
The views expressed here in this article / video are for general information and reading purpose only and do not constitute any guidelines and recommendations on any course of action to be followed by the reader. Quantum AMC / Quantum Mutual Fund is not guaranteeing / offering / communicating any indicative yield on investments made in the scheme(s). The views are not meant to serve as a professional guide / investment advice / intended to be an offer or solicitation for the purchase or sale of any financial product or instrument or mutual fund units for the reader. The article has been prepared on the basis of publicly available information, internally developed data and other sources believed to be reliable. Whilst no action has been solicited based upon the information provided herein, due care has been taken to ensure that the facts are accurate and views given are fair and reasonable as on date. Readers of this article should rely on information/data arising out of their own investigations and advised to seek independent professional advice and arrive at an informed decision before making any investments. Please visit – www.quantumamc.com/disclaimer to read scheme specific risk factors.