Gold rallied sharply by ~20% between April and July, reaching an all-time high in early August. When prices increase at such a lightning pace, there is often a phase of correction and consolidation, like the one we are currently in. The metal's prices have declined by ~8% over the last couple of months. But this pullback is likely tactical in nature. Because despite the weaker prices, investment demand via Gold ETFs has continued to increase.
As per the World Gold Council, global net inflows of 1,003 tons in 2020 have taken Gold ETF AUM to an all-time high of 3,880 tons or US$235 billion.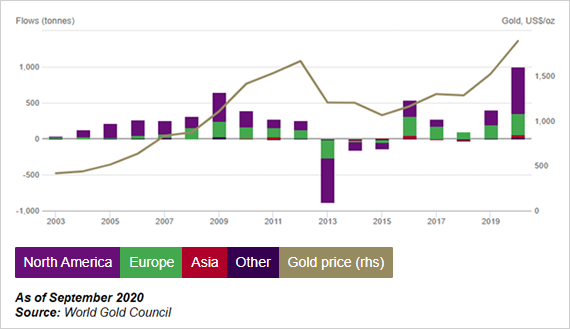 This tells us that even though Gold's popularity seems to have temporarily waned, its long-term strategic positioning is intact. And it should be. Reason being that absolutely nothing has changed about the macroeconomic drivers of Gold prices.
The Covid-19 pandemic is far from over. As a global recession rages on central banks have reacted by injecting liquidity into the system and purchasing assets. Interest rates globally continue to remain low while government debts and deficits continue to shoot up. With the threat of inflation looming large, currencies continue to be debased and geo-political tensions are rife.
Gold, because of its potential to store value over long time periods and its tendency to generally appreciate in times of negative interest rates or when there is a loss of confidence in the economy and monetary system, will thus continue to be a preferred asset.
In short, the cocktail of macroeconomic conditions continues to be conducive for Gold prices; and investment flows into the asset class are likely to continue well into the next year.
Whether we like it or not, till the world doesn't defeat the virus, normalcy and economic growth will continue to evade us. Even after a medical solution or vaccine is ready, it will not be able to undo the extraordinary economic damage caused by the pandemic overnight. As such, Gold investors would do well to have a long term perspective and ignore the short term gyrations in prices fueled by uncertainty in global markets.
If you haven't already allocated 10% to 15% of your investment portfolio to Gold, now is a good time. Investors who do not have a Demat account can invest in Quantum Gold Savings Fund which in turn invests in units of Quantum Gold Fund (ETF). If you have completed your allocation, just sit tight and watch Gold play a risk-reducing, return-enhancing role for your portfolio
Editor's note:To know more about investing in Gold funds (adding to your Gold investments) write to us at [email protected]
Or give us a missed call at +91-22-68293807 and we will call you back. We will be happy to assist you.
---
Product Labeling
Name of the Scheme & Primary Benchmark
This product is suitable for investors who are seeking*
Risk-o-meter of Scheme
Quantum Gold Fund

An Open Ended Scheme Replicating / Tracking Gold
• Long term returns

• Investments in physical gold.

Investors understand that their principal will be at Moderately High Risk
Quantum Gold Savings Fund

An Open Ended Fund of Fund Scheme Investing in Quantum Gold Fund
• Long term returns

•Investments in units of Quantum Gold Fund - Exchange Traded Fund whose underlying investments are in physical gold.

Investors understand that their principal will be at Moderately High Risk

* Investors should consult their financial advisers if in doubt about whether the product is suitable for them.
---
Disclaimer, Statutory Details & Risk Factors:
The views expressed here in this Article / Video are for general information and reading purpose only and do not constitute any guidelines and recommendations on any course of action to be followed by the reader. Quantum AMC / Quantum Mutual Fund is not guaranteeing / offering / communicating any indicative yield on investments made in the scheme(s). The views are not meant to serve as a professional guide / investment advice / intended to be an offer or solicitation for the purchase or sale of any financial product or instrument or mutual fund units for the reader. The Article / Video has been prepared on the basis of publicly available information, internally developed data and other sources believed to be reliable. Whilst no action has been solicited based upon the information provided herein, due care has been taken to ensure that the facts are accurate and views given are fair and reasonable as on date. Readers of the Article / Video should rely on information/data arising out of their own investigations and advised to seek independent professional advice and arrive at an informed decision before making any investments. None of the Quantum Advisors, Quantum AMC, Quantum Trustee or Quantum Mutual Fund, their Affiliates or Representative shall be liable for any direct, indirect, special, incidental, consequential, punitive or exemplary losses or damages including lost profits arising in any way on account of any action taken basis the data / information / views provided in the Article / video. Please visit – www.quantumamc.com/disclaimer to read scheme specific risk factors.