We take great pride in announcing that our Quantum Tax Saving Fund (QTSF) has grown 10 Years old today! A 10 year track record is an important milestone for the performance of any fund.
The Quantum Tax Saving Fund optimizes tax-saving under Section 80C. With a lock-in period of 3 years, this mutual fund helps you avail tax deduction upto 1.5Lacs on your taxable income.
The Quantum Tax Saving Fund is managed by Mr. Atul Kumar since its inception in December 2008 and is co-managed by Mr. Sorbh Gupta since October 01, 2016. The Fund adopts a disciplined research and a process driven investment approach as dictated by the tenets of Value Investing. The scheme has prudently followed its objective to achieve long-term capital appreciation by investing primarily in shares of companies which are typically included in the S&P BSE 200 Index and are in a position to gain from the anticipated growth and development of Indian markets and its economy.
By fulfilling your dual goal of long term capital appreciation and providing you benefit of reducing your taxable income, Quantum Tax Saving Mutual Fund takes pride in serving you for 10 years. Over the last 10 years, here is how the Quantum Tax Saving Fund has performed:
The Scheme is Co-Managed by Mr. Atul Kumar and Mr. Sorbh Gupta.
For other Schemes Managed by Mr. Atul Kumar please Click here
Mr. Atul Kumar is the Fund Manager effective from December 23, 2008
Mr. Sorbh Gupta is the Associate Fund Manager effective from October 1, 2016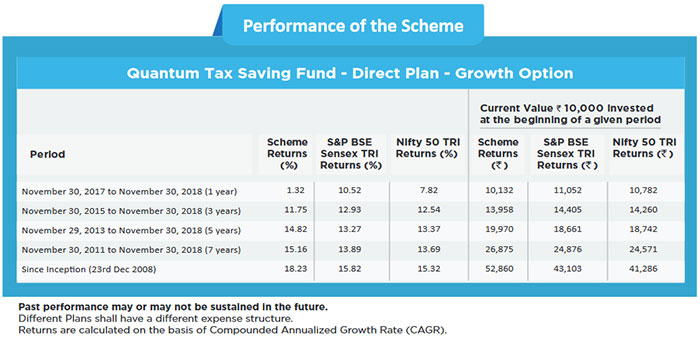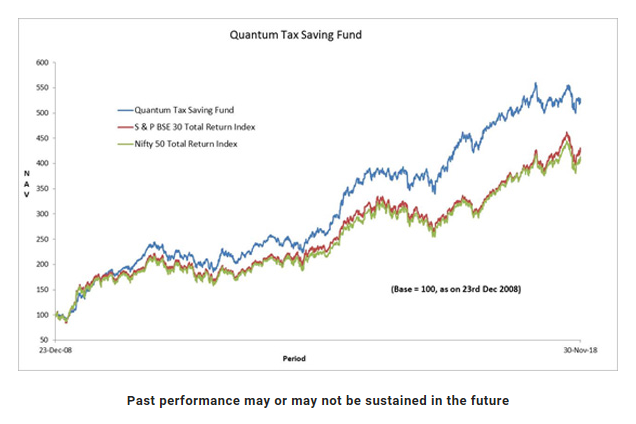 Please note that this is the performance of the Direct Plan of the fund for the month of Nov 2018. To know more about the fund, please click here to access the factsheets.
So as we celebrate 10 years of Quantum Tax Saving Fund today, we acknowledge that we owe it to you, in a big way. Thank you for choosing us as your partner in building wealth for the long term.
---
Product Labeling
Name of the Scheme & Primary Benchmark
This product is suitable for investors who are seeking*
Risk-o-meter of Scheme
Quantum Tax Saving Fund

(An Open Ended Equity Linked Saving Scheme with a Statutory Lock in of 3 years and Tax Benefit)
• Long term capital appreciation

• Invests primarily in equity and equity related securities of companies in S&P BSE 200 index and to save tax u/s 80 C of the Income Tax Act. Investments in this product are subject to lock in period of 3 years.


Investors understand that their principal will be at Moderately High Risk
* Investors should consult their financial advisers if in doubt about whether the product is suitable for them.
---
Disclaimer, Statutory Details & Risk Factors:
The views expressed here in this article / video are for general information and reading purpose only and do not constitute any guidelines and recommendations on any course of action to be followed by the reader. Quantum AMC / Quantum Mutual Fund is not guaranteeing / offering / communicating any indicative yield on investments made in the scheme(s). The views are not meant to serve as a professional guide / investment advice / intended to be an offer or solicitation for the purchase or sale of any financial product or instrument or mutual fund units for the reader. The article has been prepared on the basis of publicly available information, internally developed data and other sources believed to be reliable. Whilst no action has been solicited based upon the information provided herein, due care has been taken to ensure that the facts are accurate and views given are fair and reasonable as on date. Readers of this article should rely on information/data arising out of their own investigations and advised to seek independent professional advice and arrive at an informed decision before making any investments. Please visit – www.quantumamc.com/disclaimer to read scheme specific risk factors.