Last Akshaya Tritiya, we had advised you to invest in the Quantum Gold Fund.

And, if you did follow the advice, you would be smiling this Akshaya Tritiya.

As the chart below shows, a purchase of gold via the Quantum Gold Fund would have given you a gain of +23% as compared to an investment in the BSE-30 Index which would have lost you -38% over the same time period.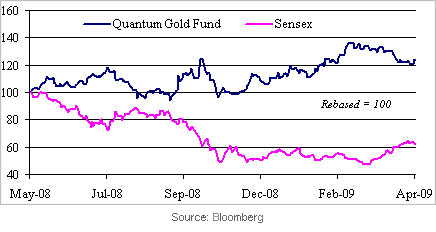 Gold is a good investment in times of uncertainty. And it has been a protector of wealth for hundreds of years.

Investing some of your savings in gold is always a good idea.

So this Akshaya Tritiya ensure that you invest in Quantum Gold Fund and bring prosperity to your home