In the First week of August, the Intercontinental Exchange (ICE) announced plans to form a new company, Bakkt, with the purpose to create an open and regulated global ecosystem for digital assets. The new company is expected to work with a marquee group of organizations that includes BCG, Microsoft, Starbucks amongst others to come up with an integrated platform that will ease the trading, storing and spending of digital assets. That could give a boost to digital assets like Bitcoin as it will ease market volatility. This isn't the first time Wall Street has cozied up to digital assets. In the last two years, Wall Street has been introducing Bitcoin futures to help investors hedge their positions.

What is Bitcoin?
Remember the Bitcoin mania that had gripped the world a few months ago, where it could do no wrong and was trading at an absurd level of more than USD $13,000 per "coin". Here is what the noise was all about and how there is almost a deafening silence around this now: Basically, a digital currency, Bitcoin is a platform that hosts a digital ledger on which people can mine, store and trade bitcoins, a digital form of currency earned through a computer algorithm and tied to no central authority. Bitcoin can be used to pay for things electronically, if both parties are willing. In that sense, it's like conventional Dollars, Euros, or Rupees, which are also traded digitally.

The Rise and Fall of the Bitcoin
As per Wikipedia, in 2013 prices of 1 Bitcoin started at USD $13.30 and rose to $770 by 1st January 2014. In 2015 prices started at $314 and rose to $434 for the year. In 2016 prices started at $998 and rose to $13,412.44 on 1st January 2018. There-after, numbers have been falling as low as $6,669.85 on 22nd August 2018. Bitcoin has recovered from June 2018, when it fell below $6,000 however; the overall price trend is scary in its volatility. The BSE SENSEX, like any other index in the world is also volatile and has been so especially since 2014. However that is nothing compared to the Bitcoin mania.

Scary Movie?


Movement of the BSE SENSEX vs the Bitcoin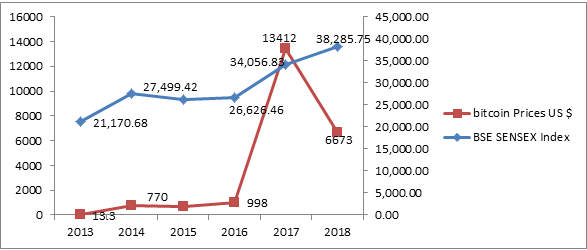 Source- Wikipedia, BSE
Want To Get Even More Scared?
A scary factor in Bitcoin is lack of transparency at all places. The lack of clarity about its origin is a major concern. Neither is it a currency nor a commodity. Above all, this market does not have any regulatory guidelines which put investors' grievances at stake. Unlike other investment avenues, crypto currencies are not regulated by government entities or banks. If we face issues in any banking transactions or during the use of digital transactions, then we have financial regulators like Reserve Bank of India (RBI) and Securities and Exchange Board of India (SEBI) to help in such transactions. However, in case of bitcoin transactions, we do not have any regulators to help during times of emergency.
The status of cryptocurrency is another risk. While they haven't been declared illegal, they are however not recognized by the RBI / Government of India as a 'currency'.
Reserve Bank of India
has repeatedly through its public notices on December 24, 2013, February 01, 2017, December 05, 2017 and April 6, 2018, cautioned users, holders and traders of virtual currencies, including Bitcoins, regarding various risks associated in dealing with such virtual currencies. Further RBI has stated clearly in a notification issued on April 06, 2018 that, with immediate effect, entities regulated by the Reserve Bank shall not deal in VCs or provide services for facilitating any person or entity in dealing with or settling virtual currencies (VCs). Regulated entities which already provide such services shall exit the relationship within three months from the date of this circular, i.e. April 06, 2018. Thereby supporting RBI, the Supreme Court of India has refused to stay a Reserve Bank of India (RBI) circular prohibiting banks and financial institutions from providing services in relation to cryptocurrencies.
At this background, Investors should invest in well regulated markets where investor's interest is protected by laws like
Mutual Funds
and share markets for example. These markets are well regulated by SEBI and Government of India.
Invest in well-regulated markets
Prices of stocks, shares, NAV of mutual fund units are also volatile inspite of regulation. Volatility is one of the characteristics of markets but at least they are backed by a hawk eyed regulator who pulls up those trying to play the markets.
Remember that investments with a long term financial goal are what one should always aim for when investing in equities. As long-term investors, you should not worry about volatility in prices, high and lows of the markets. Ironically, you may find list of stocks at their 52 week low level when benchmark (BSE Sensex, NIFTY) hit all time high and vice versa. Remember that investments with a long term financial goal are what one should always aim for when investing in equities. As long-term investors, you should not worry about volatility in prices, high and lows of the markets. Ironically, you may find list of stocks at their 52 week low level when benchmark (BSE Sensex, NIFTY) hit all time high and vice versa.
Don't follow markets and prices every day. You should remain invested till the time your goal is not achieved. More importantly please invest in assets and markets that have the backing of a strong market regulator behind them.
Source-BSE.

---
Disclaimer, Statutory Details & Risk Factors:
The views expressed here in this article / video are for general information and reading purpose only and do not constitute any guidelines and recommendations on any course of action to be followed by the reader. Quantum AMC / Quantum Mutual Fund is not guaranteeing / offering / communicating any indicative yield on investments made in the scheme(s). The views are not meant to serve as a professional guide / investment advice / intended to be an offer or solicitation for the purchase or sale of any financial product or instrument or mutual fund units for the reader. The article has been prepared on the basis of publicly available information, internally developed data and other sources believed to be reliable. Whilst no action has been solicited based upon the information provided herein, due care has been taken to ensure that the facts are accurate and views given are fair and reasonable as on date. Readers of this article should rely on information/data arising out of their own investigations and advised to seek independent professional advice and arrive at an informed decision before making any investments.
Mutual fund investments are subject to market risks read all scheme related documents carefully.
Please visit – www.QuantumMF.com to read scheme specific risk factors. Investors in the Scheme(s) are not being offered a guaranteed or assured rate of return and there can be no assurance that the schemes objective will be achieved and the NAV of the scheme(s) may go up and down depending upon the factors and forces affecting securities market. Investment in mutual fund units involves investment risk such as trading volumes, settlement risk, liquidity risk, default risk including possible loss of capital. Past performance of the sponsor / AMC / Mutual Fund does not indicate the future performance of the Scheme(s). Statutory Details: Quantum Mutual Fund (the Fund) has been constituted as a Trust under the Indian Trusts Act, 1882. Sponsor: Quantum Advisors Private Limited. (liability of Sponsor limited to Rs. 1,00,000/-) Trustee: Quantum Trustee Company Private Limited. Investment Manager: Quantum Asset Management Company Private Limited. The Sponsor, Trustee and Investment Manager are incorporated under the Companies Act, 1956.