Quantum Mutual Fund was the first - and only - fund house to launch only Direct Plans: products purchased directly by the investor, without the help of any intermediary.
All other fund houses had a "Regular Plan" (the one sold by distributors to you).
Quantum Mutual Fund refused to launch any Regular Plan unless the distribution channels would reveal the commission they were earning. While this hurt the potential growth of business for Quantum Mutual Fund, it sent a very strong signal that forcing transparency for customers was more important than gathering assets.
By 2012, SEBI forced every fund house to launch a Direct Plan for their products. Since Quantum only had Direct Plans, this SEBI requirement had no impact on us.
By October 2016, SEBI forced the distributors to reveal the commissions they earned: a big leap in the fight for transparency! This allowed us to launch a "Regular Plan", where distributors will get a declared and known commission. Since the launch of our "Regular Plans" on April 1, 2017, a few investors, distributors and media groups have asked us about the impact of this for investors in general.
Given below are the most frequently asked questions and a simple flow chart to show you what has changed and the likely impact, if any, on you as an investor in Quantum Mutual Funds.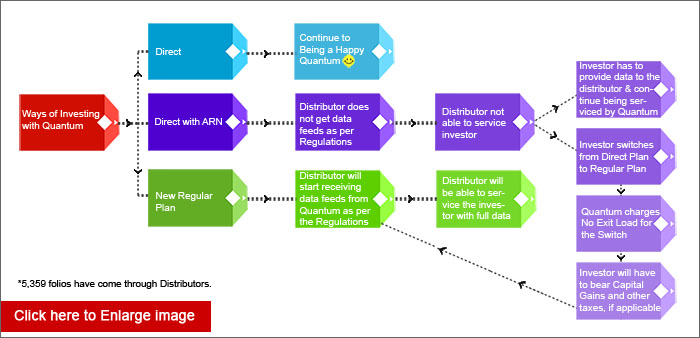 | | |
| --- | --- |
| 1. | Has the philosophy of Quantum Mutual Fund changed with the launch of Regular Plan? |
| | No. There is no change in Quantum's philosophy. Ever since its inception, Quantum has always maintained transparency in its approach by adopting a team-driven, well-defined research and investment process that has generated positive results for our investors over the long term. Till transparency on distributor commissions came into the system, Quantum reiterated the fact that we would pay Rs. ZERO. In October 2016, things changed. SEBI's new rule necessitates all mutual fund houses to disclose the exact commission paid to distributors in the half-yearly Consolidated Account Statement (CAS) that is sent to investors. Hence we launched a Regular Plan. Click here to know more on Quantum's philosophy. |
| 2. | Can I transact funds directly from the Quantum website irrespective of Direct or Regular Plan? |
| | Yes, you can continue to transact funds under the Direct Plan or Regular Plan from the Quantum website i.e., you can purchase, switch, redeem funds and perform all other transactions as always. |
| 3. | Will all investors who have invested in the Direct Plan through Distributors, be serviced by Distributors? Will Quantum no longer service investors who have invested under the Direct Plan by quoting an ARN number? |
| | No. Quantum will continue servicing its investors as it continues to offer Direct Plan, irrespective of whether they have come through Distributors or directly under the Direct Plan. All existing investors who would have come through Distributors will remain in our Direct Plan at the existing expense ratio and investors can transact funds under the Direct Plan from the Quantum website i.e., you can purchase, switch, redeem funds and perform all other transactions as always. |
| 4. | Is it compulsory for me to switch to Regular Plan from Direct Plan if I have invested through a Distributor? Why am I being advised to switch to Regular Plan? |
| | No. You can continue investing directly with us and being serviced directly by us even though you have invested through a Distributor. However, we do recognize that a few investors may need the assistance and the help of a Distributor to plan their investments while also wanting to be serviced by their Distributors. In such a scenario, as per the Regulatory Guidelines, these investors will need to switch from Direct Plan to Regular Plan as we will not be able to share data feeds with the Distributor who in turn in absence of data will not be able to service such investors. |
| 5. | Is there any exit load if I switch from Direct Plan to the Regular Plan of the same scheme? |
| | No. There is no exit load while switching from Direct Plan to the Regular Plan. However, please note that such a switch would be a taxable event, wherever capital gains tax applies. |
---
Disclaimer, Statutory Details & Risk Factors:
The views expressed here in this article / video are for general information and reading purpose only and do not constitute any guidelines and recommendations on any course of action to be followed by the reader. Quantum AMC / Quantum Mutual Fund is not guaranteeing / offering / communicating any indicative yield on investments made in the scheme(s). The views are not meant to serve as a professional guide / investment advice / intended to be an offer or solicitation for the purchase or sale of any financial product or instrument or mutual fund units for the reader. The article has been prepared on the basis of publicly available information, internally developed data and other sources believed to be reliable. Whilst no action has been solicited based upon the information provided herein, due care has been taken to ensure that the facts are accurate and views given are fair and reasonable as on date. Readers of this article should rely on information/data arising out of their own investigations and advised to seek independent professional advice and arrive at an informed decision before making any investments.
Mutual fund investments are subject to market risks read all scheme related documents carefully.
Please visit – www.QuantumMF.com to read scheme specific risk factors. Investors in the Scheme(s) are not being offered a guaranteed or assured rate of return and there can be no assurance that the schemes objective will be achieved and the NAV of the scheme(s) may go up and down depending upon the factors and forces affecting securities market. Investment in mutual fund units involves investment risk such as trading volumes, settlement risk, liquidity risk, default risk including possible loss of capital. Past performance of the sponsor / AMC / Mutual Fund does not indicate the future performance of the Scheme(s). Statutory Details: Quantum Mutual Fund (the Fund) has been constituted as a Trust under the Indian Trusts Act, 1882. Sponsor: Quantum Advisors Private Limited. (liability of Sponsor limited to Rs. 1,00,000/-) Trustee: Quantum Trustee Company Private Limited. Investment Manager: Quantum Asset Management Company Private Limited. The Sponsor, Trustee and Investment Manager are incorporated under the Companies Act, 1956.